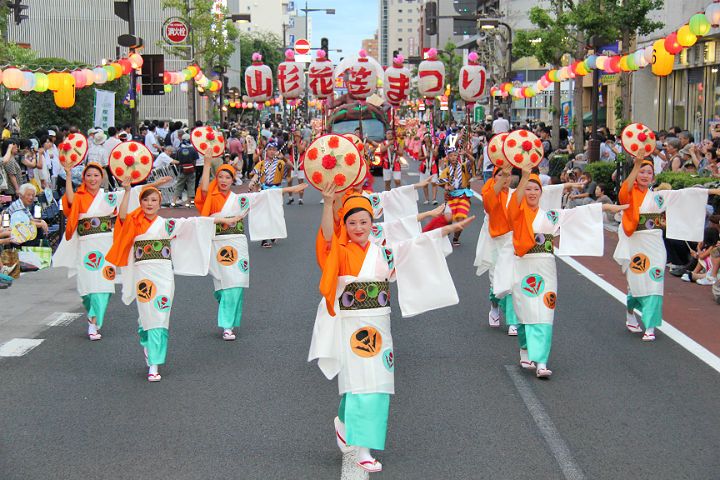 Yamagata Hanagasa Matsuri (festival) is one of the four biggest festivals of the Tohoku region. During the festival period, it goes on from 18:00 until 21:30 every night and a total of 13,000 dancers (about 150 groups) perform on the main streets of Yamagata city. Excitement is at its peak when the dancers in their flashy costumes perform their cheerful and dynamic moves and hats with Yamagata's flower benihana (safflower) wave around. It's a gorgeous summer celebration in which powerful chants of "yassho, makasho" and the sound of Hanagasa drums brings life into the night of Yamagata.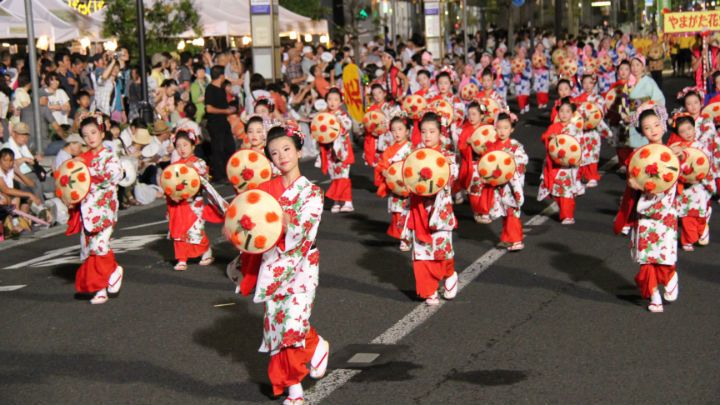 (Source: 山形県花笠協議会)
Hanagasa Summer Festival
Hanagasa Summer Festival is held on the previous night on August 4th along the course of the Hanagasa parade, in anticipation of the Yamagata Hanagasa Matsuri. It gets lively with many people, with the Hanagasa Bazaar where local stores participate and a tourism market with a collection of many local specialties from Yamagata prefecture.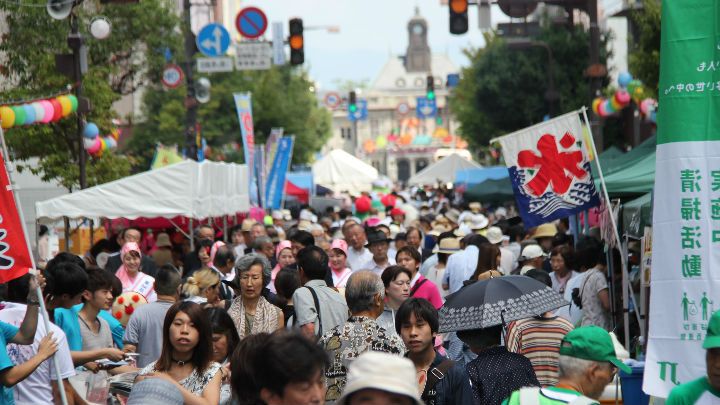 (Source: ©山形商工会議所)
Passionate Hanagasa Parade
The highlight is definitely the Hanagasa parade, in which performers advance with absolute precision. Dancers in gorgeous costumes holding hats decorated with benihana flowers perform on the main streets of Yamagata city, following gorgeously decorated floats called Dashi. Many different kinds of performances fascinate the crowds, such as elegant female dancers, powerful male dancers, dynamic hat-dances from Hanagasa dance's origin Obanazawa, and unique creative performances.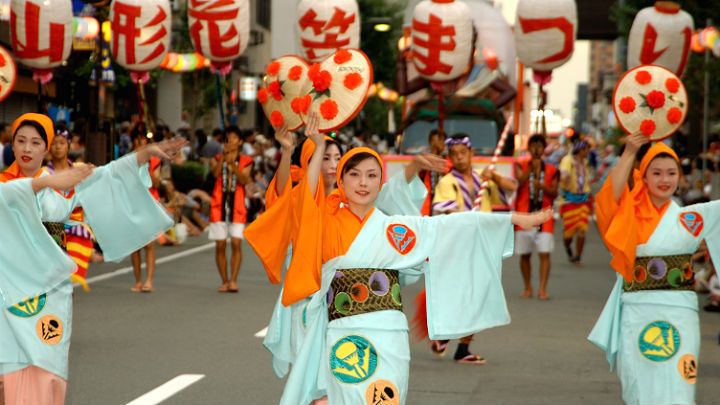 (Source: 山形県花笠協議会)
Everyone is Welcome at "Jump-in Corner"
What a waste to just watch! Festivals are there to be part of it! If this is your attitude, there is a "tobiiri corner" (jump-in corner) where everybody is welcome to participate. You have two chances to participate. Look for the wa-odori (circle dance) held from 18:00 (about 30 min) near the goal around the city hall and the sign at the end of the parade saying "tobiiri corner." Dance along to the great rhythm.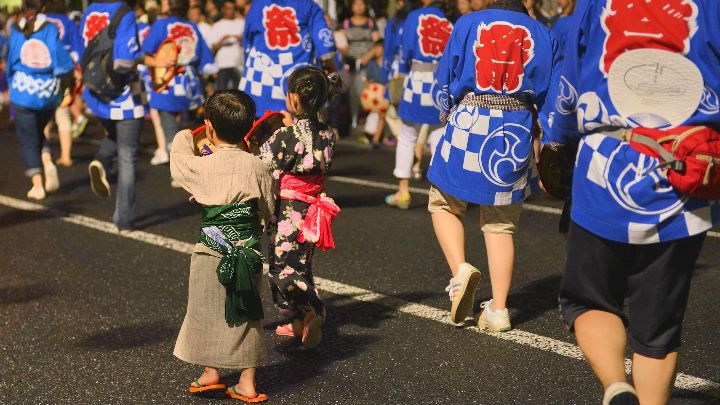 (Source: PIXTA)
Yamagata Specialty Tama-Konnyaku
At Yamagata Hanagasa Matsuri, Yamagata's specialty tama-konnyaku (ball-shaped yam jelly) is sold at various corners. These are ball-shaped konnyaku simmered in soy sauce-based stock and put on a skewer. Many people prefer to eat this with mustard, which food stands are equipped with, so please give it a try.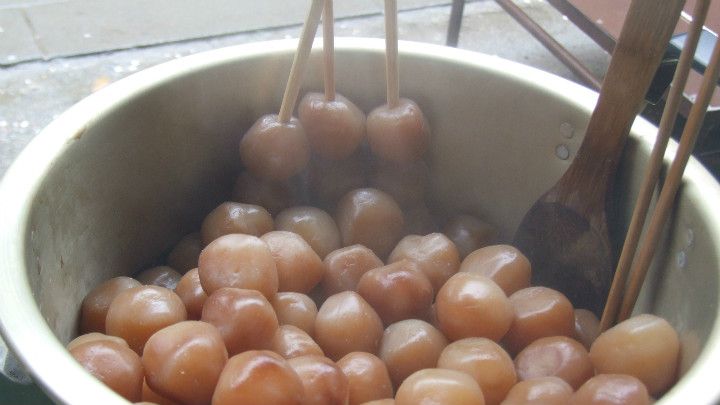 (Source: PIXTA)