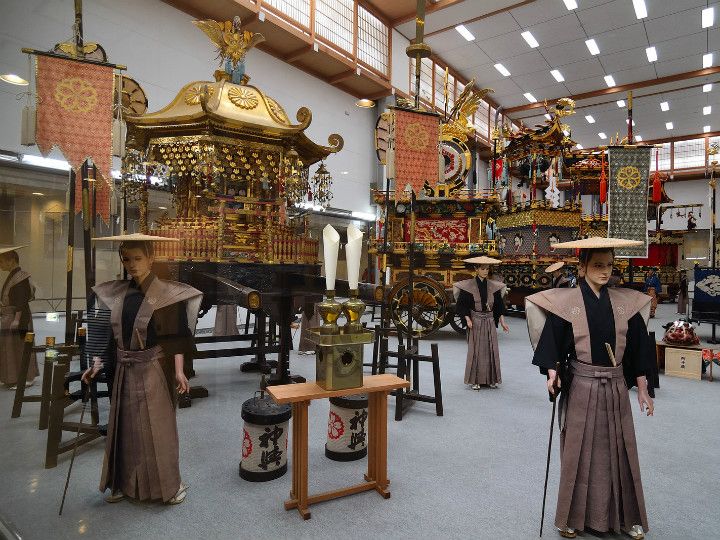 Takayama Matsuri Yatai Kaikan (Takayama Festival Floats Exhibition Hall) was established inside the grounds of the Sakurayama Hachiman Shrine in Takayama, Gifu. At the Takayama Festival Yatai Floats Hall, several yatai (decorative floats) are permanently exhibited. A yatai is a dashi (a large ornate float), which is used in the Takayama Festival held twice a year during spring and autumn. In the facility, four out of the eleven yatai used in the Autumn Hachiman Festival are permanently exhibited. In addition, some scenes of procession are reproduced. So you will feel the atmosphere of that festival.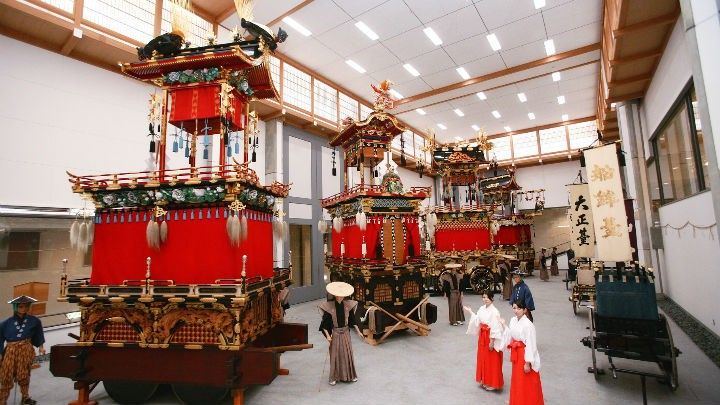 (Source: 桜山八幡宮)
What is the Takayama Festival?
The beginning of the Takayama Festival dates back to between the latter half of the 16th and the 17th century. It is one of the three largest, beautiful Japanese festivals, along with the Gion Festival in Kyoto and the Chichibu Night Festival in Chichibu, Saitama. In April, the Spring Sanno Festival is held and in October, the Autumn Hachiman Festival is held. In both of these festivals, you can see yatai with the lighting during the Night Festival and a procession of the Shishimai (Japanese Lion Dance), an alignment of the yatai and performance of string puppets during the main festival. The most fascinating thing of the festivals are the yatai with beautiful sculptures and glorious decorations. In 1960, the yatai used in the Takayama Festival were designated as a national important tangible cultural property.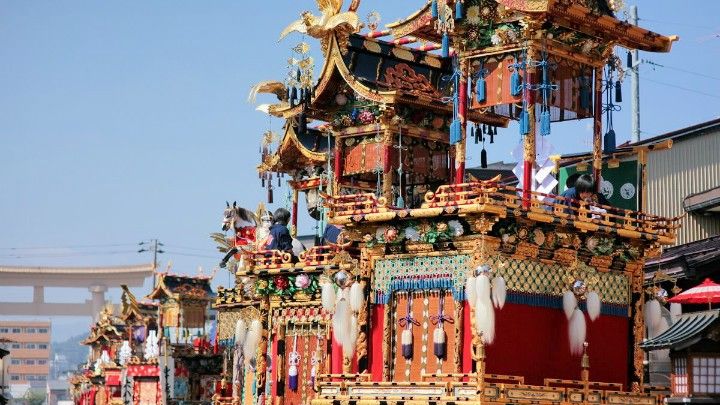 (Source: マル様とお呼び??)
Yatai called a Moving Yomei-mon (Gate)
From ancient times, instead of paying taxes, Hida Takayama had lent its craftsmen and their woodwork techniques to the Imperial Court. So, a craftsman culture was nurtured in that region. The craftsman culture eventually gave birth to the yatai of the Takayama Festival. Since techniques, such as woodwork and sculpture, weaving and dyeing, are put all together into the yatai of the Takayama Festival, they are called the moving Yomei-mon as compared to the real Yomei-mon at Nikko Toshogu (a Shinto shrine in Nikko), which is said to be the most beautiful gate in Japan.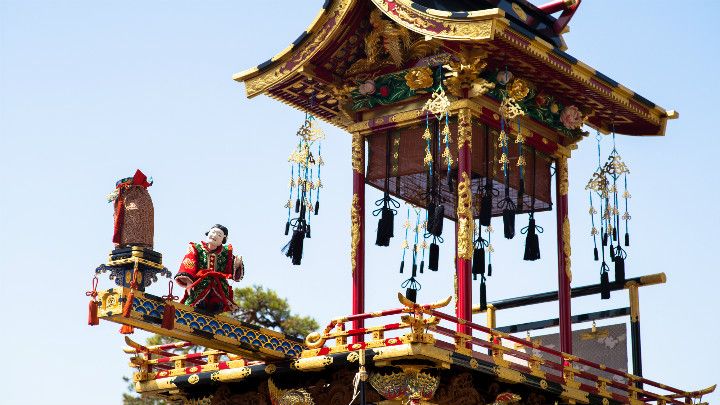 (Source: ヒデ / PIXTA(ピクスタ))
The Largest Mikoshi (Portable Shrine) in Japan
In the Takayama Festival Floats Exhibition Hall, a mikoshi is exhibited along with the yatai. The mikoshi used in the Takayama Festival is the largest one in Japan because it weighs around 2.5 tons and approximately 80 bearers are needed to carry it. Furthermore, with its gorgeous decoration, the mikoshi is said to be the most beautiful one in Japan.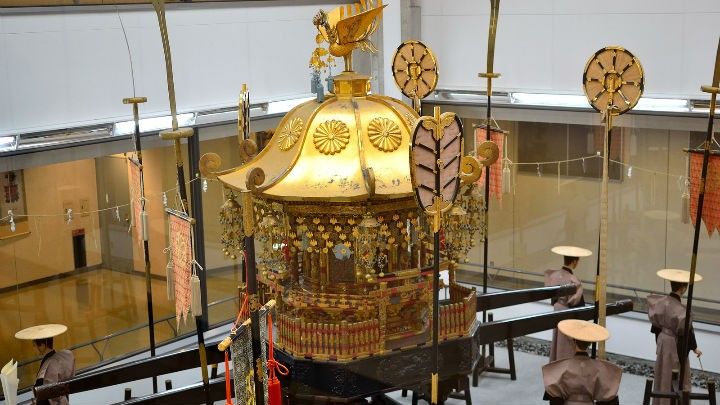 (Source: 後藤健太郎のブログ)