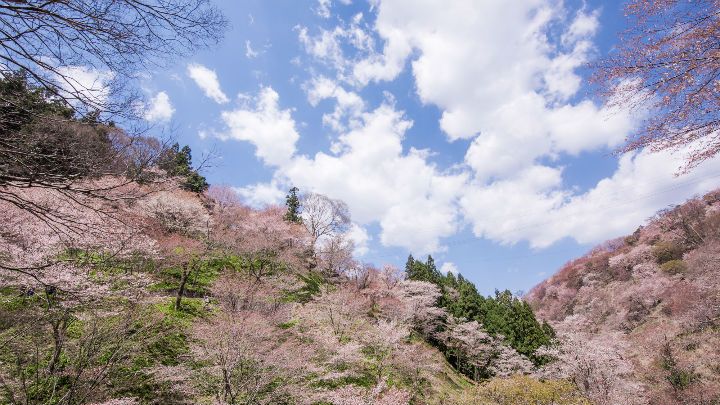 Mount Yoshino, or Yoshino-yama, has been known for its beautiful cherry blossoms since ancient times. The entire mountain is listed as a World Heritage site. It is admired as "Hitome Senbon" meaning that you can see over 1,000 cherry trees at a glance because of the high concentration of cherry trees. Over 30,000 cherry trees representing about 200 spices densely populate in the four areas of the mountain, the lower, middle, upper, and inner areas. Each area is called Shimo-senbon, Naka-senbon, Kami-senbon, and Oku-senbon, respectively. The cherry trees in the lower area bloom first  followed by the middle, upper, and inner area in a period of one month. There are other World Heritage sites such as temples and shrines on the mountain, so visitors can tour them while admiring the beautiful cherry blossoms.
Cherry Blossoms in Shimo-Senbon
Start "Hitome Senbon" with the lower area (Shimo-senbon). You can hike on a winding slop called Nanamagari-zaka, or you can see it from the Yoshino-yama Kanko Parking area. You will see the colorful cherry blossoms in front of you.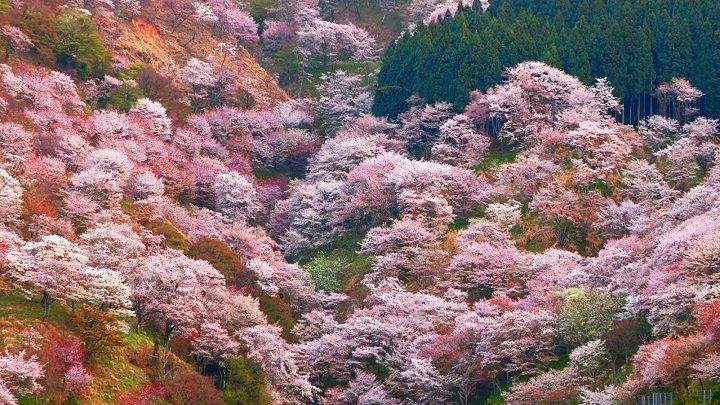 (Source: PIXTA)
Cherry Blossoms in Naka-Senbon
Many temples that are listed as World Heritage sites and Important Cultural Properties line the trail from Shimo-senbon to Naka-senbon. The contrast of the temples and cherry trees create a beautiful scene. The view from Yoshimizu Shrine at the entrance of Naka-senbon is surely "Hitome Senbon" (thousand cherry trees at a glance).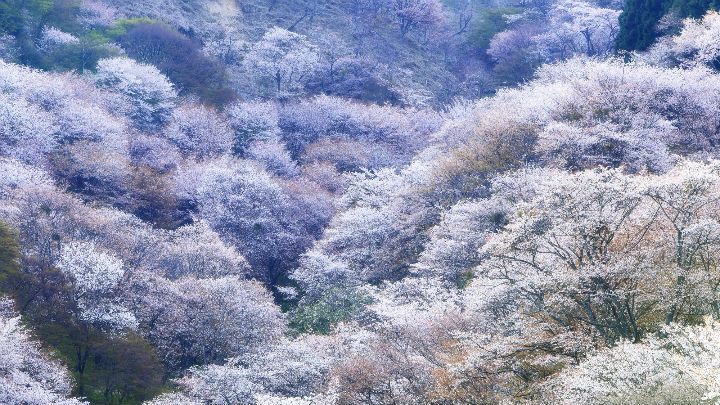 (Source: PIXTA)
Cherry Tress in Kami-Senbon
The high altitude of Kami-senbon is full of amazing viewing points. Among them, Hanayagura Observatory is highly recommended. The view is very dramatic, and it looks like a passage of cherry blossoms endlessly stretches out onto the mountain. Cherry petals fall like a waterfall, making it a striking scene.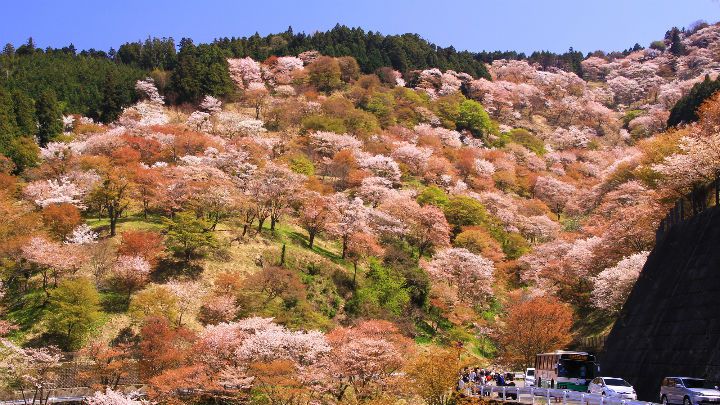 (Source: PIXTA)
Mt. Yoshino Illumination
Every year from early April through late April, the entire mountain is lit up. The magical nighttime show creates a much different impression than that of the majestic daytime scene. There are inns that overlook Mt. Yoshino, so you can marvel at the stunning cherry blossoms as long as you wish.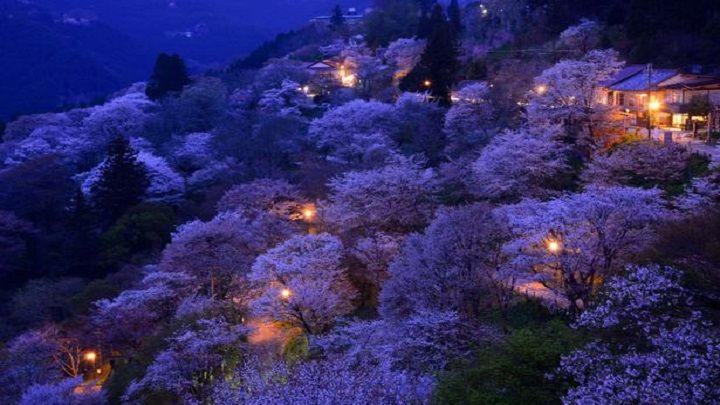 (Source: PIXTA)
Kinpusen-ji, a World Heritage site
Kinpusen-ji temple is a symbol of Mt. Yoshino and is registered as a World Heritage site. The main hall, Zao-do, is the second largest wooden structure in Japan after the Great Buddha of Nara. The hall houses three 7-meter-tall Buddhist statues of Kongo Zao Gongen Ryuzo. They are the largest hibutsu, or hidden Buddhas, in Japan that are kept out of public sight. A special viewing for a certain period of each year until 2022 will be held.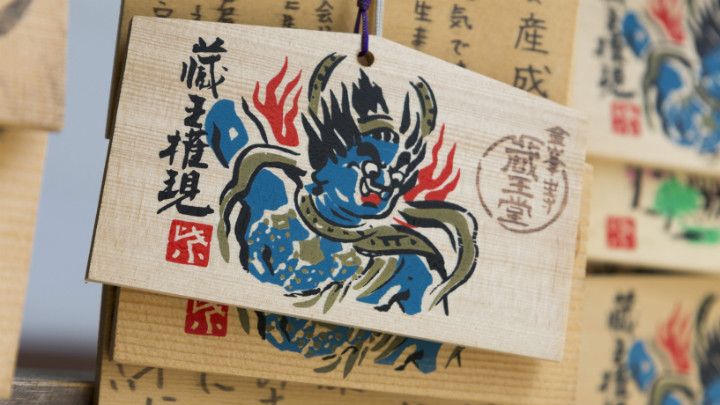 (Source: PIXTA)
Yoshimizu Shrine, a World Heritage site
Yoshimizu Shrine is a prestigious shrine where Emperor Go-Daigo resided in it as a temporary imperial palace about 700 years ago. Now, it is registered as a World Heritage site and houses precious artifacts of the time, such as historical documents, armaments and musical instruments. With 400 yen for admission, visitors can tour a resident in the architectural style called Shoin-zukuri which was a special architectural technique of the time.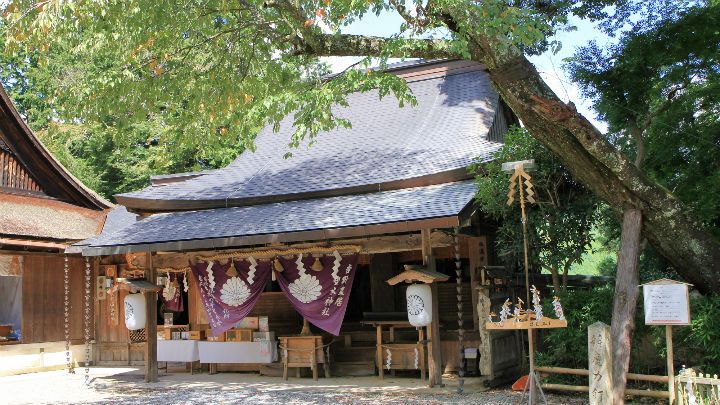 (Source: PIXTA)
Various Cherry Blossom Sweets
There are traditional Japanese cafes around Mt. Yoshino that offer unique confectioneries that feature cherry blossoms during this season. One of the most popular sweets is Sakura-yokan (jellied dessert with cherry blossoms) at a store called Mansho-do. The store has been in business for more than 100 years.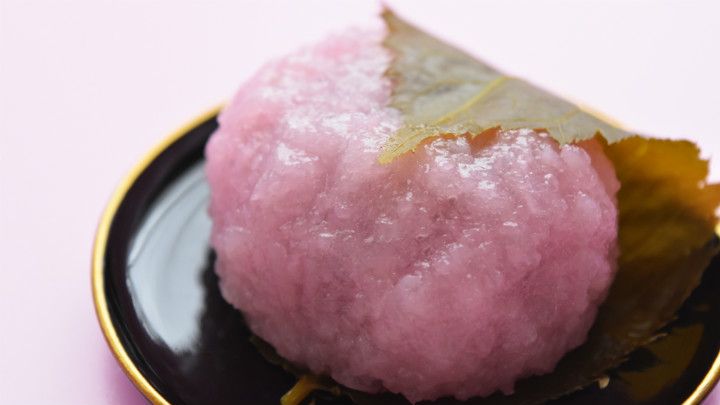 (Source: PhotoAC)