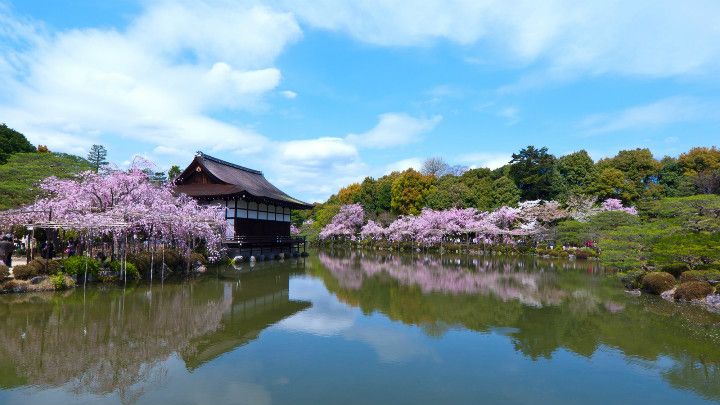 Heian Jingu was built in 1895 commemorating the 1,100th year of the transfer of the capital to Heian-kyo, ancient Kyoto. About 300 cherry trees are planted in the precincts of this shrine famous for its main hall with a vivid color combination of green and vermillion. Especially the "weeping higan" cherry trees here are known to be considerably dark, almost reddish-pink, making the cherry blossoms here special and unique. The view of cherry blossoms seen in the southeast direction from the main hall across Seiho Pond is said to be the most definitive of its kind in Kyoto, an old city rich in atmosphere. At night, the main hall is illuminated with blue lights, creating a stunning contrast with the cherry blossoms shining in pale pink.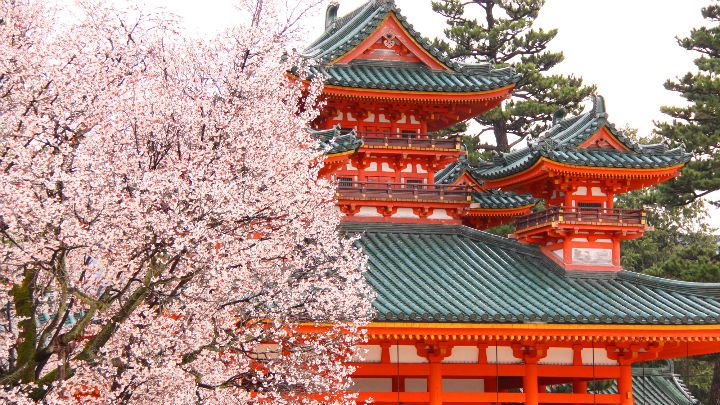 (Source: PIXTA)
Weeping higan cherry trees
Of the 20 kinds of cherry trees that are present in the precinct of Heian Jingu, the most defining is "weeping higan." Characteristically, it is a cherry tree with a pronounced weeping form, blooming in multi-flowered umbels with petals in dark pink. Uniquely blending conflicting elements, it is graceful, gorgeous and yet dynamic.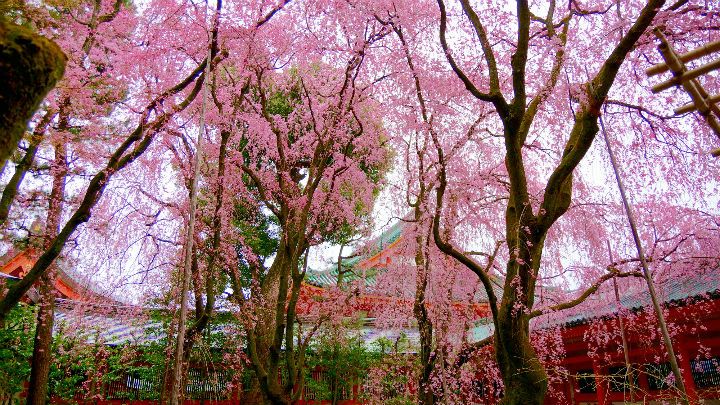 (Source: PIXTA)
Vermillion of the main hall against cherry blossoms
The striking red color of the main hall works in perfect harmony with cherry blossoms. Pink cherry blossoms peeking through and between the main hall's columns and walls that are vermillion and its roof that is green…This view with such a delicate contrast of colors is only available at Heian Jingu and makes this shrine the best place to appreciate springtime in Kyoto.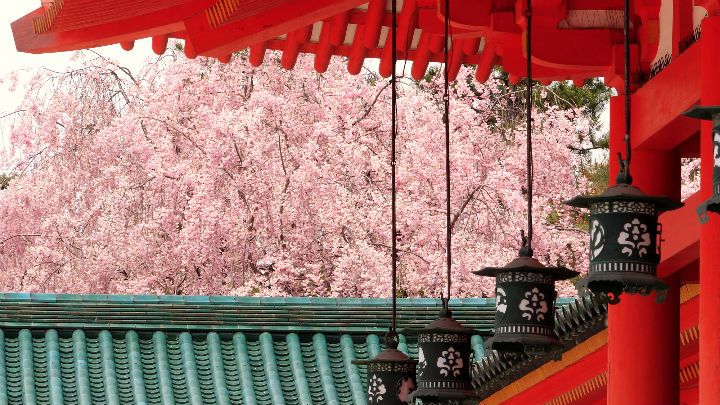 (Source: PIXTA)
Illuminated cherry blossoms reflected on the water
Heian Jingu is illuminated at night. The view facing Shobikan Hall across Seiho Pond is the most recommended. Brightly illuminated cherry trees add color from both sides of Shobikan Hall that looks otherworldly with its own lighting effect. The blossomed trees reflect perfectly onto the water surface of the pond with a dream-like quality.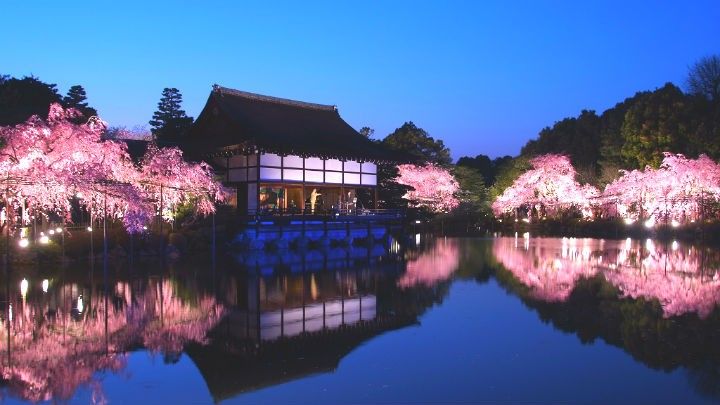 (Source: PIXTA)