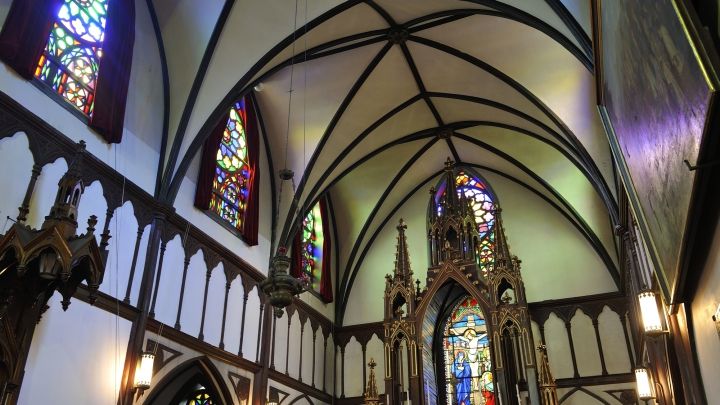 Nagasaki was deeply involved in the arrival of Christianity and the history of Christians in Japan. Oura Tenshudo (Oura Church) epitomizes it. The church was completed in 1865 to be dedicated to the 26 martyrs who were crucified in 1597 due to an anti-Christian edict. The Japanese word "tenshu" in the name of the church means God in Chinese. The churches that were built before the World WarⅡ are called "tenshu-do" in Japanese. This church is designated as a national treasure, which is not common for a Western-style architecture. You can tell its historical importance and value from this fact.
The Statue of Virgin Mary Tells the History of Nagasaki
The statue of Virgin Mary standing at the front entrance was imported from France. Christians were found in Oura Church and the news spread to the world, and this statue was sent to commemorate this fact. It passes down the long history of Nagasaki's Christianity that went through some harsh conditions and its citizens' faith in God.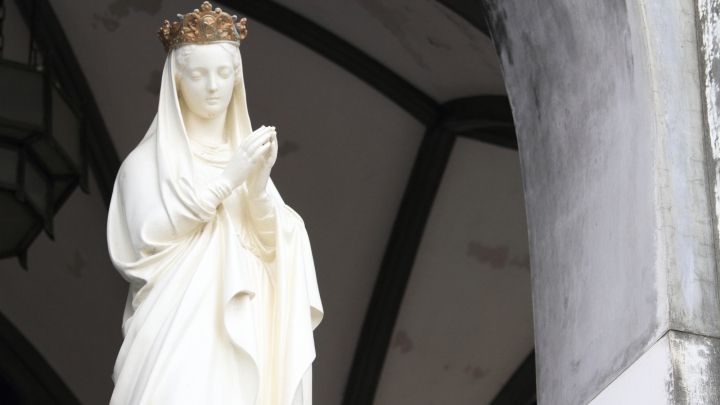 Unique Architectural Technology
Oura Church was built in the Gothic style as many European cathedrals were. The difference from European style is the architectural framework. This church's beam and posts are wooden while the European ones are built with stone. Also, the walls are made of Japanese traditional mortar, and roof tiles are Japanese. It is a fabulous mixture of Japanese and European styles.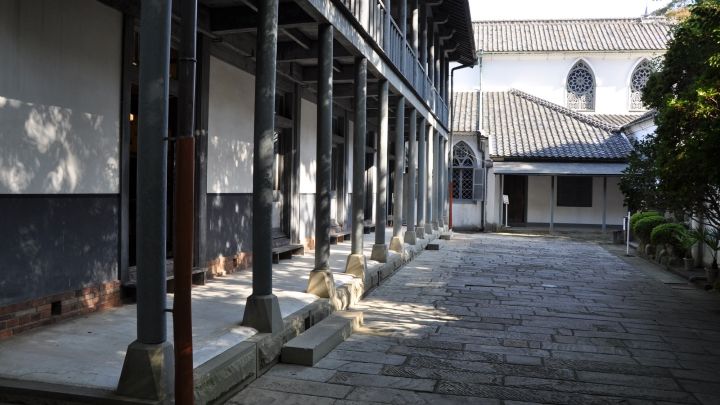 The Oldest Stained-glass in Japan
The stained glass in Oura Church is the oldest in Japan. Some of the windows were restored after the atomic bomb and typhoons, but most of them were made in 1879, when the church was rebuilt. It is the only one European-style architecture that is designated as a National Treasure.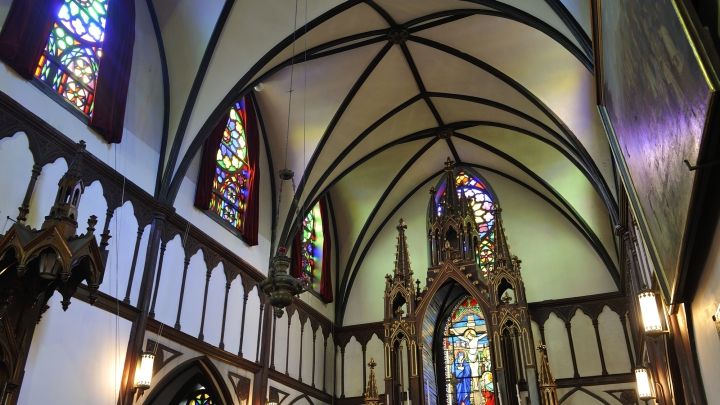 Belfry Presented by a French
The belfry installed on the rear top of the church was presented by a devout French Catholic in 1865. It chimes beautifully at noon and 6 o'clock in the evening everyday.