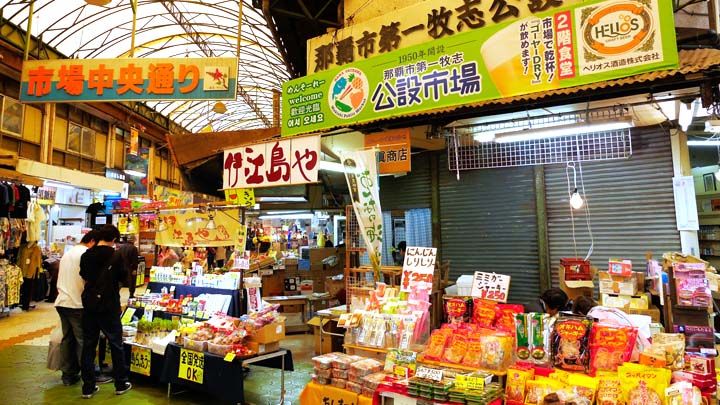 Naha Daichi Makishi Public Market is located a few minutes away from the center of Kokusai Street and Market Main Street. The market grew gradually through the recovery period postwar to be a huge kitchen for Okinawa citizens with more than 700 shops in and around the premises today. They deal with various things including meat, fish, fruits and vegetables. Many locals and tourists come visit this market. The second floor is occupied with restaurants where you can enjoy Okinawan cuisine.
Fresh Colorful Fish: Specialty in Okinawa
Fresh fish corner sells a lot of colorful fish caught offshore in Okinawa. You can buy colorful fish, distinctive to tropical regions, including gurukun (double-lined fusiliers), irabucha (knobsnout parrotfish), clams and shrimps.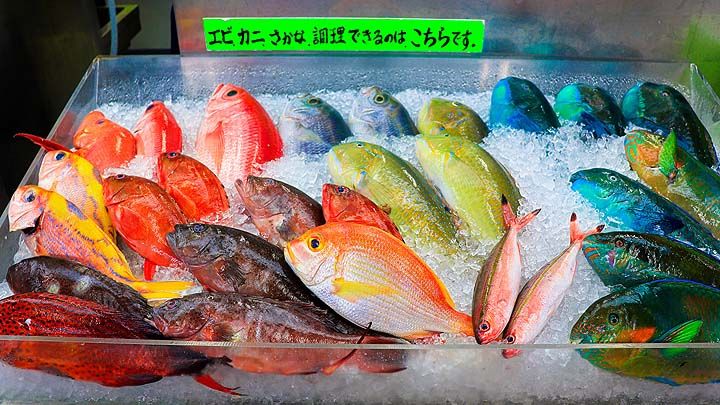 Okinawan Cuisine Has to Have Agu Pork
Along with fresh seafood, the market sells a selection of Agu (pork) that is necessary to Okinawan cuisine. The skin taken off from pig's faces (called chiraga in Okinawa) are on display and surprise tourists. It is said that people in Okinawa love pork and eat every part of a pig except its cry.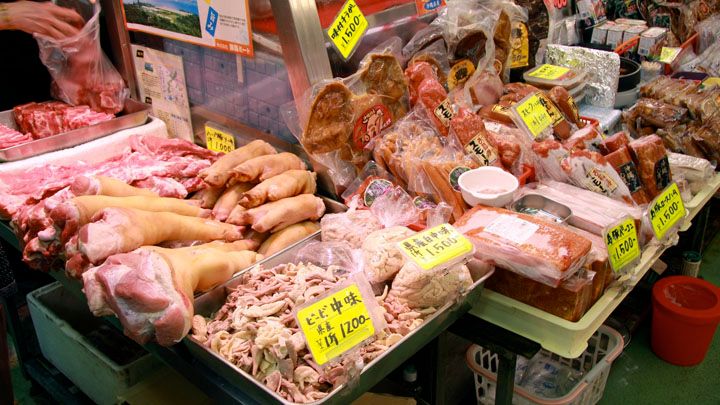 Restaurants on the Second Floor to Enjoy Okinawan Cuisine
The second floor of the market is occupied with some restaurants where you can enjoy Okinawan cuisine at reasonable prices. Some restaurants even cook the food you buy at the market downstairs for you. You shouldn't miss the chance to try traditional Okinawan cuisine such as Okinawa noodles or goya chanpuru (bitter melon stir-fried with pork, tofu and other vegetables).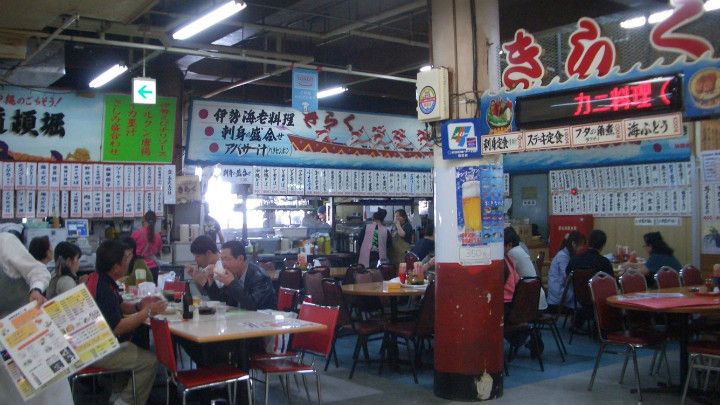 (Source: 食べログ)