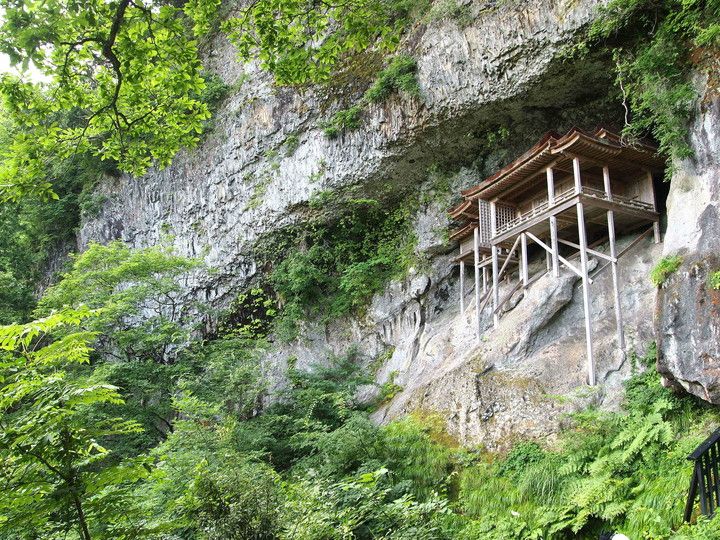 Sanbutsu-ji standing on Mt. Mitoku, which is 899.9 m high, is a temple surrounded by the stunning canyon scenery and the old growth forest. As a hollowed ground of sacred mountain Buddhism, it was opened over one thousand years ago in the Heian Period.  Many of the buildings of the temple are designated national treasures and cultural properties including Nageire-do. Also, Mitokusan Treasure House has many valuable treasures like Buddha statues. Mt. Mitoku itself is designated a historical site and scenic beauty. After the long and steep trail, you will see a notable site, Nageire-do, which is still shrouded in a lot of mystery.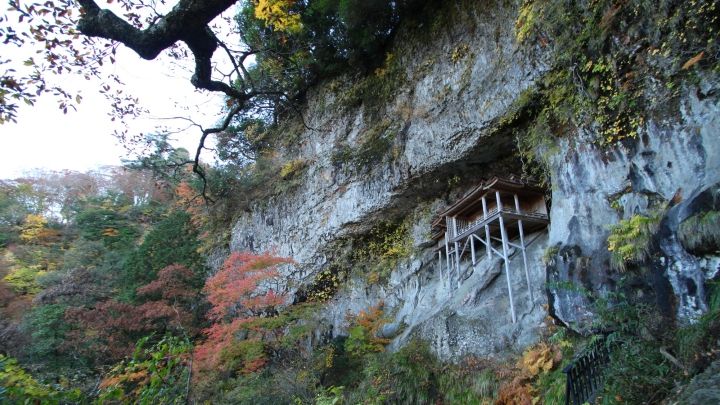 (Source: pixta)
Pray at the Main Hall for Safety to climb up to Nageire-do
As you walk up on stone stairs from the approach entrance, you will see the main hall that was built in the latter period of Edo. From here to Nageire-do, the very last building of Sanbutsu-ji, the bold mountainous way is waiting for you. Let's pray for your safety visit before you set off.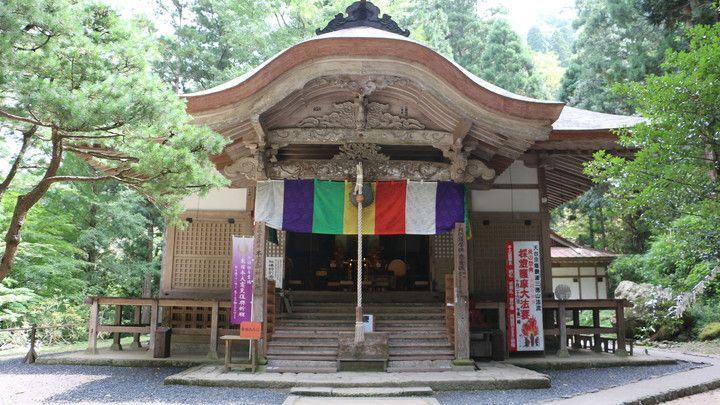 (Source: pixta)
Climb Kazurazaka by using roots for grip
The first hurdle is Kazurazaka (vine hill) where you trail up on tree roots used as a grip. It is not so hard to go up, but you have to be careful while descending. Since the trail is very hard, you have to pass the outfit check. If your shoes are not appropriate, they have rental zori (Japanese straw sandals) service. (For your safety, it is prohibited to go without any companions.)
(Source: pixta)
Kusarizaka, the most difficult trail
The hardest hill among many is Kusarizaka (chain hill). It is almost vertical, and you have to hold onto the guiding chain to climb. Slowly and carefully, one by one in order, that's the way you have to go.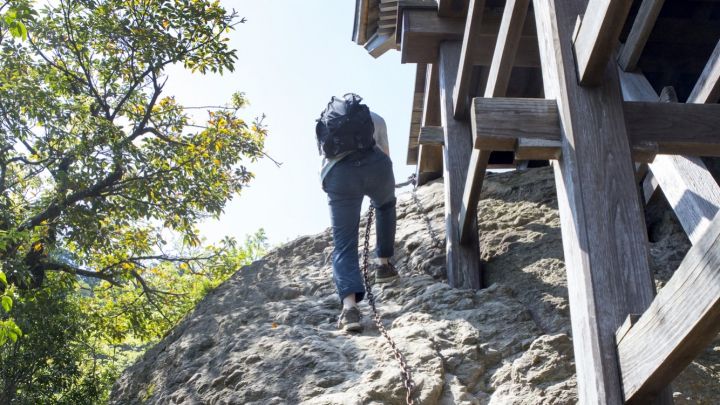 (Source: pixta)
Monju-do on a Cliff
When you scale Kusarizaka, Monju-do standing on the cliff, which was built 600 years ago in the Muromachi Period. The view of the building on the bare rock cliff is spectacular. Looking it up, you can't help gazing admiringly at the architectural beauty.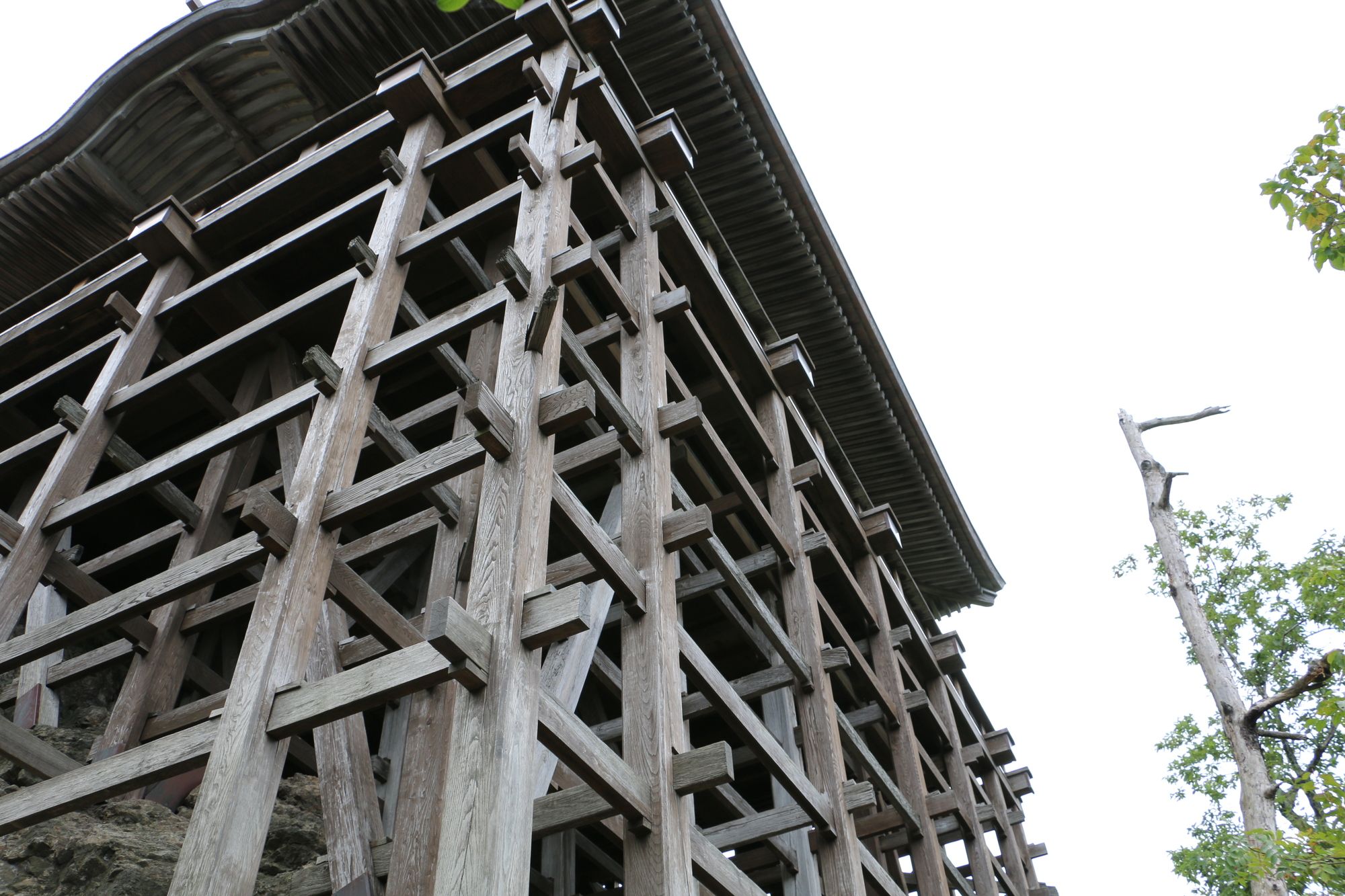 (Source: pixta)
Jizo-do with a Beautiful View
Jizo-do standing on the rock has a stunning view. It jetties over the cliff. You have to be very careful not to fall because there is no fence or handrail on the ambulatory. It is scary even to take a glance down the steep cliff.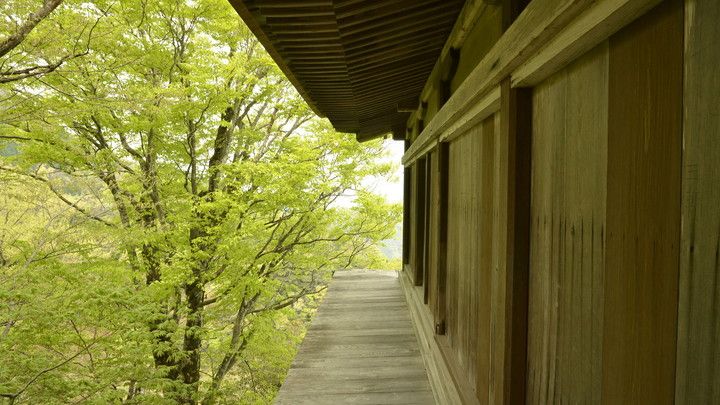 (Source: pixta)
Kannon-do in a Cave
Kannon-do is a small hall that was rebuilt in the early Edo period and stands in the rock cave. If you come to see this Kannon-do, it means Nageire-do, the goal, is just around the corner.
(Source: pixta)
Nageire-do Built on a Cliff
Nageire-do that was built on the bare rock cliff is the rearmost building in Sanbutsu-ji and a spiritual architectural structure to be designated as a national treasure. You can't see it unless you take the difficult path all the way, but it is worth taking the road less trodden to see its mysteriousness. You will forget all your effort at its sight.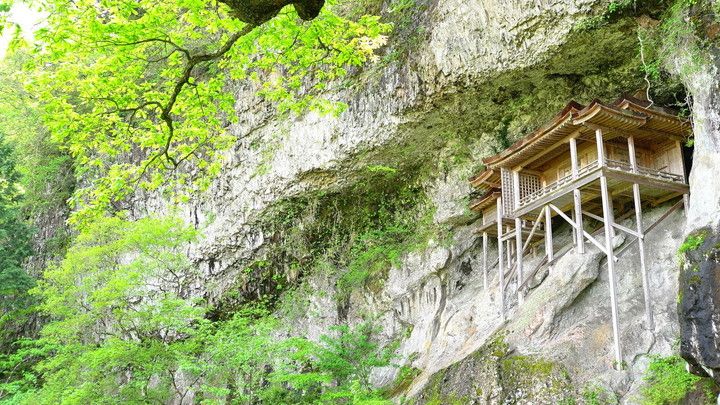 (Source: pixta)