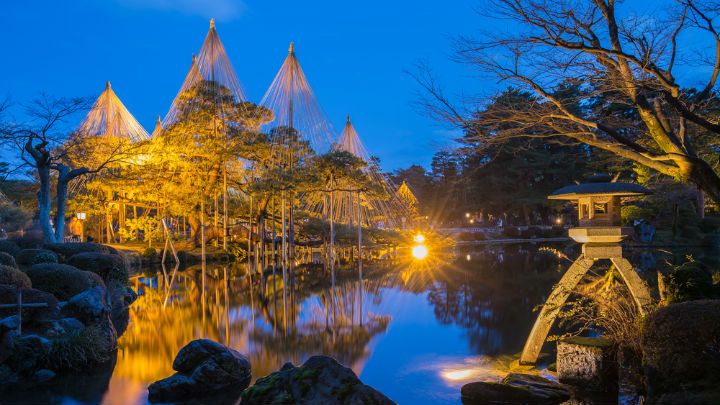 Kenroku-en, one of the most famous sightseeing spots in Ishikawa prefecture, is also one of the three most beautiful gardens in Japan. Its name means that it has all six attributes required to be a perfect garden according to Chinese landscape theory. It is a splendid traditional Japanese garden with ponds, bridges, and tea houses. Cherry blossoms in spring, rabbitear irises in early summer, red and yellow leaves in autumn, and "yukizuri" (the technique to protect trees from snow) in winter. It has a different charm in each season that attracts a lot of people. Since the garden originally built in 1676, successive feudal lords of Kaga province put emphasis on landscape gardening for 180 years and formed Kenroku-en today as a result. It has achieved a ranking of "three stars" in the Michelin Green Guide and is attracting more foreign tourists.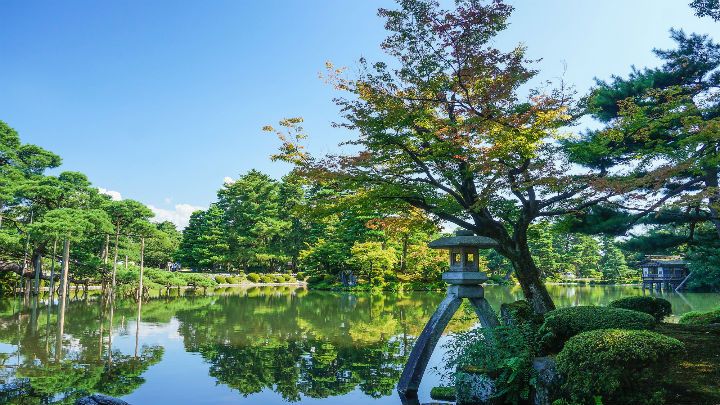 (Source: Hiro / PIXTA)
Graceful Branches of Karasaki pine tree
Karasaki is the pine tree with the most graceful branches in Kenroku-en. The branches are so huge that it has to be protected from breaking from the weight of snow in winter using a technique called "yukizuri," lifting the branches with ropes. The corn-shaped trees are widely known as a tasteful feature in winter. These pine trees are lit up during a certain period of time.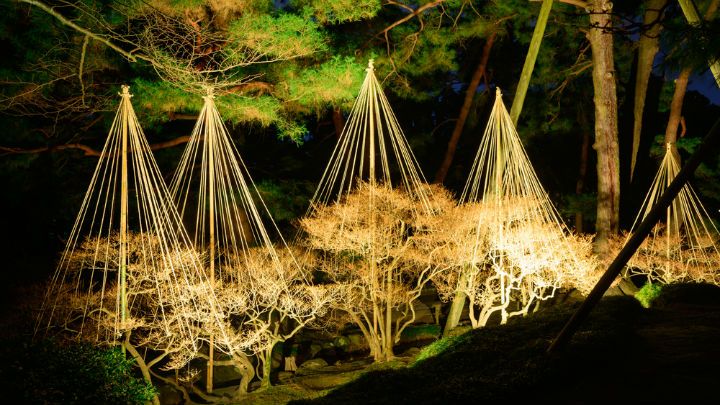 (Source: Scirocco340/shutterstock)
Kasumiga-ike: the biggest pond in Kenroku-en
Kasumiga-ike is the biggest pond among the many ponds in Kenroku-en. It is located in the center of the garden surrounded with various highlights so that visitors can enjoy different aspects of the garden when they go around the pond. The island in the pond is called "Horai-jima" which is considered to be a symbol of eternal youth and immortality.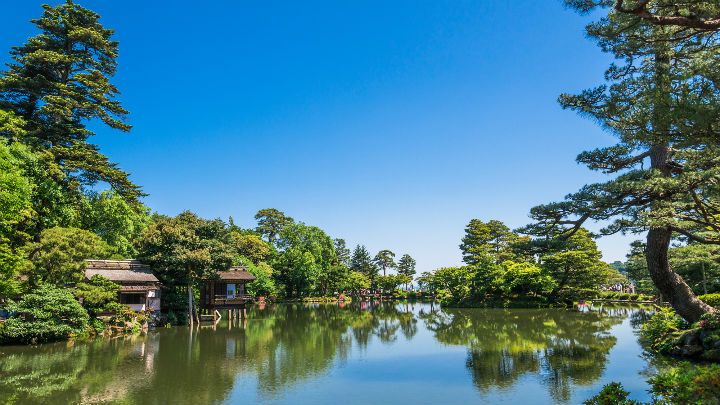 (Source: PIXTA)
Observation Deck with a Panoramic View of Kanazawa
It has a 180-degree panoramic view of Kanazawa, Noto Peninsula, and even the chain of mountains on clear days. Kanazawa city has an ordinance concerning the formation of a landscape. It regulates the colors of the city so that the buildings are colored to be harmonious with nature.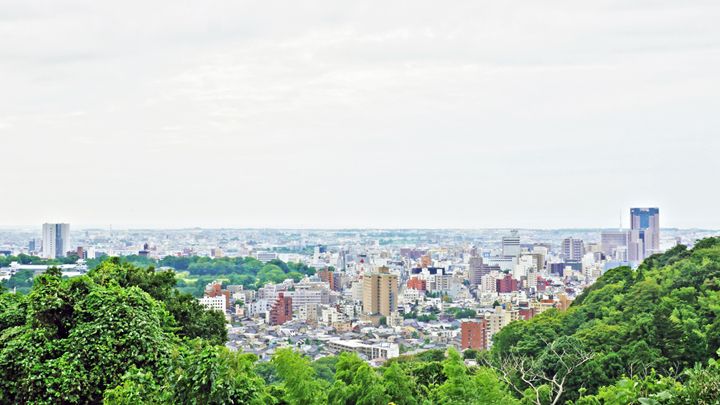 (Source: m.Taira / PIXTA)
Neagari Pine Tree
The black pine that is 15 meters tall is one of the most famous features in Kenroku-en. It presents a strange site with some 40 pine roots, both big and small, rise two meters above the ground. The tree was planted on a pile of soil at first, then the soil was removed little by little to reveal the roots after the tree took root well, resulting in the magnificent sight it is today.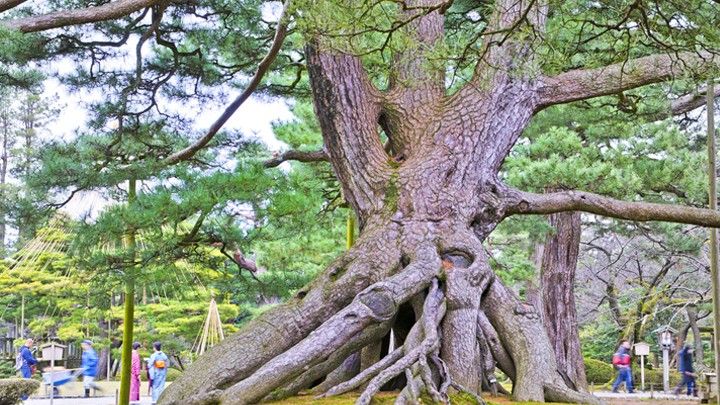 (Source: Pond Thananat/shutterstock)
Kyokusui & Hanami-bashi
The area around Hanami-bashi is a great view spot of various flowers. Cherry blossoms bloom in spring, while azaleas and rabbitear iris in early summer. The collaboration of these flowers and Kyokusui (winding streams) is as beautiful as Japanese paintings.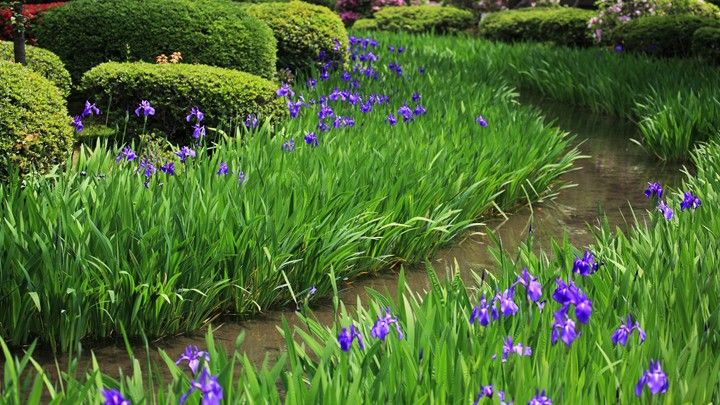 (Source: 裕デジタルストックフォト / PIXTA)
Kenroku-en Kikuzakura
It is a rare kind of cherry blossom where each blossom is small yet has more than 300 petals. It is said to be "the most beautiful flower in Kenroku-en" and mesmerizes many people every year. They have been designated as national monuments in 1991.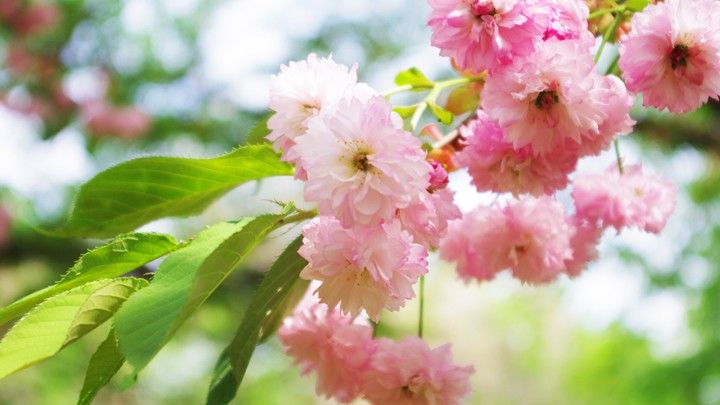 (Source: 弘前・写心観 / PIXTA)
Uchihashi-tei
It is a tea house located at Kasumigaike. It looks like floating in the pond. The view from inside the building is also tasteful as well as the view from the outside. You can have some tea and snacks in the tea house.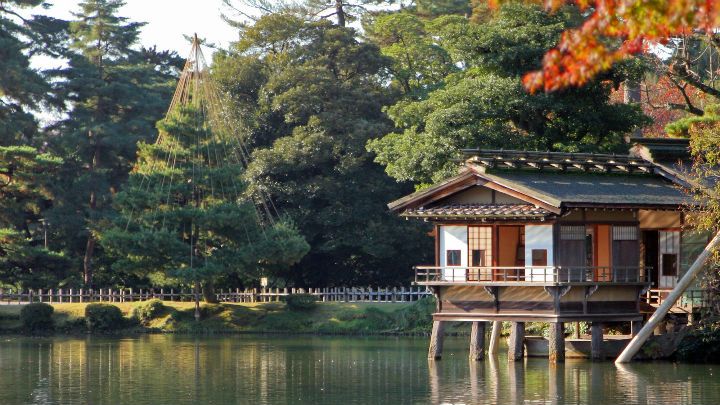 (Source: PIXTA)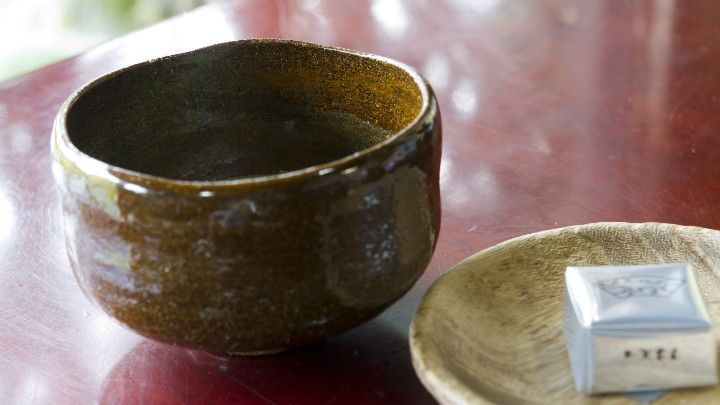 (Source: PIXTA)