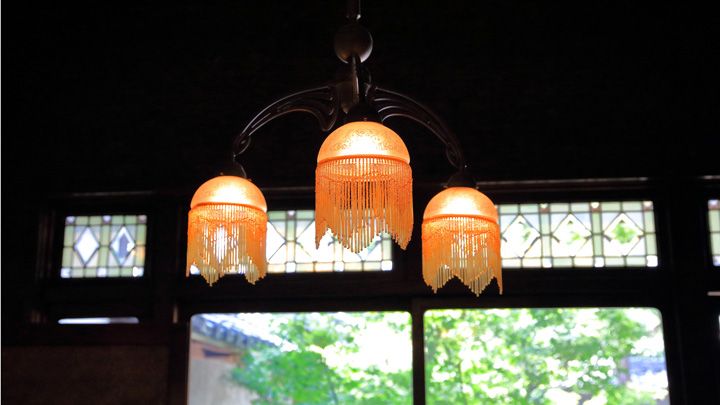 The Chikuho area in Fukuoka was once the best coal energy producing site in Japan. Ito Denemon - the "King of Coal Mines" - built this house in 1987. He built this modern Japanese-style building with the best Japanese architects, in order to welcome his new 25-year-old second wife, Byakuren, when he was 50 years old. A collaboration of Japanese and Western styles, this luxurious house is decorated elegantly and exquisitely so much so that it resembles a palace. You can also enjoy a strolling-style garden with a pond in the middle. It was recognized as a Japanese Cultural Property in 2011.
Byakuren's room
The highlight of this great house is "Byakuren's room" situated on the second floor. This room has a great view of the Japanese garden from the window. There is a closet decorated with silver, and a storage space above the closet that is covered with paintings of butterflies. All those detailed designs were realized in order to win his younger second wife's heart.
A luxurious house collaborating Japanese- and Western-style architecture
The garden is extremely spacious. It is hard to believe that it was someone's private garden at some point. There are four buildings facing the garden and three storage houses. This sumptuous house is decorated in great detail. The Western-style living room is sublime - a space combining the aesthetics of Japan and the West.
Splendid Study
The elaborate study is also decorated delicately. The floor is composed of wooden mosaics while the walls are decorated with thin fabric covers with silk from the belts of kimono. The bookcase is placed on the east side and the doors are covered with plants and flower paintings of each season with plenty of gold dust. Furthermore, stained-glass from England is placed just above the doors.
A love story with a sad ending
The marriage ended after 10 years when Byakuren ran away with another man. After Denemon passed away, the house was supposed to be demolished. However, many citizens gathered and appealed with a petition to keep the house as a cultural property. As a result, this magnificent place is open to the public today. Visitors are touched by the beautiful architecture and the sad love story of its previous owner.