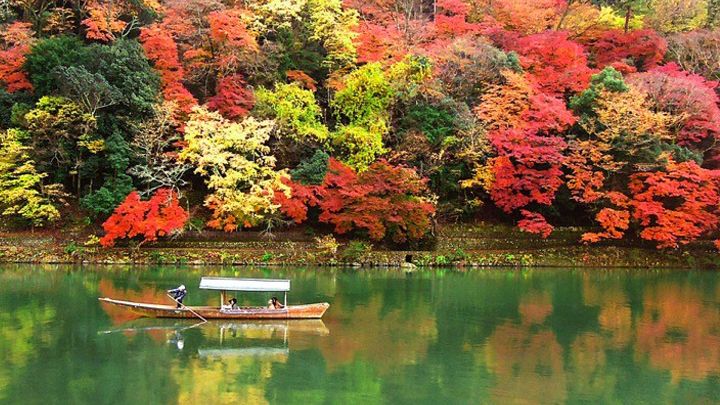 (Source: PhotoAC)
Bamboo forest
Bamboos shooting straight up into the sky are lined up neatly creating a sense of unity which is amazingly beautiful. When you look up, the sky is covered with bamboo leaves, and the sight of the rustling leaves with sunlight filtering through them is indescribable. Illumination at night is also magical.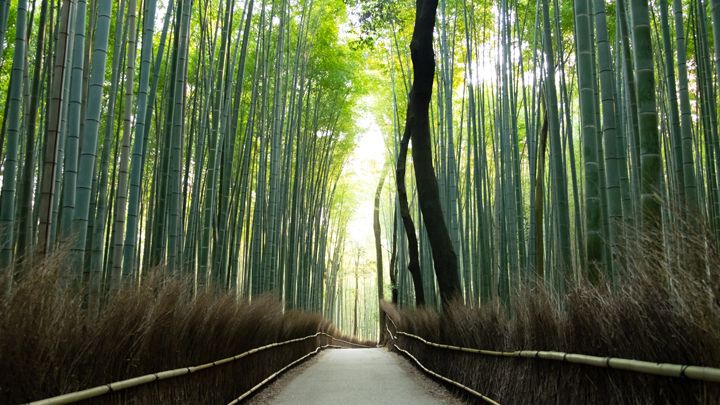 (Source: Taka / PIXTA)
Tenryu-ji
This beautiful temple is designated as a World Heritage as a cultural asset of old Kyoto, a Japanese historic site and a special place of scenic beauty. More than half the area of Arashiyama was originally a part of the grounds belonging to the temple. It is a high-class temple that won the first prize in "Kyoto Gozan Seido," the grading system of Zen temples judged by nobility around 1300.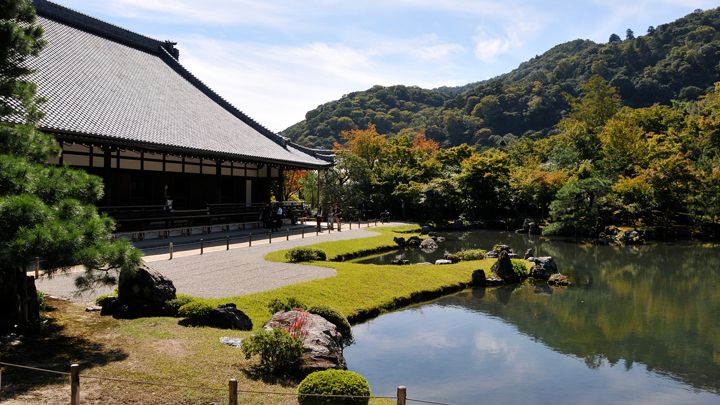 (Source: F-RHYTHM / PIXTA)
Suzumushi-dera, enshrining the jizo who fulfills one wish
This temple located in the middle of the mountain where you can hear the sound of suzumushi, bell crickets, all-year round. Koufuku Jizo Bosatsu, who you can see on top of the stairs, is the only buddha wearing "waraji," Japanese straw sandals, in Japan. Usually, Jizo Bosatsu is represented barefooted. The buddha walks to people and fulfills one wish apparently.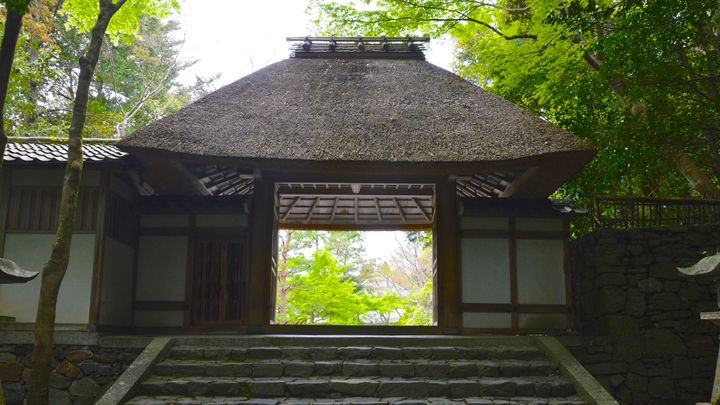 (Source: skipinof / PIXTA)
Significant view from Kameyama Park
From this park, you can enjoy the beautiful view of Arashiyama from an elevated spot. Dynamic panoramic views of the extensive Arashiyama can be seen from here. This park is a prime location to stretch your legs or take a break. Since other sightseeing spots such as Tenryu-ji are close by, this location is very convenient. There are ancient tombs where three emperors were cremated.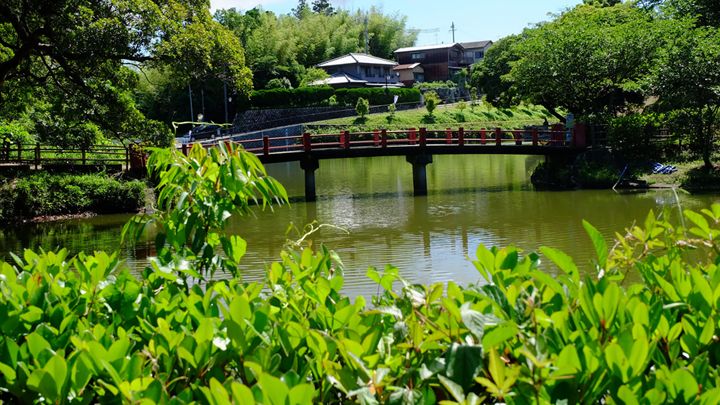 (Source: shoko / PIXTA)
Torokko, Trolley train
The trolley train runs for 7.3 kilometers (about 25 minutes) between Saga Station and Tsuruoka Station. Every season you can enjoy beautiful scenes such as the elegant wild cherry blossoms in spring, murmuring of the river and voices of cicada in summer, red leaves in autumn and snowscapes in winter.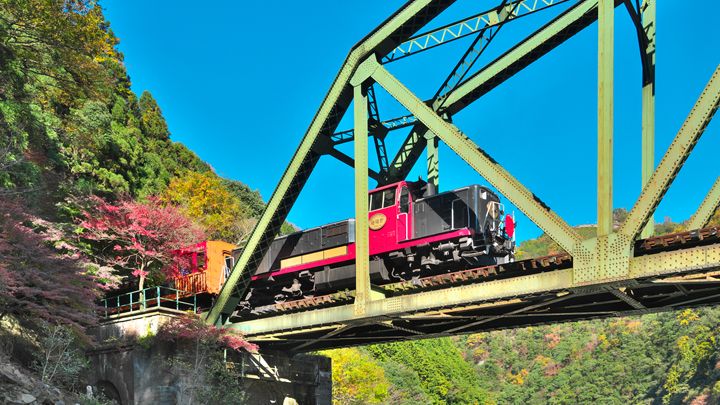 (Source: めがねトンボ / PIXTA)
Nonomiya-jinja
Nonomiya-jinja is well-known to be one of the strongest divine power spots in Kyoto. In history, Nonomiya is a sacred place where Saio, the women who served in Ise Shrine as representatives of the emperor, chosen from imperial princesses and queens, purified their body before they going to Ise. It is a small shrine behind the bamboo forest of Arashiyama, and is also famous as a praying spot for success in academics, love and easy childbirth.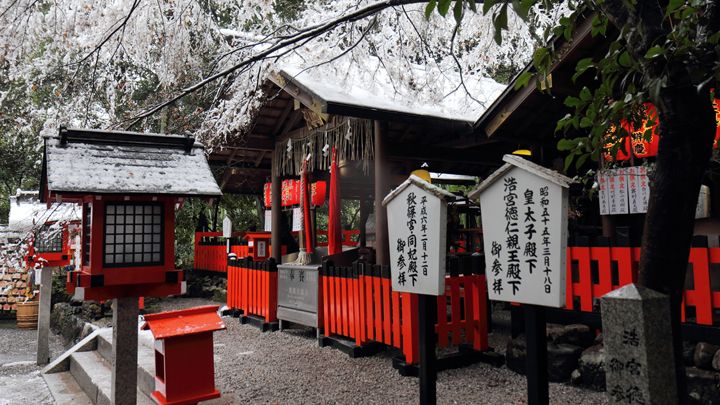 (Source: masaaki / PIXTA)
Koke-dera
Koke-dera is a garden covered by 120 kinds of moss and appears like a lush green carpet. Its official name is "Saiho-ji." Originally, it was built on the site where the holiday house of Shotoku Taishi was located. As years passed, the ruins and the garden were gradually covered by moss and people named it Koke-dera, the temple of moss. Currently, it is not open to the public, and a reservation in advance by a return postcard is required.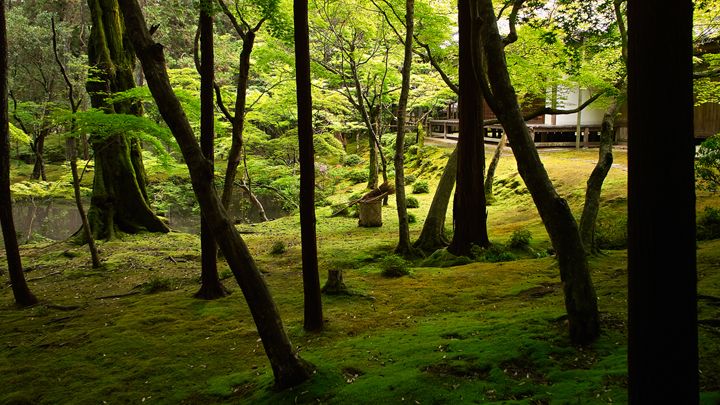 (Source: kazz zzak / PIXTA)