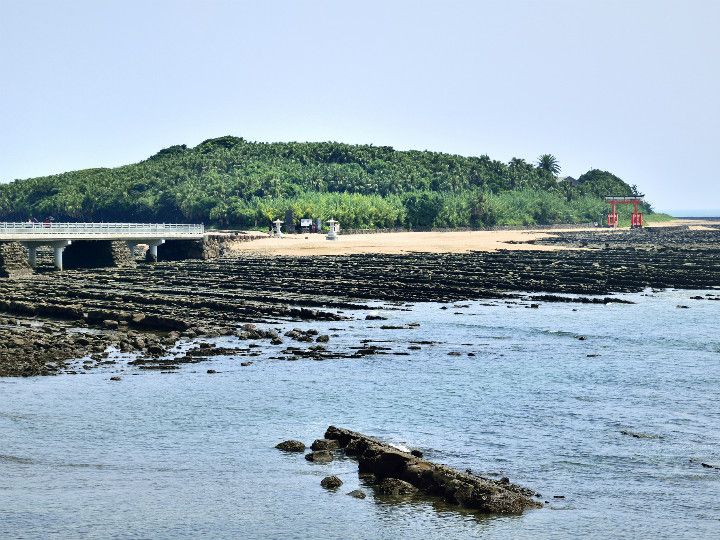 Aoshima Jinja in Miyazaki is a shrine that stands on a small island called Aoshima. The whole island about 1.5 km in circumference is the grounds of the shrine. Aoshima is a habitat for tropical and subtropical plants and designated as a special natural treasure. Until 270 years ago, it was regarded as a sacred ground and entry onto the island was only permitted for Shinto priests and Shima-bugyo (magistrate of island). Today, everybody can go across the Yayoi Bridge and visit this island. In old days, people could go across this bridge only once a year on March 10th based on the old calendar. Even for this, people had to wait for the land to show up and connect the main land and the island at low tide.
Main Hall
The vermillion-lacquered beautiful main hall was build in 1974. It enshrines three Gods regarded as having divine favor in matchmaking, safe childbirth, and the safety of a voyage. Make sure to pray at Motomiya (an origin of Aoshima shrine) to the right of the shrine's main building. It might bring you more benefits.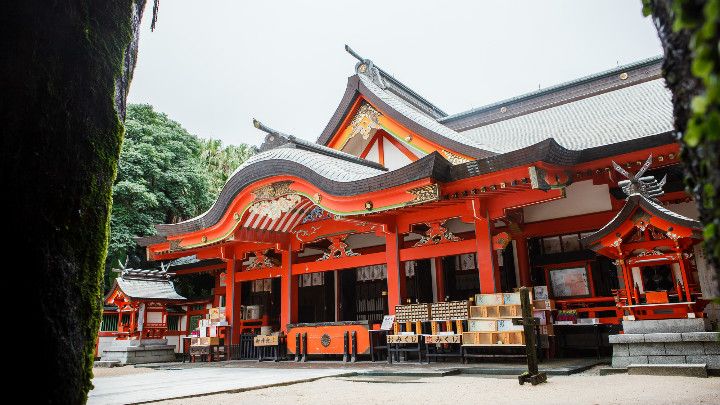 Musubi-koyori that Grants Your Wishes
It is said that tying a koyori (small colored paper string) on a tree called "Fufu birou" will make your wish come true. The color of the koyori varies according to your wishes. Pink is for a good match or a harmonious marriage, purple is for health, green is for achieving success in business, yellow is for prosperous business, and white is for other wishes to come true.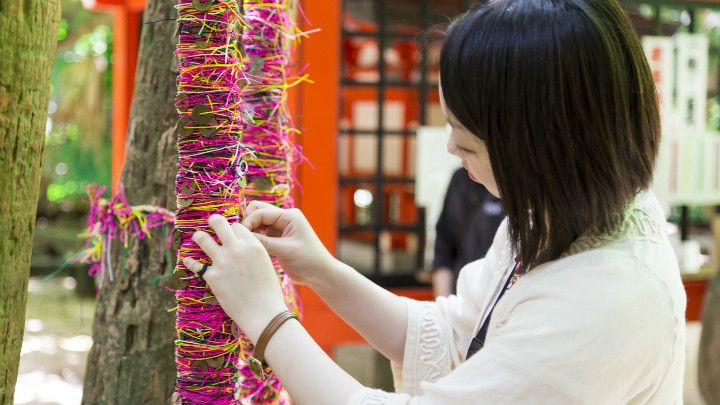 Hyuga Shinwa-Kan (mythology museum)
There is a mythology museum called "Hyuga Shinwa-Kan" in the premises of the shrine. The wax statues are exhibited to reproduce the scenes of mythology based on Aoshima. They have 12 scenes from the mythology so that the visitors can learn about them.
A National Monument: Devil's Washboard
Aoshima is surrounded by strange wavy rock formations called "the devil's washboard." The rock that was under the sea a long time ago appeared above water because of a movement of the earth's crust, then got eroded by the waves and the sea water to take its current shape. You can see a great scenery with a strange-shaped rock surface that stretches as far as 100 m offshore at low tide.