Japanese stationery has become synonymous with "omiyage" (souvenirs) and is currently extremely popular among foreign travelers. The secret to these clever items' success is not just cool design, but other qualities such as being "durable" "easy to use" "affordable" "cute," as well as having other wonderful characteristics resulting in products that offer "happiness." So, here we will introduce three of the best items from the popular "Omotenashi Stationery" collection brought to you by one of the largest stationery companies in Japan, Kokuyo! ("Omotenashi" is a special word in Japanese that translates as "hospitality" and conveys the utmost of quality and care.)
No. 3 Highlighter that uses two different colors with a single tip!?
Do you use more than one color while highlighting your notes for study or work? At such times, this dual-colored highlighter is the tool for you ♪ How awesome is this! By simply rotating the highlighter, you can use a different color so you don't have to go through the hassle of carrying an extra highlighter.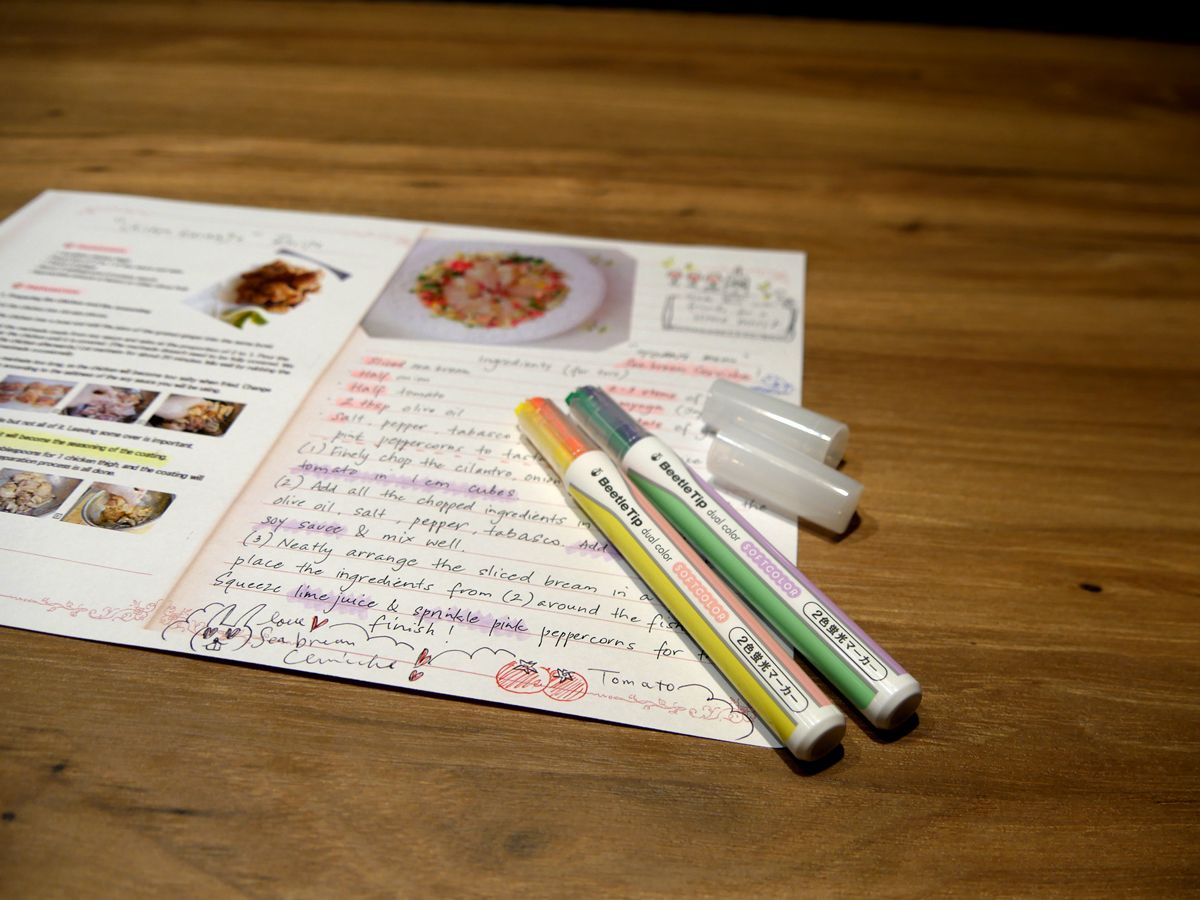 No matter how much you look, you're not likely to find another highlighter that combines two colors on the same tip, and what's more is that Kokuyo offers a set of three highlighters featuring six different colors. Now, you need to carry half the number of highlighters you normally would and the more you use these, you will realize how convenient they are. This product is the essence of "Omotenashi Stationery" which seeks to provide incomparable quality to its customers.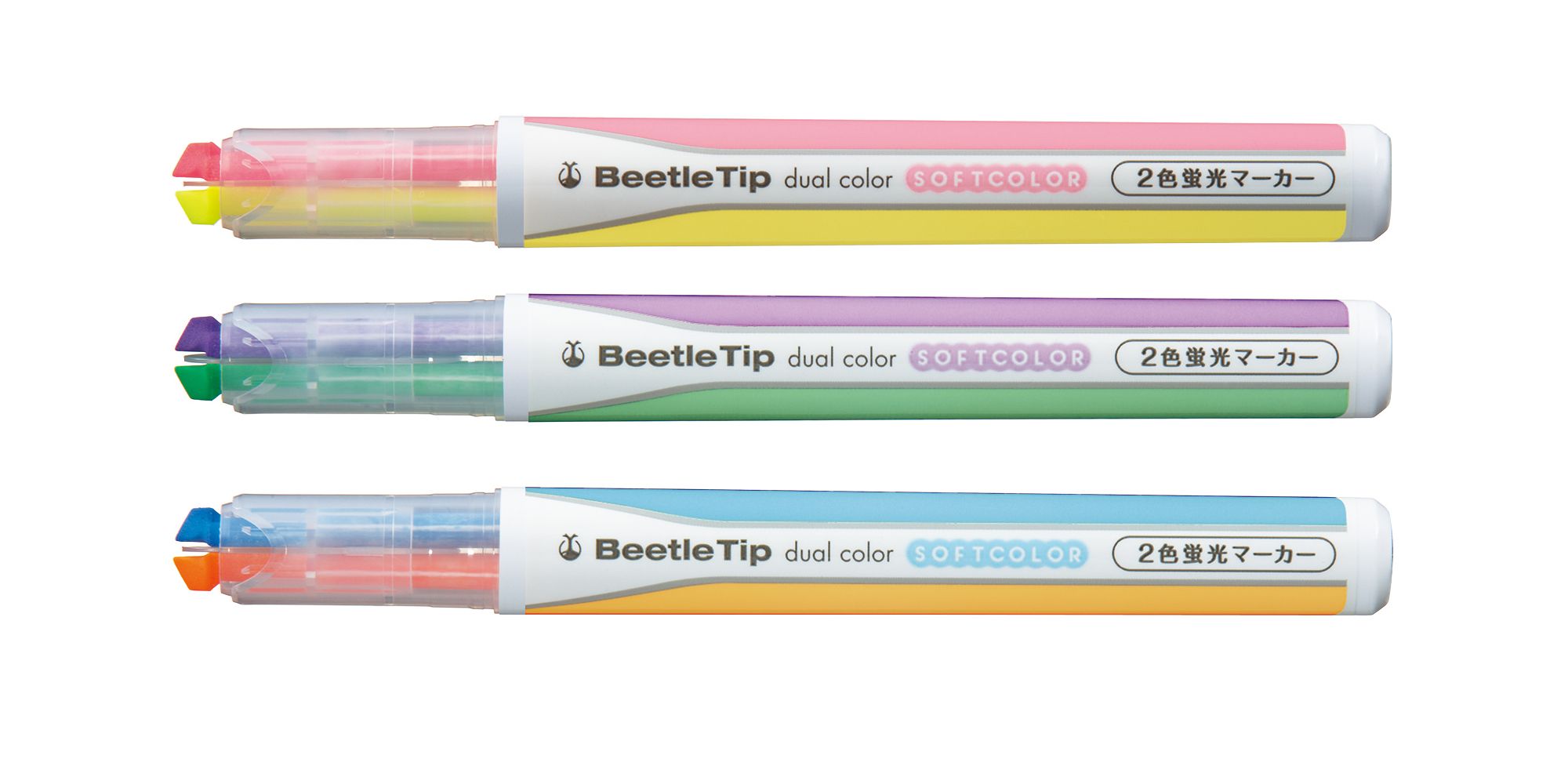 Currently, the "soft color" type that is in sync with the spring season is most popular. ●Product Name: 2 Color Highlighter-Beetle Tip Dual Color (Soft Color) ●Manufacturer's Suggested Retail Price: 150 yen + tax
No. 2 Staple-less Stapler
The distinctive feature of Kokuyo's Harinacs staple-less stapler is its palm-size body that doesn't use stapler pins. No more worrying about running out of staples! This is the secret to the growing popularity of this product. You may be worried about your papers falling apart without a proper staple, but welcome to the high-level technological development of Japan! The arrowhead-shape holes thread the paper together firmly binding them, so that the connected area will not come apart.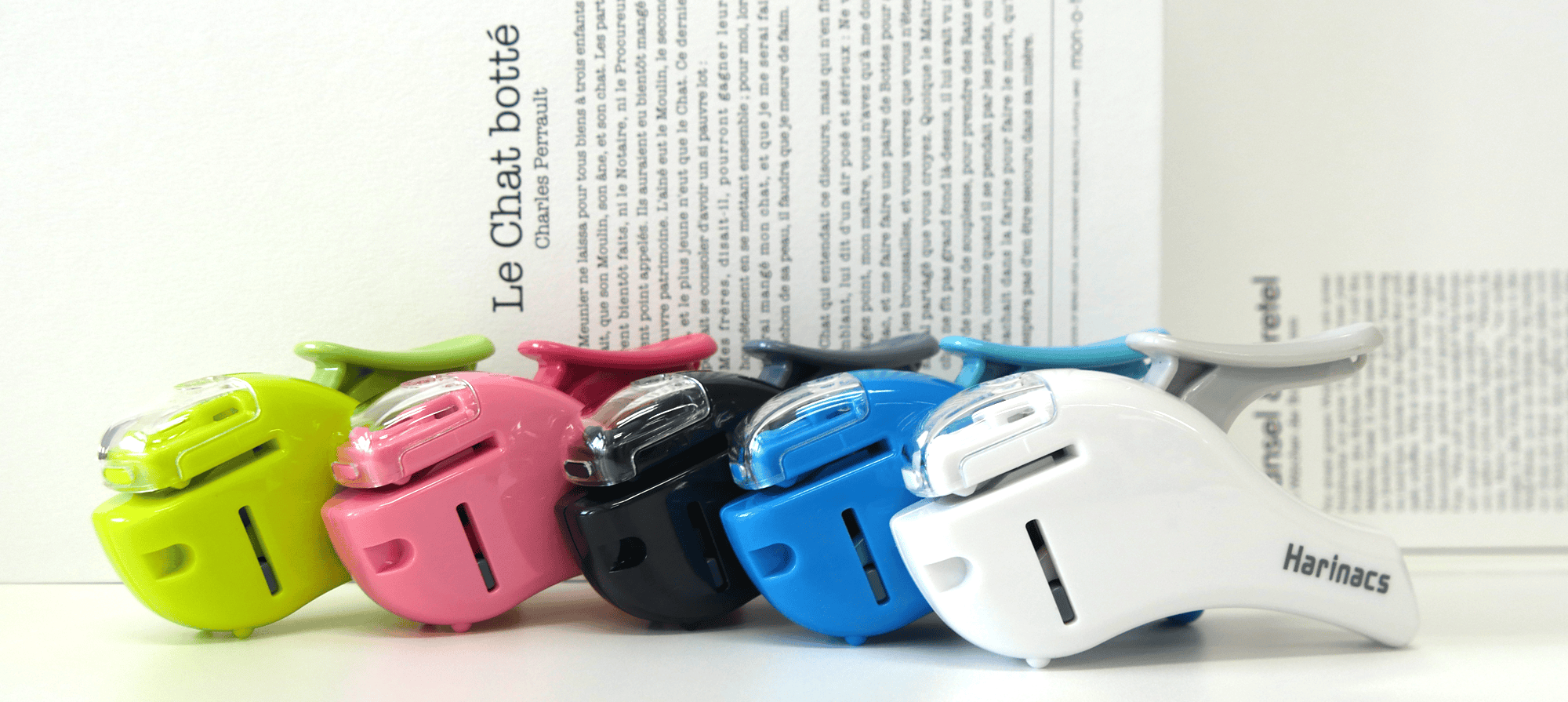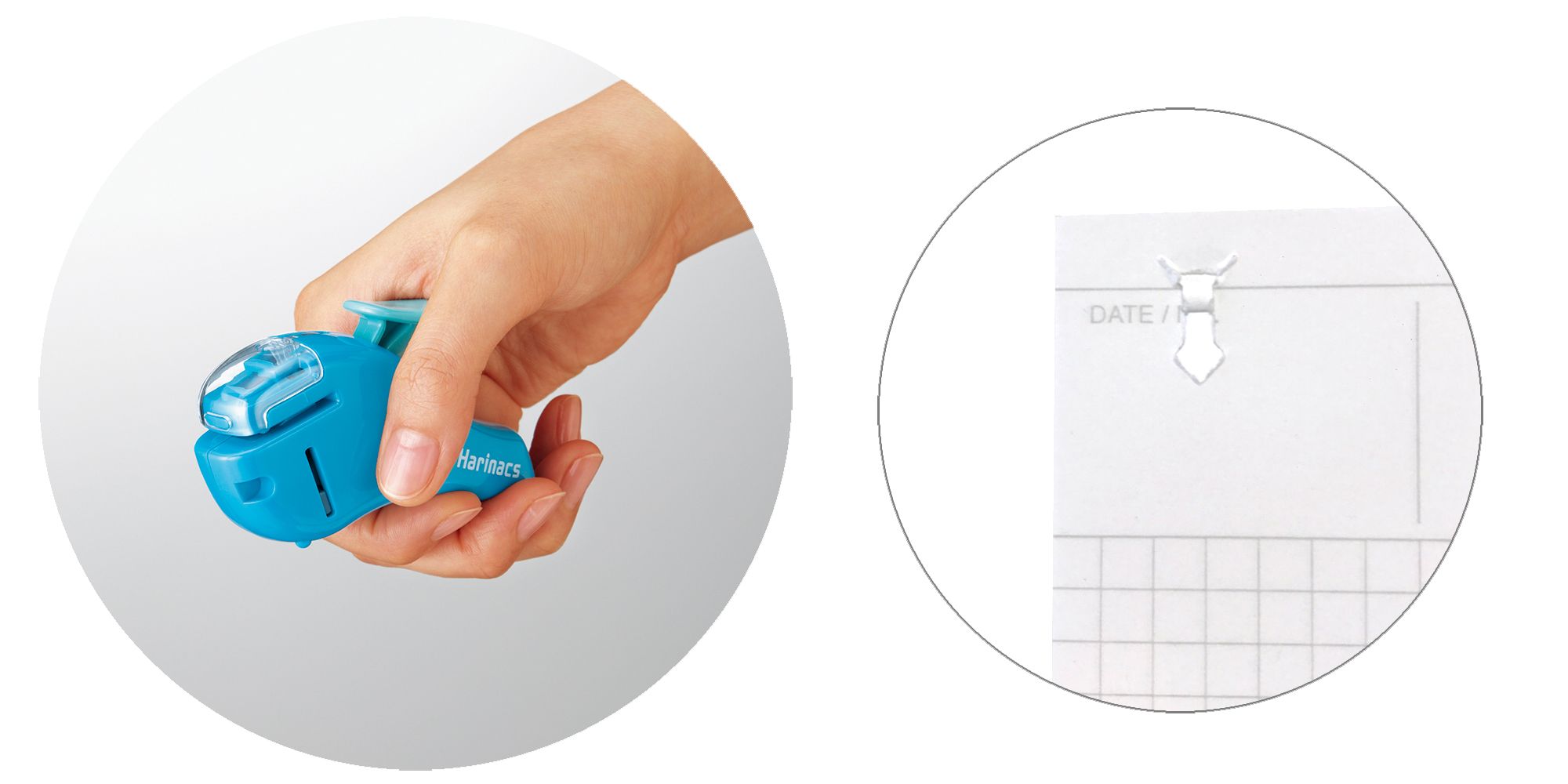 With a lever handle that's easy to grip, the soft curved shape of the Harinacs stapler has a natural feel. The stapler also comes in a wide variety of colors so that you can pick the perfect one to match your friend in mind. Harinacs (Compact Alpha) ●Manufacturer's Suggested Retail Price: 600 yen + tax
No. 1 "Arigatou" rubber bands
Kokuyo's "Wagomu" belongs in the rubber band family, but is designed in a special bowknot motif. This special rubber band casually conveys the consideration and gratitude that Japanese feel with an unspoken "Arigatou!" (meaning thank you).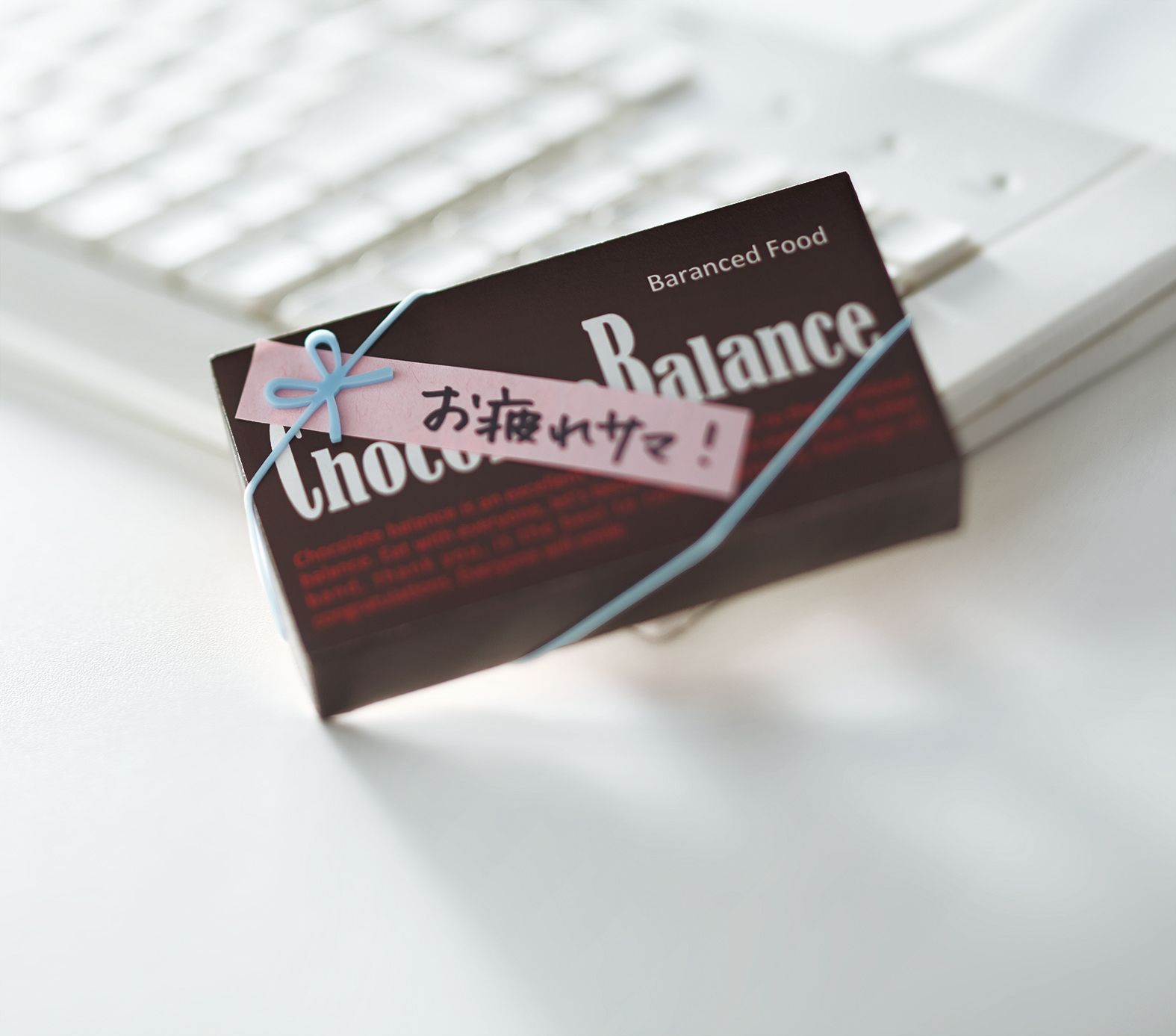 The style of bow used on the band is modeled after the "Mizu-hiki," which is easy to untie and tie again representing the idea that "celebrations are always welcome" and is considered an auspicious good-luck charm for events such as childbirth and entrance to new schools. Of course, these bands are great as souvenirs, but they are also wonderful to include in your own lifestyle for a variety of uses! For example, instead of using a ribbon to wrap that book you may have borrowed from a friend, apply one of these bands along with a thoughtful message which will no doubt leave a warm impression ♪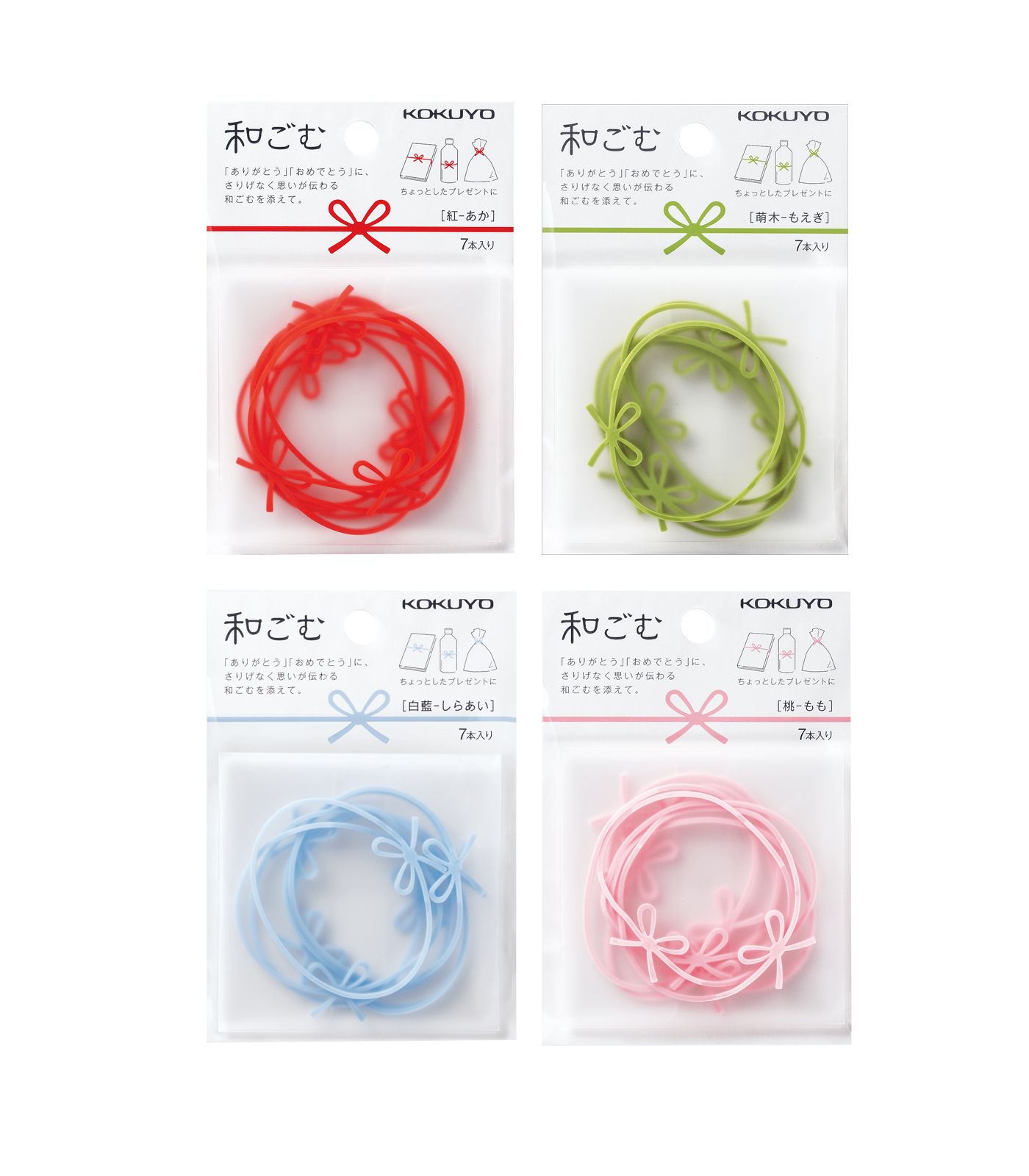 Japanese Bands (Wagomu) 7 band set ●Manufacturer's Suggested Retail Price: 460 yen + tax
Recommended stationery that is gaining popularity!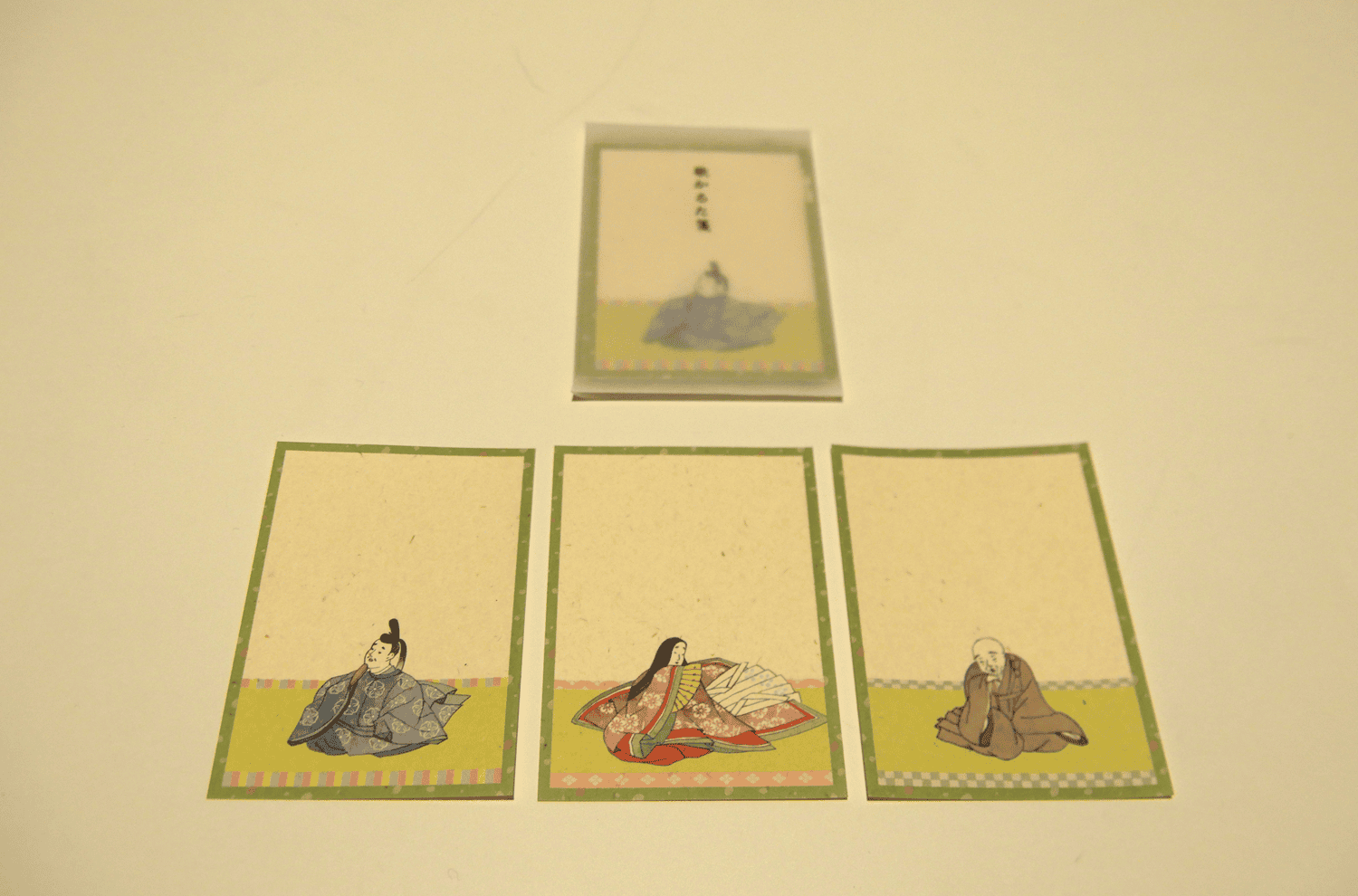 ●Uta-Karuta Notepad A mini notepad made with smooth textured paper featuring designs from the traditional card game called "Uta-Karuta," featuring "One Hundred Poems." This gift provides a Japanese cultural experience through pictures of feudal Japanese lords and princesses helping you relax. ●Ninja Sticky Notes Sticky notes featuring ninja and swords derived from the history of Shiga, a perfect item for ninja lovers. There are two styles including "Swords and Ninjas" and "Swords and Throwing Stars," both of which will make you think ninja are popping out of your notes!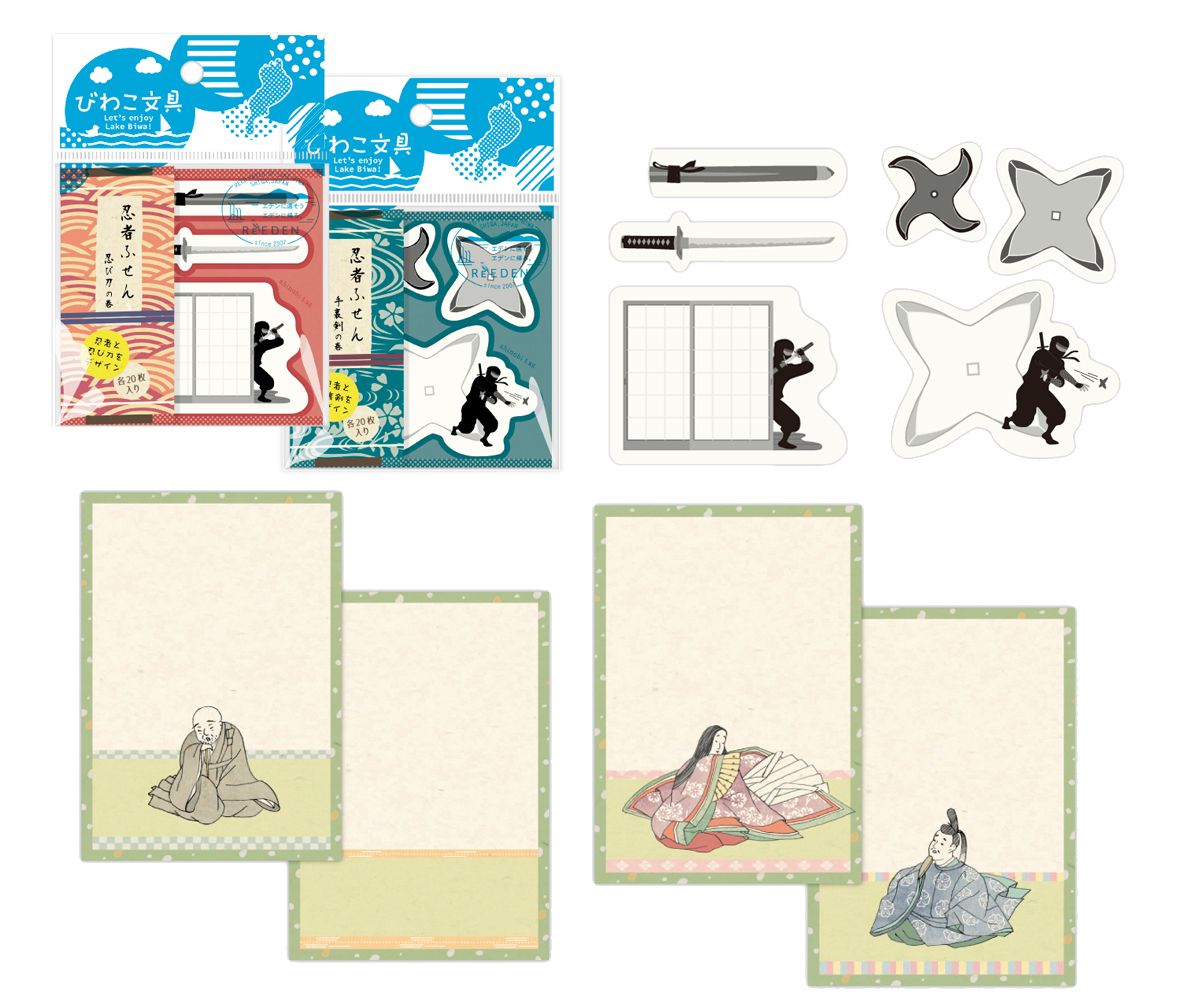 A premium item that can only be obtained from the Kokuyo EC website or from within Shiga Prefecture, those headed to Shiga, make sure to check it out! Ninja Sticky Notes ●Manufacturer's Suggested Retail Price: 350 yen + tax Uta-Karuta Notepad ●Manufacturer's Suggested Retail Price: 250 yen + tax Where to buy: Major stationery stores and souvenir stores at sightseeing locations in Shiga Prefecture.
Details
KOKUYO Co., Ltd. Address: 6-1-1 Oimazatominami, Higashinariku, Osaka-shi, Osaka URL:http://www.kokuyo-shop.jp/shop/