Japan has four distinct seasons and there are many traditional events and holidays throughout the year that celebrate the seasons. Along with the seasonal changes, you also see changes in the food, and since long, Japanese have favoured eating dishes made using fresh seasonal ingredients. One of the ways to enjoy a trip to Japan is to be aware of the major events and festivals, customs and traditions including food available in each month. In this feature, we talk about some of the customs and traditions that have been followed over the centuries in the month of August.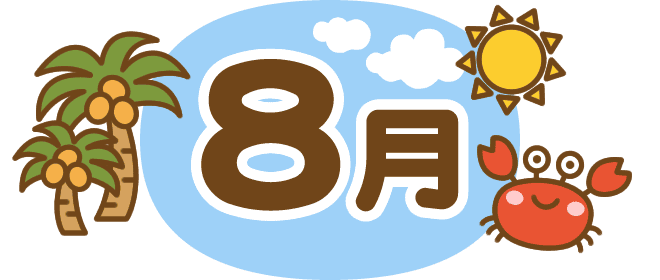 In classical Japanese, August was known as Haochizuki (葉落月) meaning "month of falling leaves" or Hazuki (葉月). Based on the lunar calendar, summer comes to an end as leaves begin to fall ushering in the next season in this month.
First day of autumn/fall (Risshuu, 立秋, August 7)
August 7 is the peak of summer in Japan with the sun beaming intensely. According to the lunar calendar, August 7 is considered the beginning of autumn as cool winds start blowing through Japan. It is a sign that the unbearable heat of summer will soon come to an end.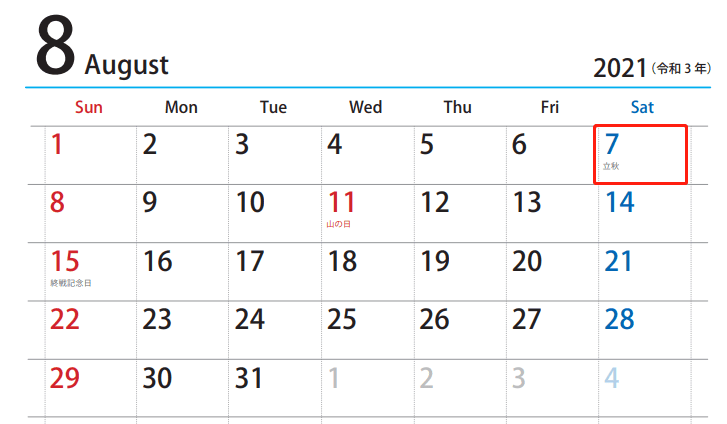 Mountain Day (Yama no Hi, 山の日, August 11)
Japan has designated August 11 as Mountain Day, a national holiday which was created in 2016 for "opportunities to get familiar with mountains and appreciate blessings from mountains". There are many Japanese people who go hiking on Mountain Day. You might want to avoid going to a mountain to avoid crowds if you're in Japan on this day.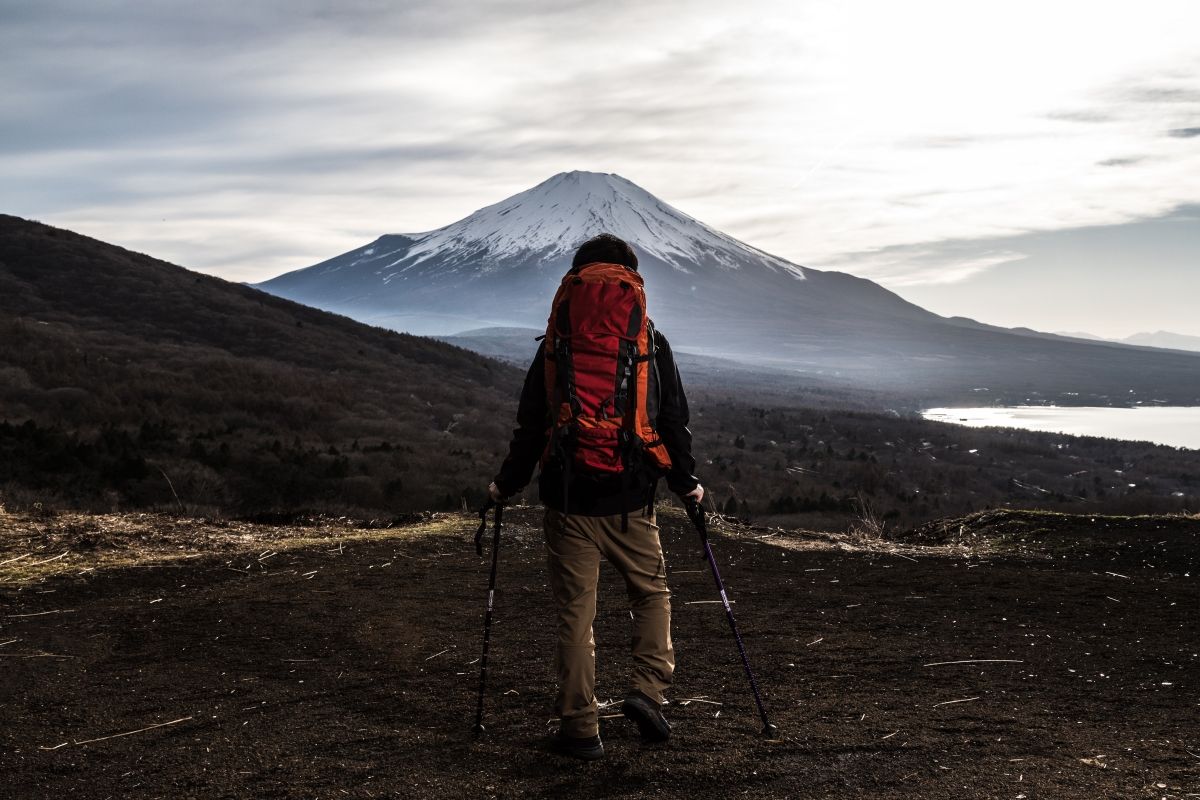 Mountain day in 2021 is a bit special, as it falls close to the 2020 Tokyo Olympics. The date has been changed from August 11 to August 8 for the convenience of those watching the 2020 Tokyo Olympics.
Obon (August 13-16)
The Obon Festival has its origins in India and arrived to Japan through China. The festival is held to honor the spirits of ancestors. Many Japanese visit cemeteries, clean the graves of their ancestors and provide offerings like fruit baskets and flowers. This is the reason why Japanese supermarkets will sell several baskets of fruit and vegetables before and after Obon.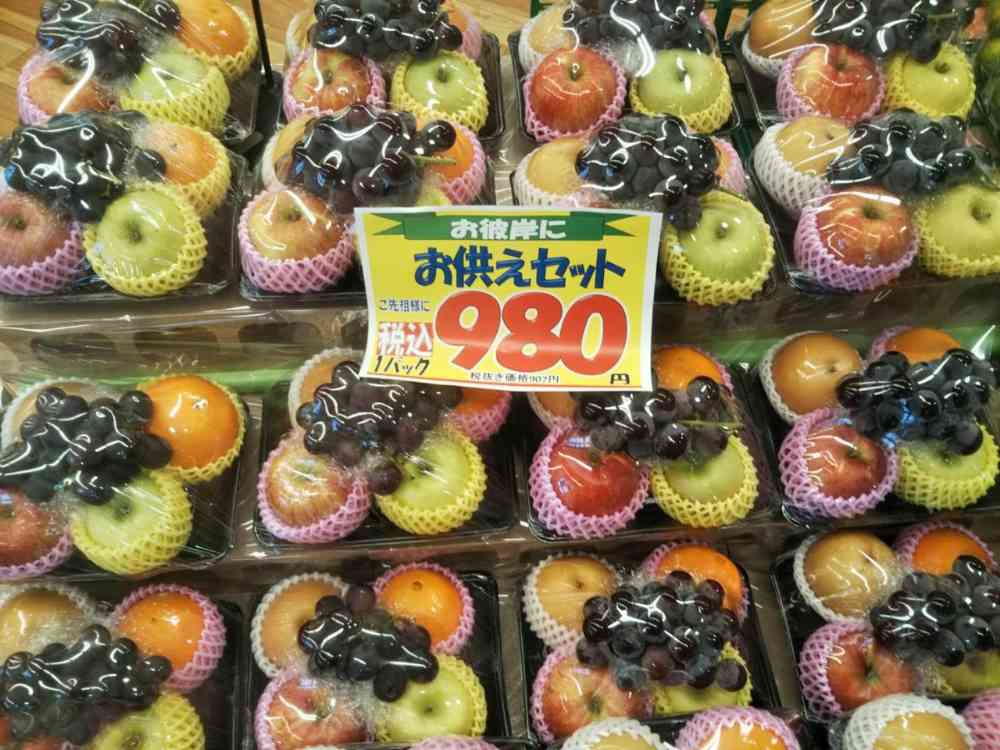 Summer festivals in Japan
If you're in Japan during summer, you can't miss the festivals that are held all over Japan. Of the many festivals, of particular importance and grandeur are Nebuta Festival in Aomori, Kanto Festival in Akita, and Tanabata Festival in Sendai, all in Tohoku, and the Awaodori Festival (Awa dance) in Tokushima, Shikoku. In order to visit any of these, you will need to make hotel and transport reservations in advance.

 

Nebuta Matsuri (festival) in Aomori Held every year from August 2–7, the Nebuta Matsuri is a once-in-a-lifetime experience. More than 20 nebuta are paraded through the main street from Aomori Station and over six million people visit during this time. The exhilaration and energy in the air is contagious as the nebuta move to the music of taiko (drums), musicians and dancers.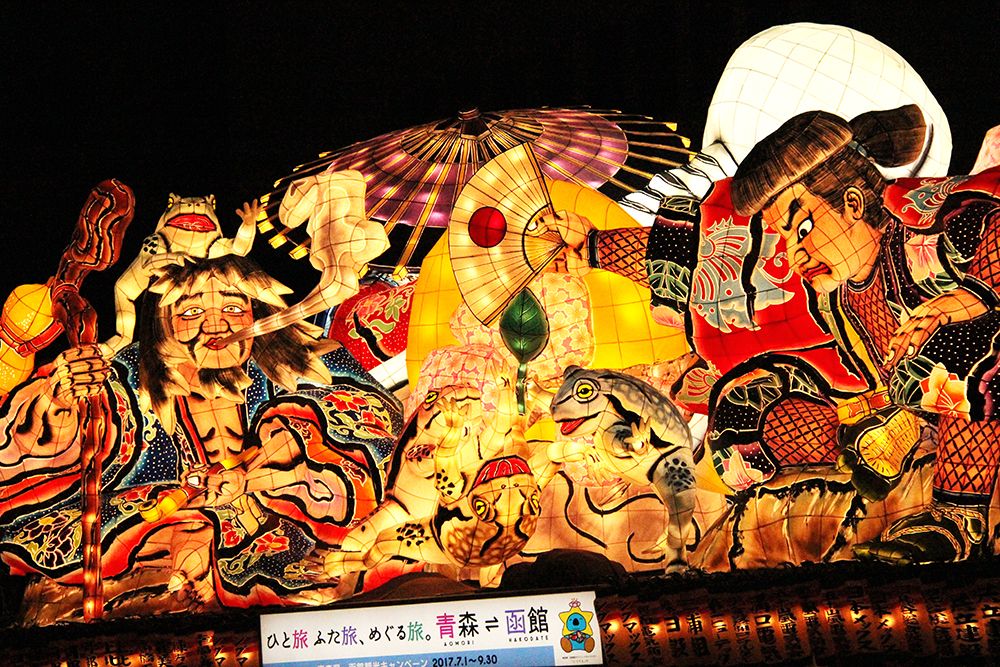 Known to be around since the 1700s, Nebuta (ねぶた) are enormous, dynamic paper floats with painted images of warriors, samurai, mythical characters as well as modern ones. Each one of the enormous Nebuta is carefully handcrafted by artisans, can weigh about 4 tons, is 9 meters wide, 7 meters long and 5 meters high.

 

Nebuta Festival official website: https://www.nebuta.jp/foreign/english.html

 

 

Kanto Matsuri in Akita Akita Kanto Matsuri (festival), held every year from August 3rd to 6th in Akita city, Akita Prefecture, is a traditional festival that has been going on since the Edo period. The origin of this festival goes back to the ceremony of Neburi Nagashi from the Horyaku Period (1751-63) for good harvest and purification of the soul.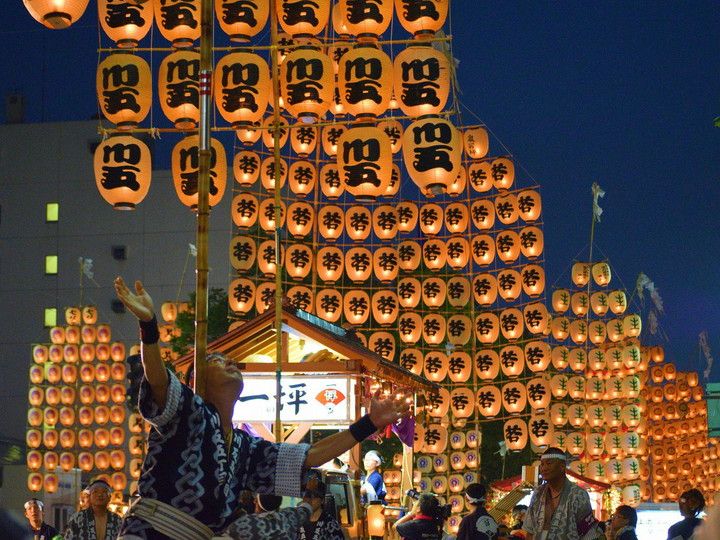 Kanto (竿燈) refers to a bamboo pole assembled to hang lanterns said to resemble an ear of rice. At this festival, the kanto and lanterns are thought of as grains of rice on a stalk and by carrying these, people pray for a good harvest. Each pole has 46 paper lanterns that are lit using candles and the total structure can weigh as much as 60 kg.

 

Kanto Matsuri Official Website: https://www.kantou.gr.jp/english/

 

 

Tanabata in Sendai Although Tanabata falls on July 7, the Tanabata Festival in Sendai is held in early August according to the lunar calendar. The biggest highlight of the Sendai Tanabata Matsuri is without a doubt the elaborate 3,000 bamboo and lantern decorations.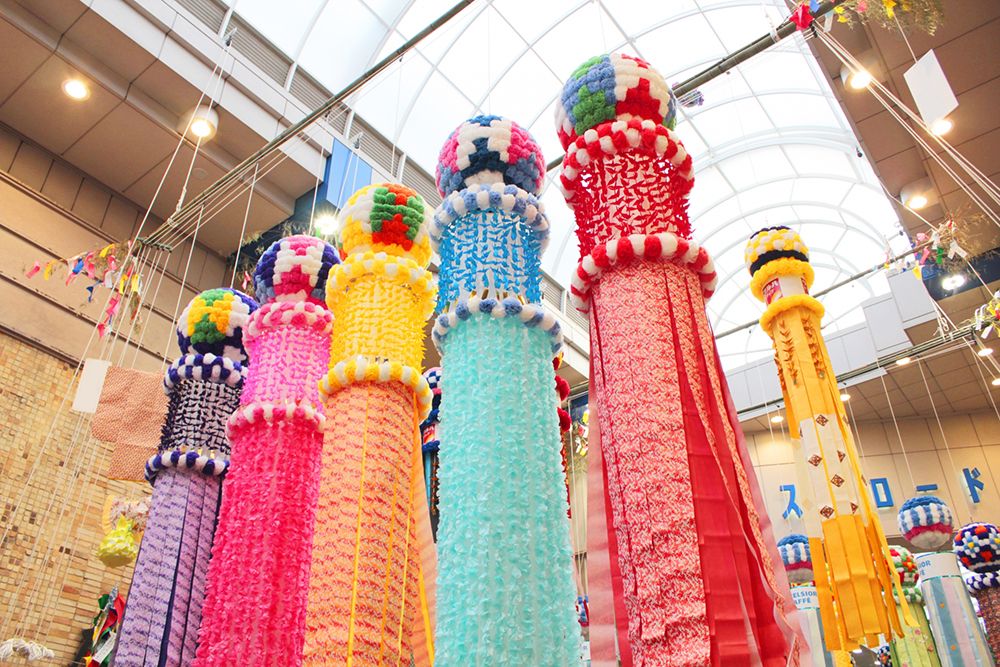 The Sendai Tanabata Fireworks Festival is held before the Tanabata Festival every year. From 19:00 to 20:30, you can see fireworks on the Hirose River in the city of Sendai.

 

Tanabata Festival Official Website: https://www.sendaitanabata.com/en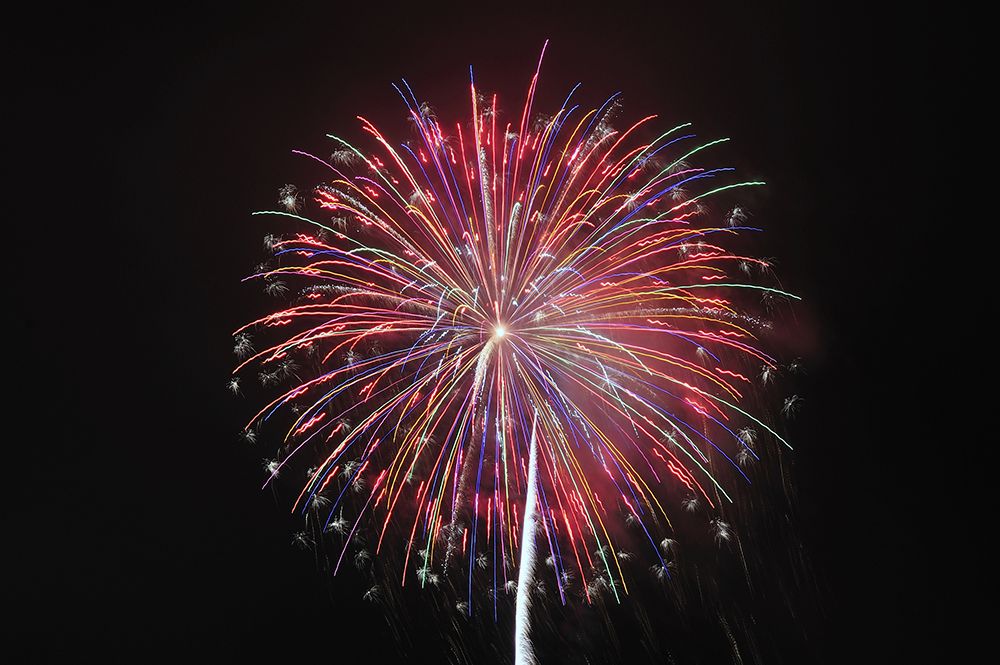 Seasonal Ingredients
These days you can buy the ingredients below at any time of the year, however, these ingredients are best when eaten in the right season. If you come to Japan in August, you must enjoy the following seasonal ingredients: Seafood: Eel (unagi, ウナギ), loach (dojo, ドジョウ), squid (ika, イカ), abalone (awabi, アワビ), conger eel (anago, アナゴ), Japanese flying squid (surume ika, スルメイカ), tuna (katsuo, カツオ), flounder (karei, カレイ), sea bass (suzuki, スズキ), octopus (tako, タコ), sea squirt (hoya, ホヤ) Fruits and vegetables: Edamame (枝豆), corn (tomorokoshi, トウモロコシ), eggplant (nasu, ナス), melon (メロン), pear (nashi, ナシ), peach (momo, モモ) Wagashi: Shaved ice (kakigori, かき氷)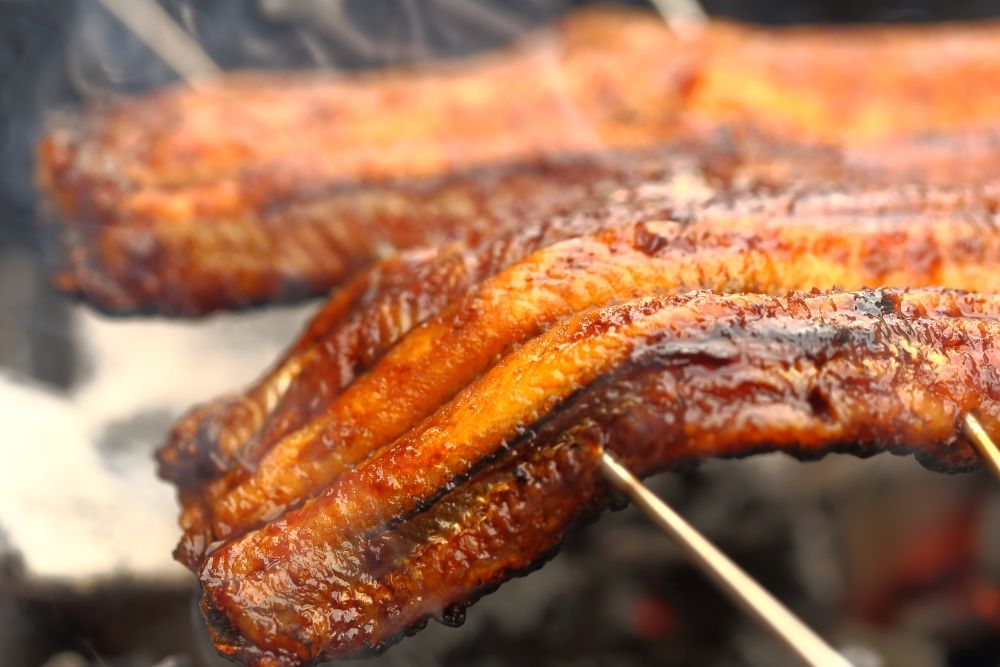 Hope this feature has given you a good idea of what to expect in Japan during August. Keep an eye out for some of the things mentioned here and you're sure to have a wonderful holiday in Japan.

 
---
Download the Ikidane Nippon App: iOS / Android Let us know if there is something that needs to be fixed: Feedback Form