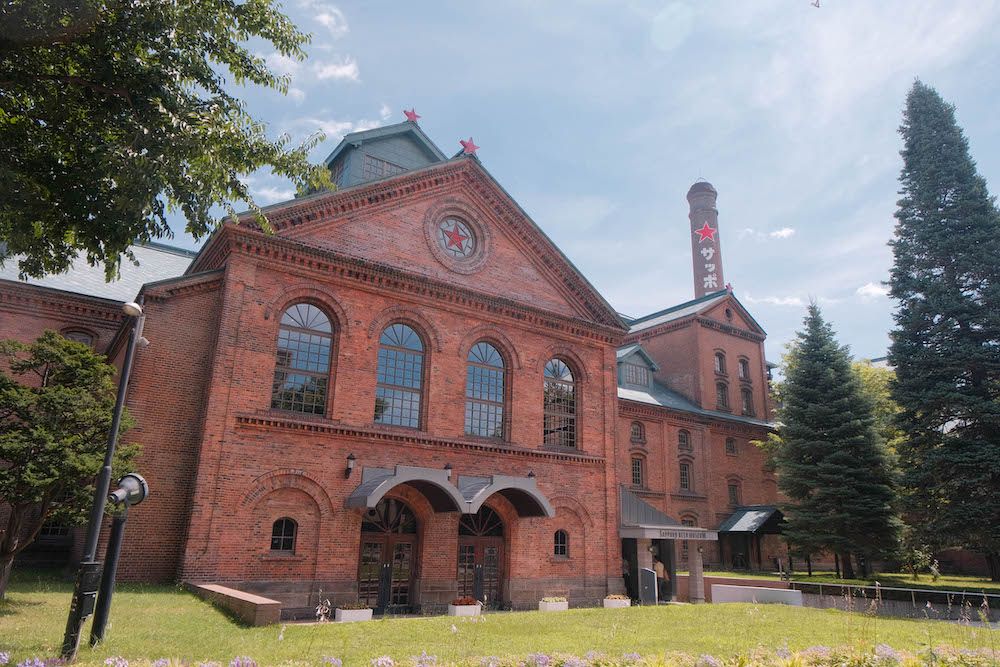 Japanese beer has carved a distinct identity on the global stage. Renowned for its smooth texture, frothy head, and perfect serve when chilled, this beverage is more than just a drink; it's a testament to Japan's rich culture. If you're intrigued by the legacy of this beverage, there's no better place than the Sapporo Beer Museum. In the heart of Sapporo City in Hokkaido Prefecture, the museum stands as a proud beacon celebrating the origins and evolution of Japanese beer. In this feature, we explore this landmark and dive deep into Japan's brewing heritage.
Contents
The Origin of Sapporo Beer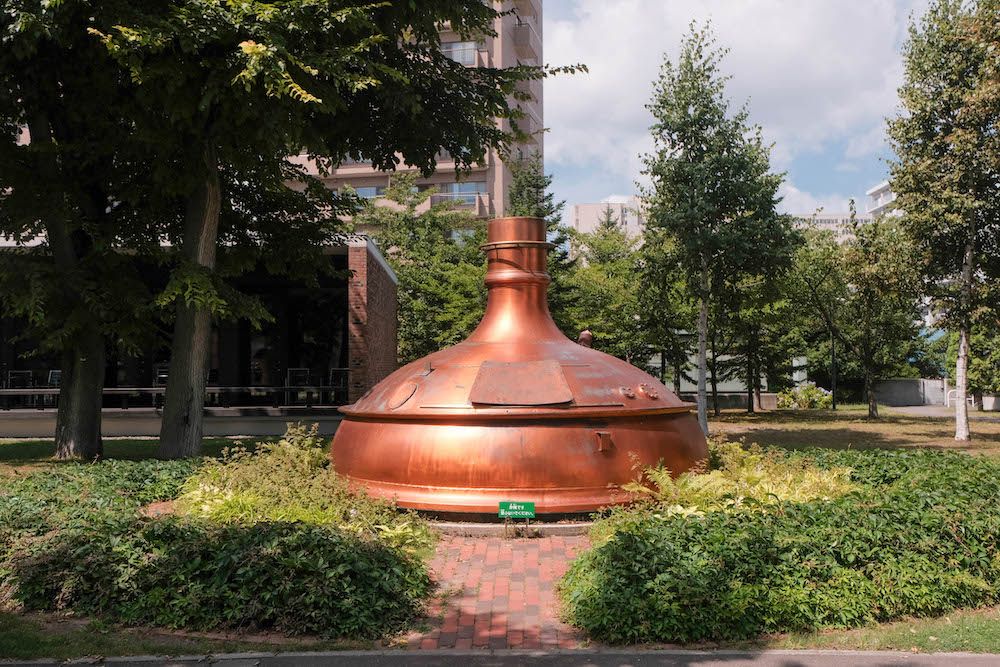 Hokkaido's beer-loving roots run deeper than any other region in Japan. As summer graces the province, beer gardens spring to life in abundance. Beyond just hosting these gatherings, Hokkaido boasts its own signature brews, which are adored by locals and visitors alike. Hokkaido was the very place where wild hops were first found in Japan. This revelation laid the foundation for Japan's foray into brewing, culminating in the birth of the iconic Sapporo Beer.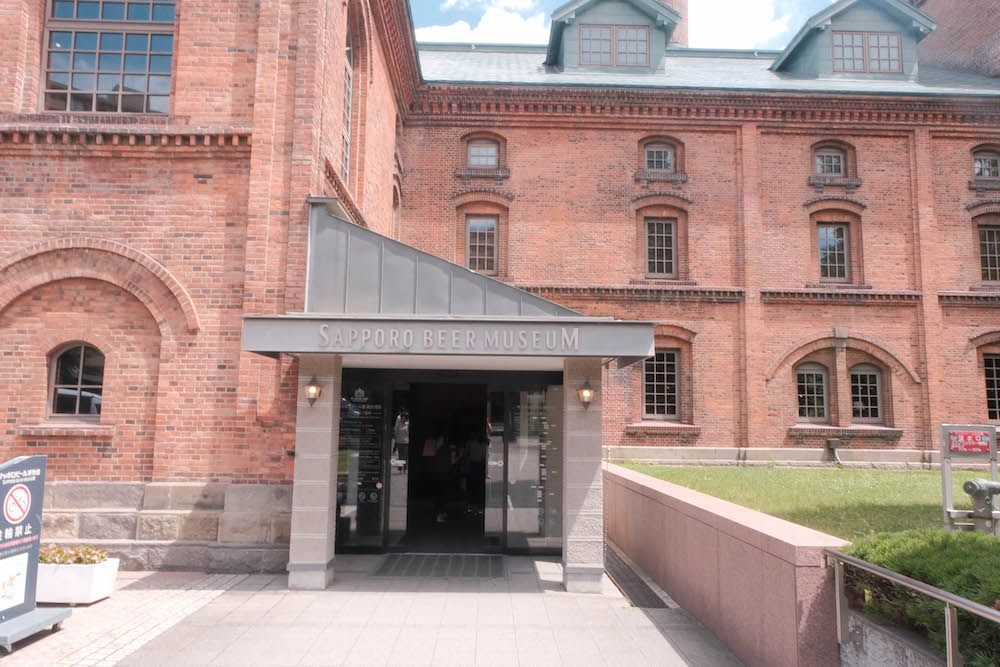 Symbolizing this history is the Sapporo Beer Museum, housed in the red brick Kaitakushi-kan building - a hallmark of the Sapporo Beer Garden. Initially constructed as a sugar factory in 1890, the building underwent a transformation in 1963 to become a malt factory, and by 1966, it proudly stood as the Sapporo Beer Garden.
Preserving over a century of brewing legacy, the towering smokestack and the imposing red brick facade remain as sentinels of a bygone era. Not to be missed is the massive beer kettle resting within the Kessel Hall, an artifact that remains untouched by time.

Inside the Sapporo Beer Museum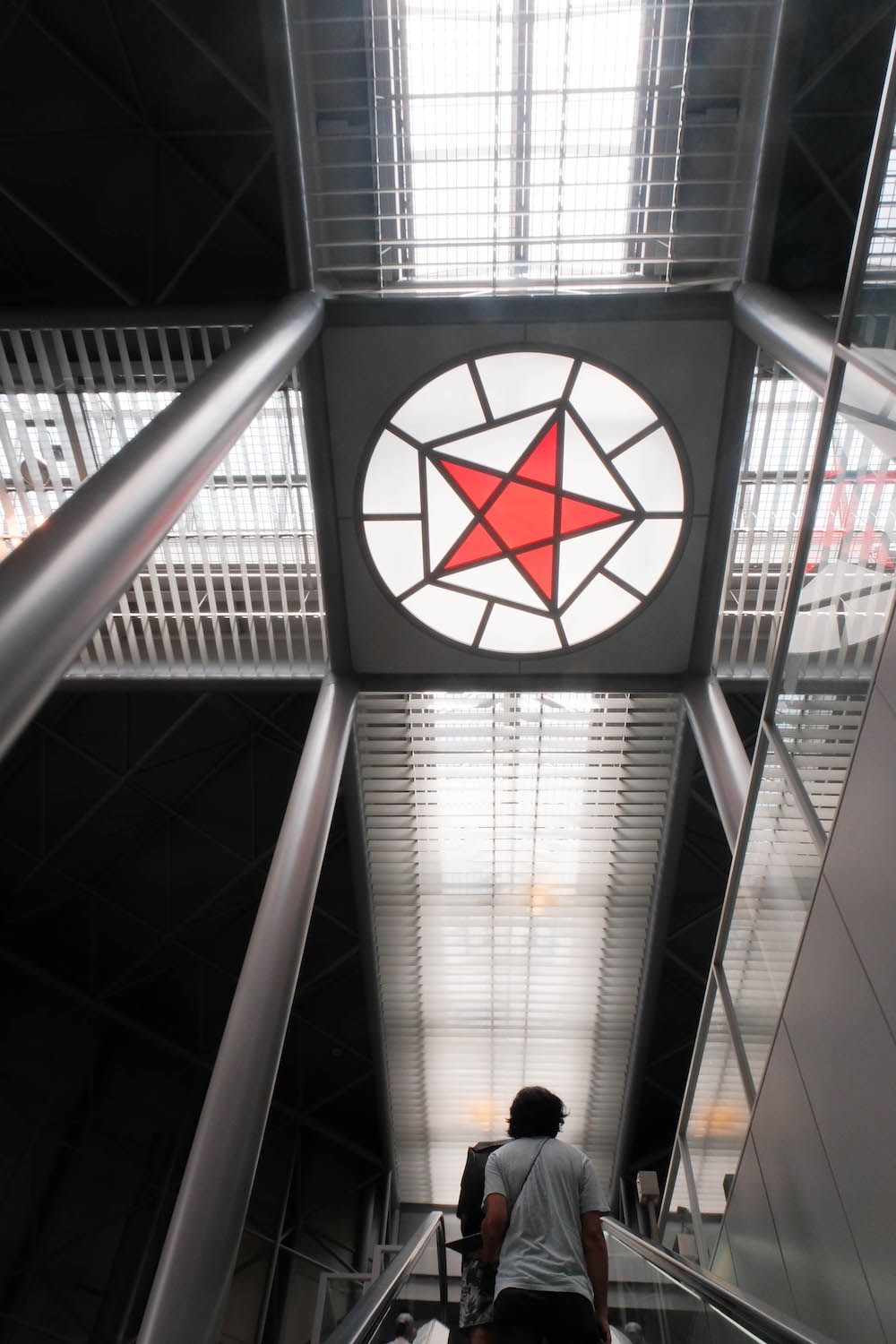 Upon entering the museum, a staircase beckons visitors upwards. Above, the hall's ceiling showcases a red star emblem, reminiscent of the Chinese or North Korean flags. However, it represents the Kaitakushi (開拓使), a government agency pivotal in Hokkaido's development, tasked with rejuvenating the nation post-war. Throughout Hokkaido's history, this emblem has found its way onto various landmarks and symbols, becoming synonymous with the region's heritage. This motif, also seen at Goryokaku (五稜郭城) and within the Sapporo Beer logo, is a testament to Hokkaido's rich history.
A Journey Through Beer Packaging History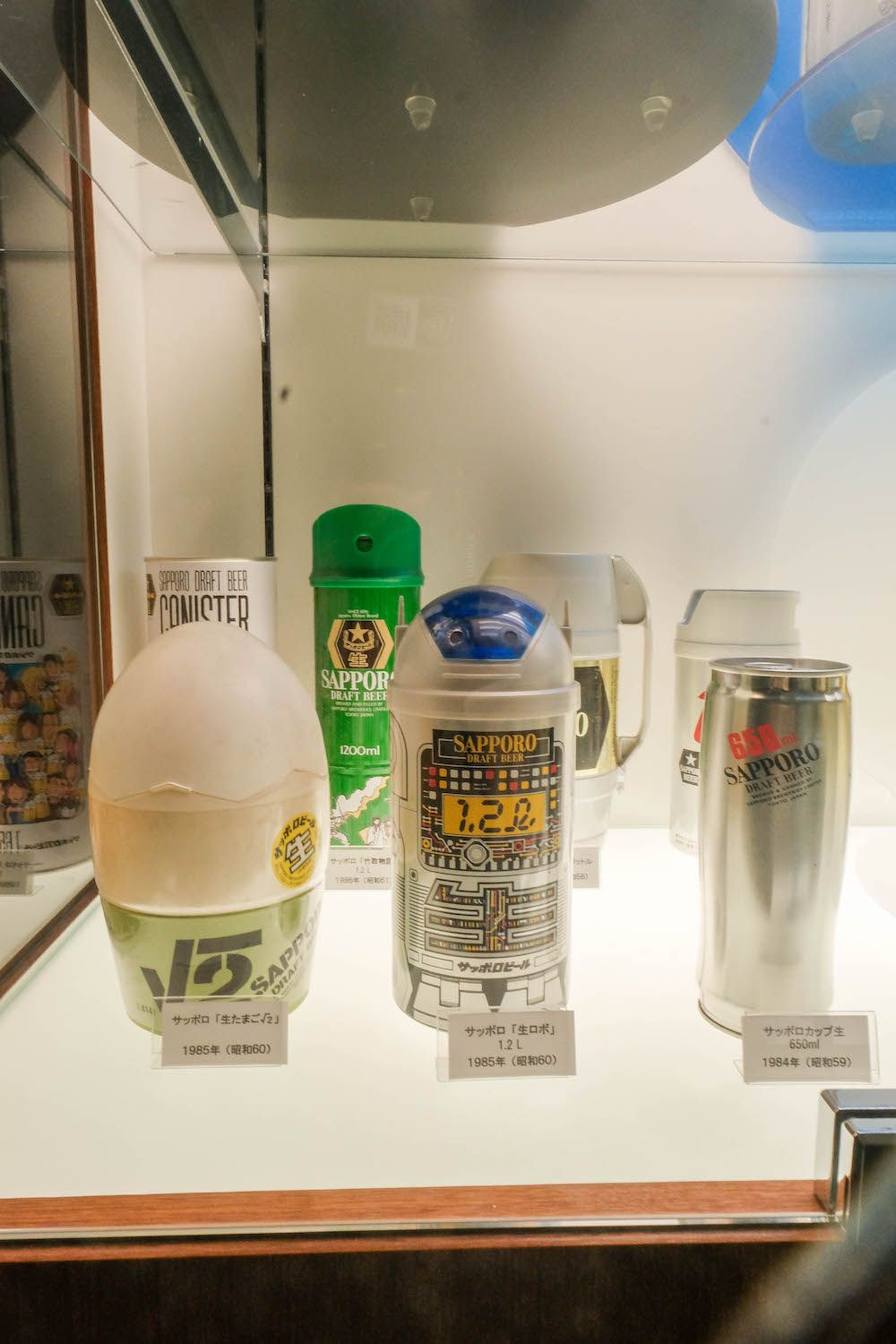 Within the museum's walls, visitors are treated to a visual timeline of Sapporo beer packaging, spanning from its inception to contemporary designs. Some of these renditions are rare gems, likely unfamiliar to most.
From 1984-1985, Sapporo introduced a draft beer can that embodied the "space style," capturing the zeitgeist of that era. Its playful design may evoke a sense of nostalgia for some.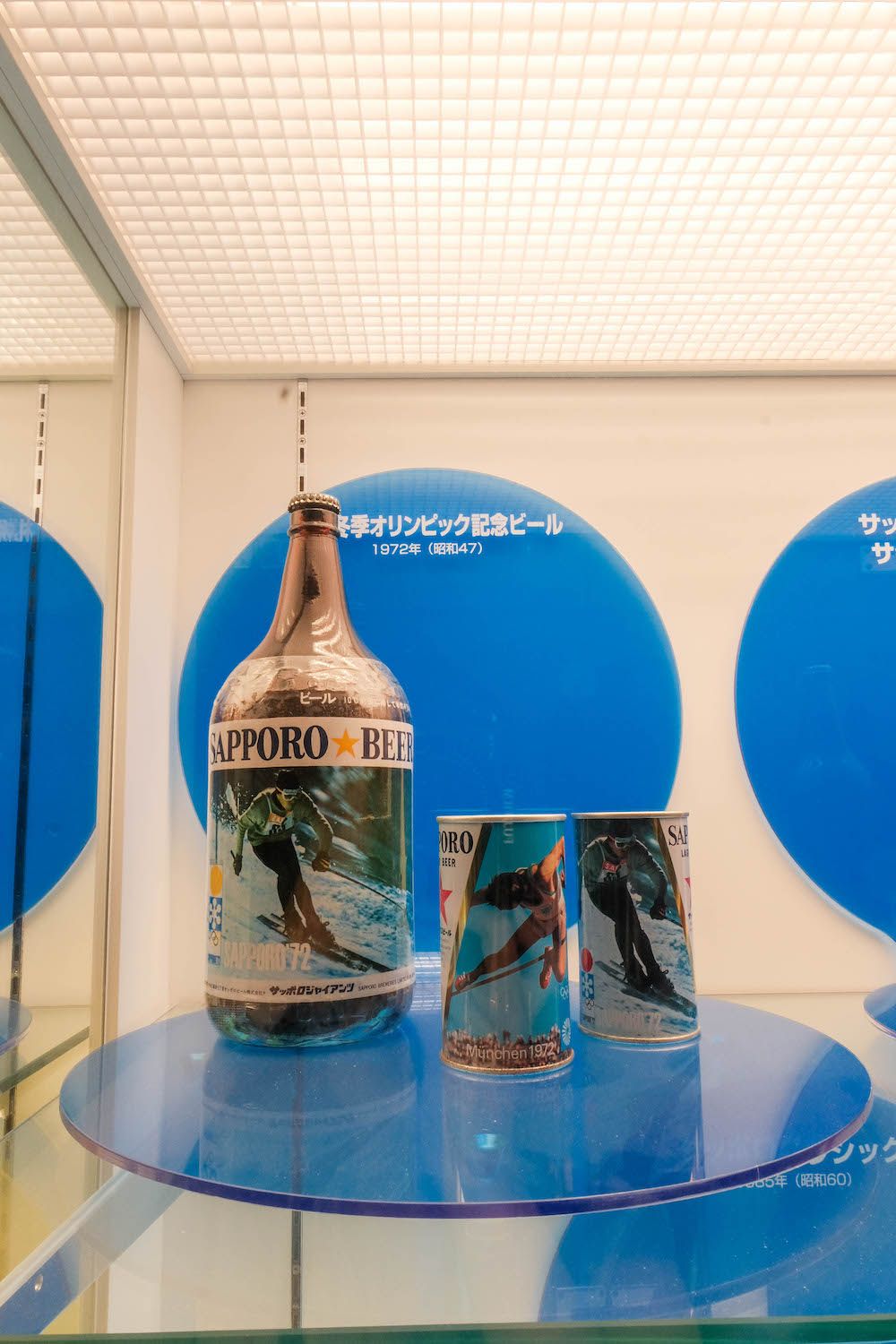 A notable highlight is the beer packaging commemorating the 1972 Winter Olympics. Available in both cans and bottles, the latter's grand size stands out, a format scarcely seen in today's beer industry. These cans bear a resemblance to modern coffee can sizes.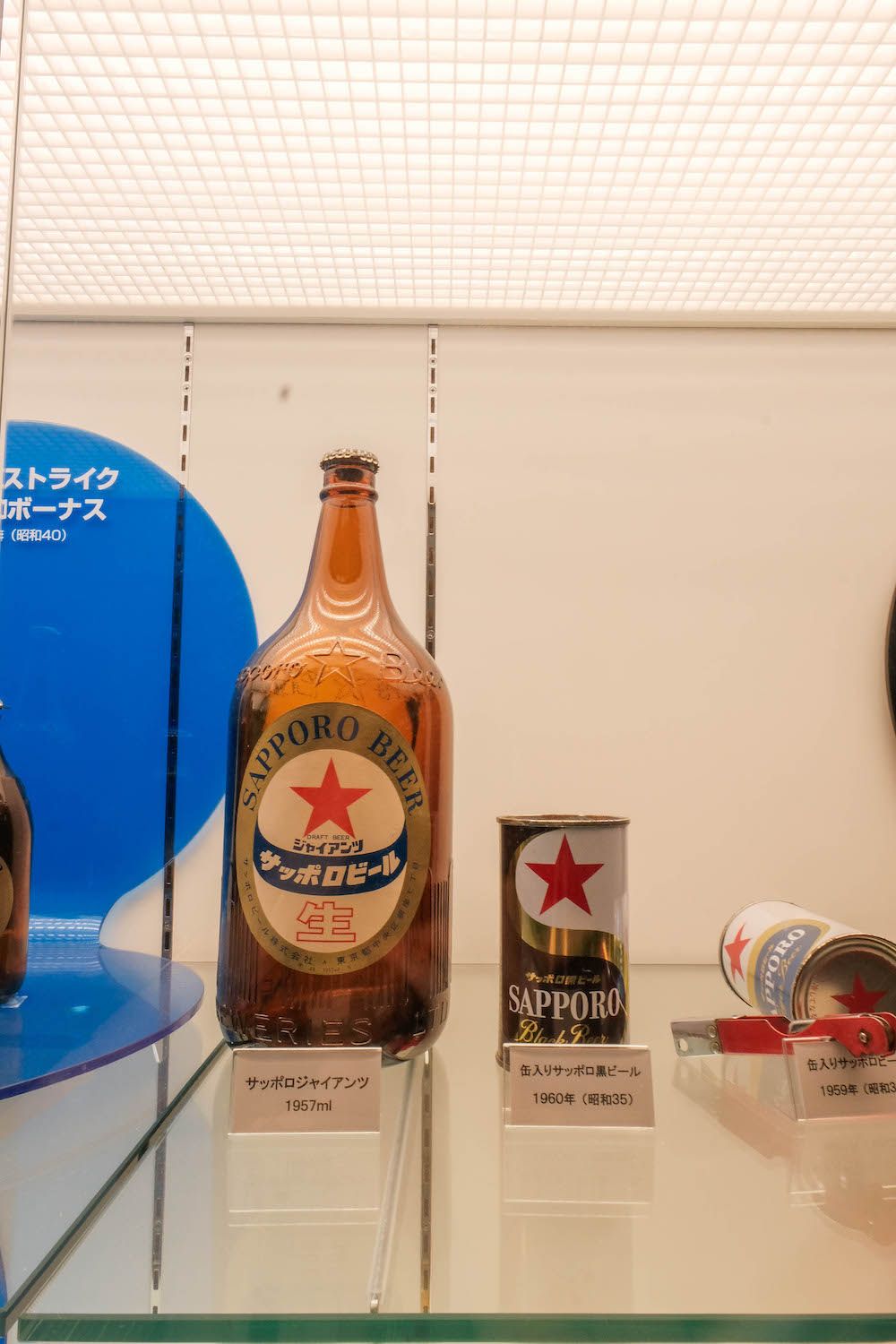 Fuyumonogatari (冬物語) is another standout, a seasonal beer crafted specifically for winter. Its rich, smooth flavor complemented by gentle effervescence made it a popular choice in its time.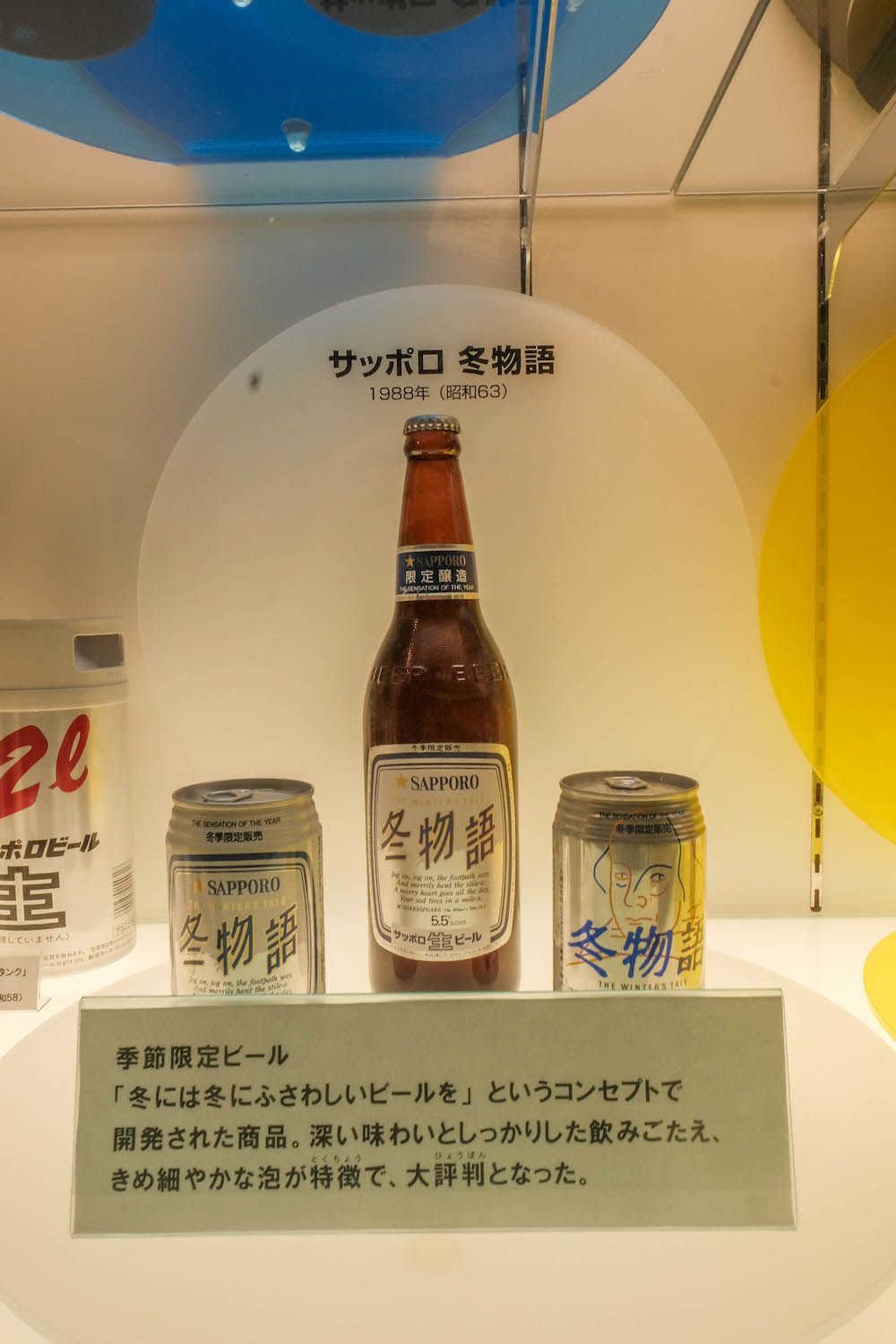 In a nod to yesteryears, the museum also showcases Sapporo Beer vending machines, ranging from large draft beer dispensers to compact can vendors.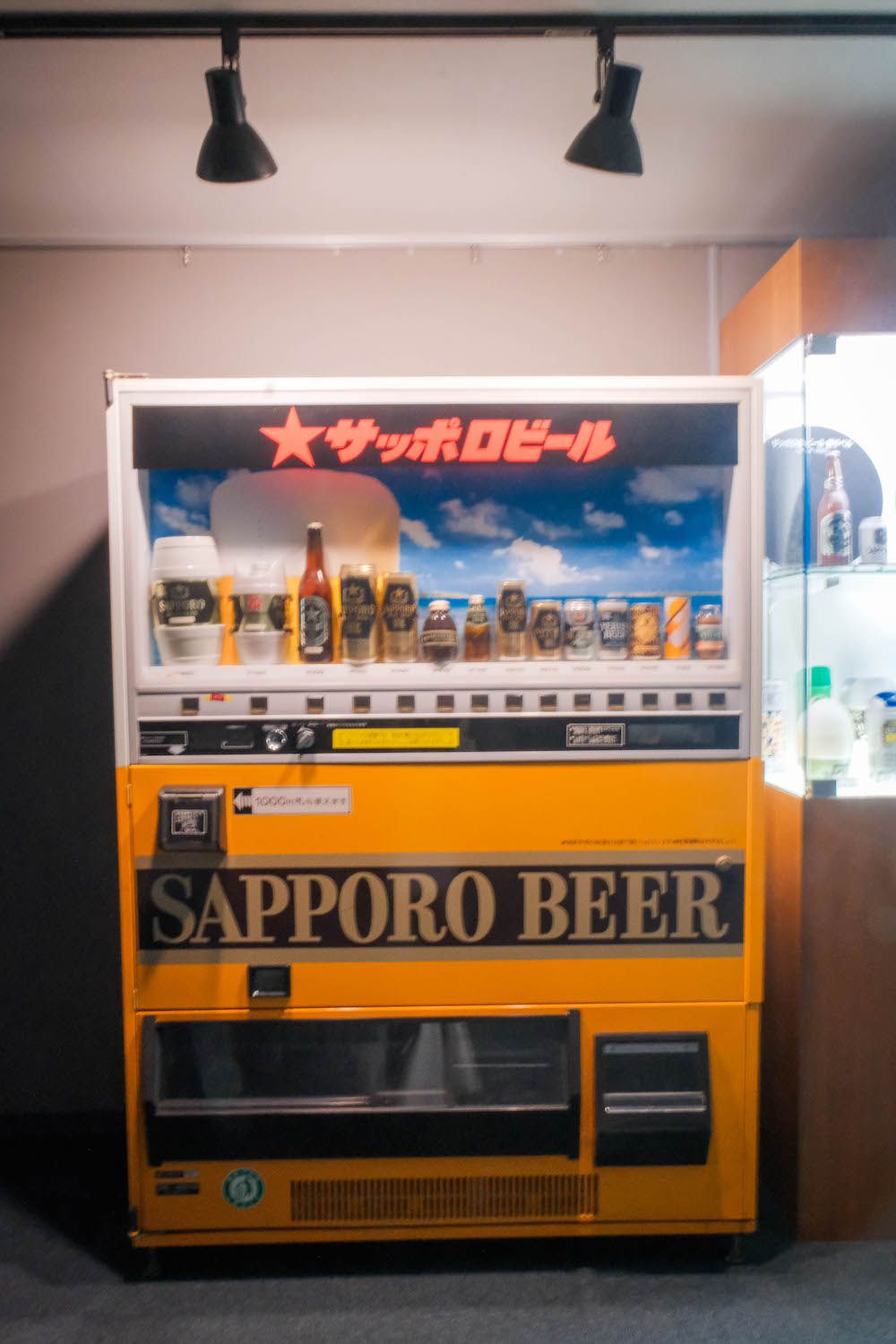 Such machines have since vanished from the contemporary landscape, making their presence in the museum a nostalgic sight.
History of Sapporo Beer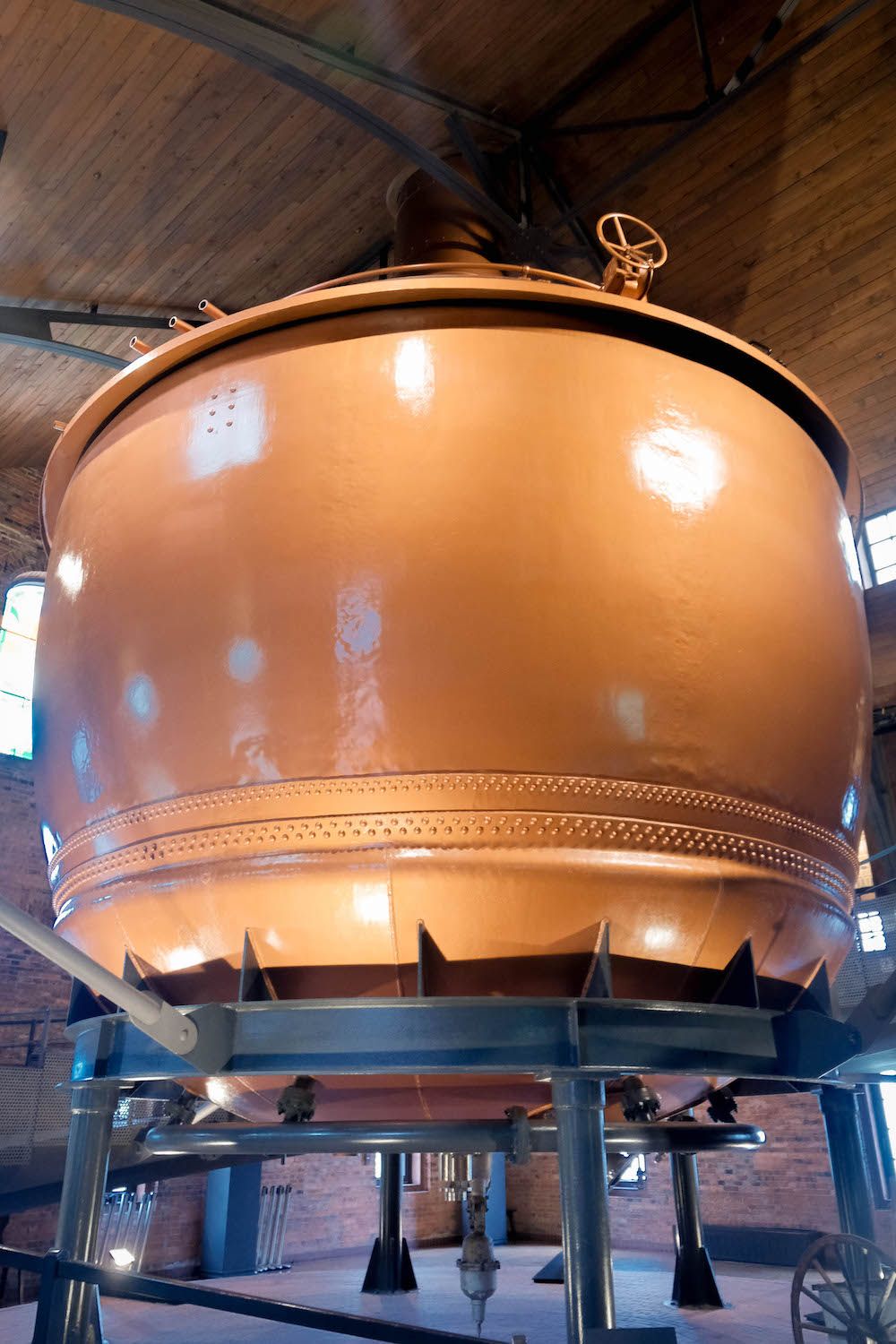 At the heart of the museum, spanning between the 2nd and 3rd floors, lies an imposing, full-sized beer storage tank from yesteryears, a testament to Sapporo Beer's brewing legacy.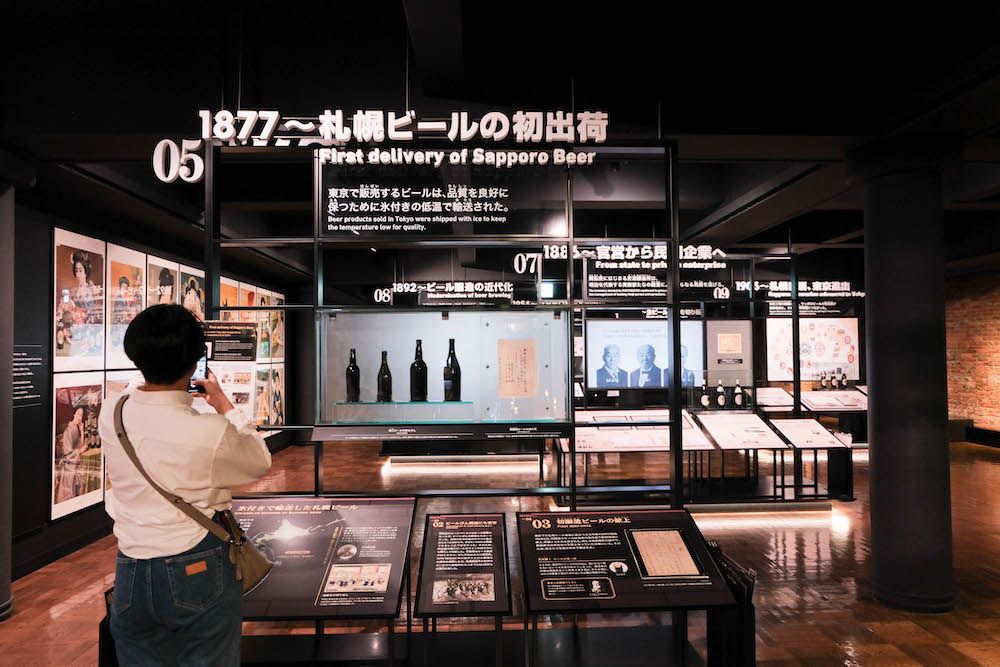 In this section, we can learn about the history of Sapporo beer and its connections. Kaitakushi (開拓使) and the history of Japanese beer in depth. Information is available in English and Japanese.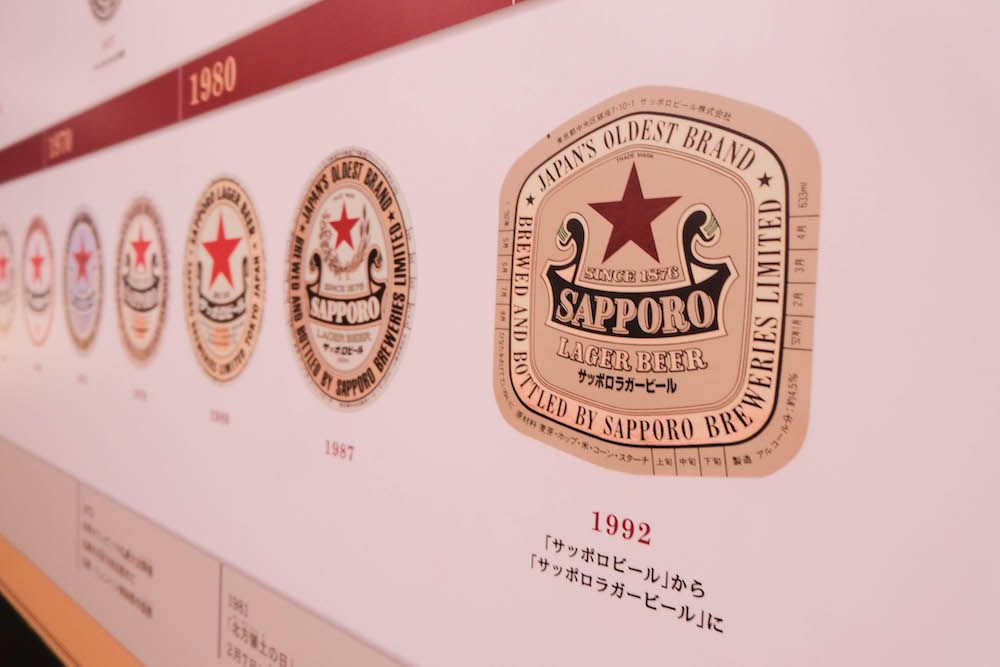 Visitors can trace the evolution of the Sapporo beer logo on a comprehensive timeline, showcasing its adaptability to changing design trends while preserving its core identity.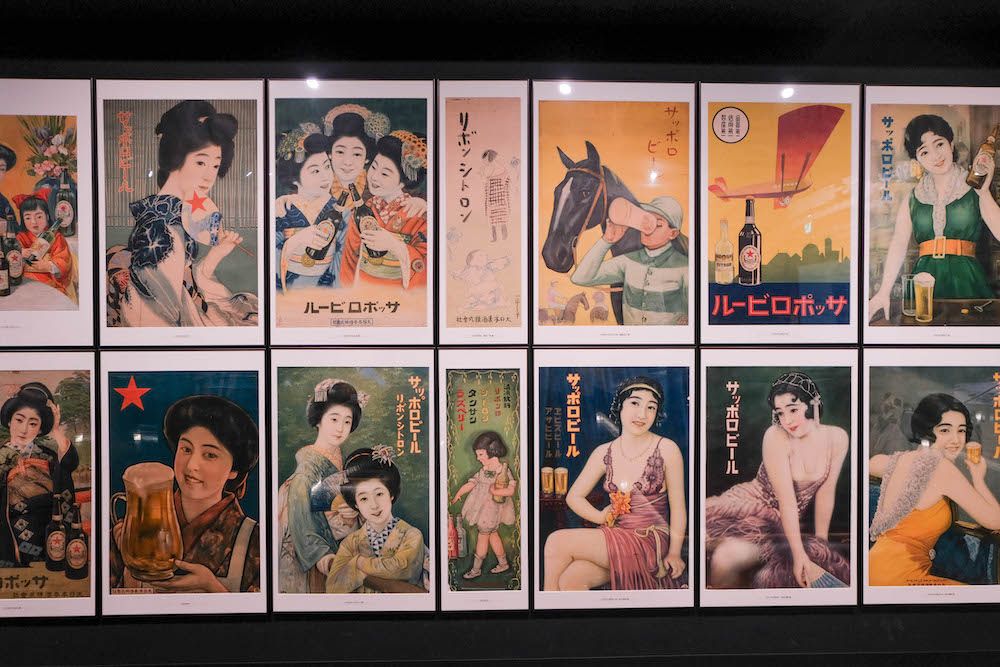 Additionally, a curated collection of Sapporo Beer advertising posters, from historical to contemporary, graces the walls. While some may recognize a few from local izakaya (pubs), many are rare treasures waiting to be discovered.
Souvenir Corner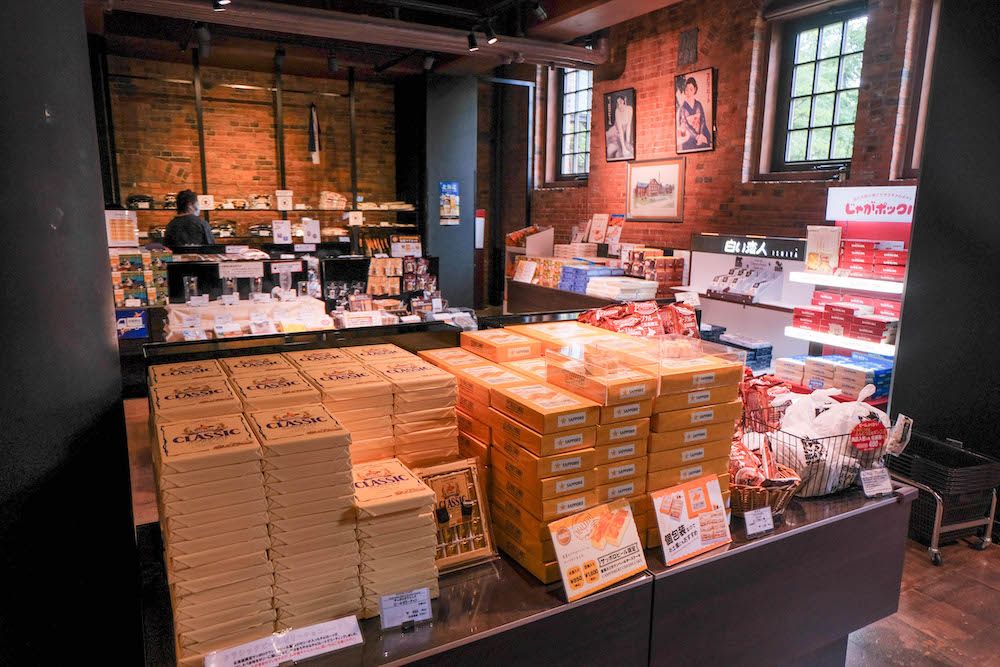 Before wrapping up your museum journey, make sure to explore the souvenir section. An array of beer-centric items awaits alongside quintessential Hokkaido keepsakes.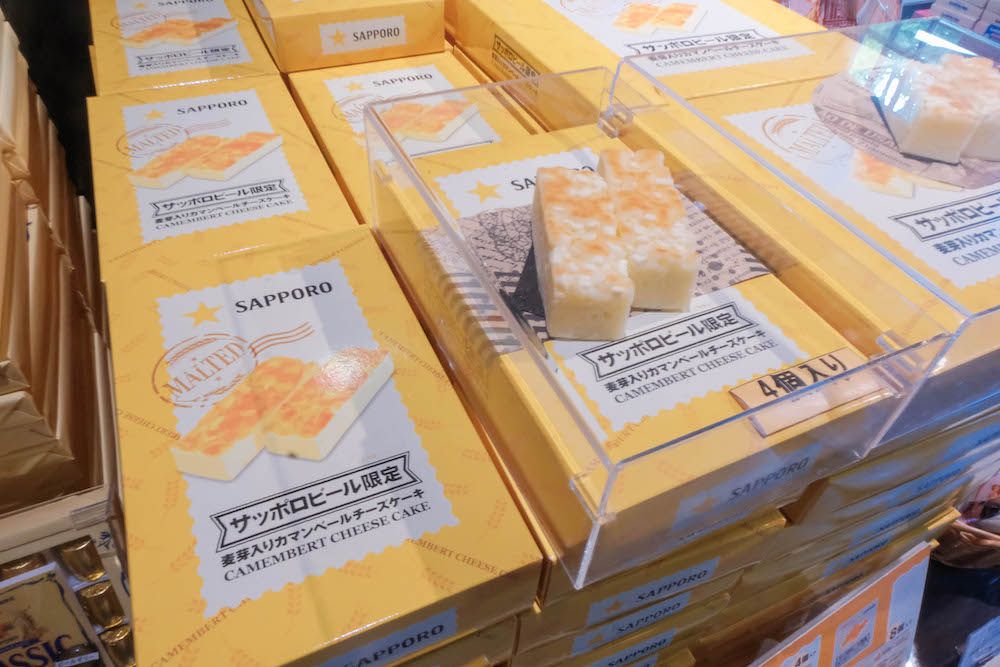 A must-try delicacy exclusive to this location is the unique Camembert Cheese Cake infused with malt pulp.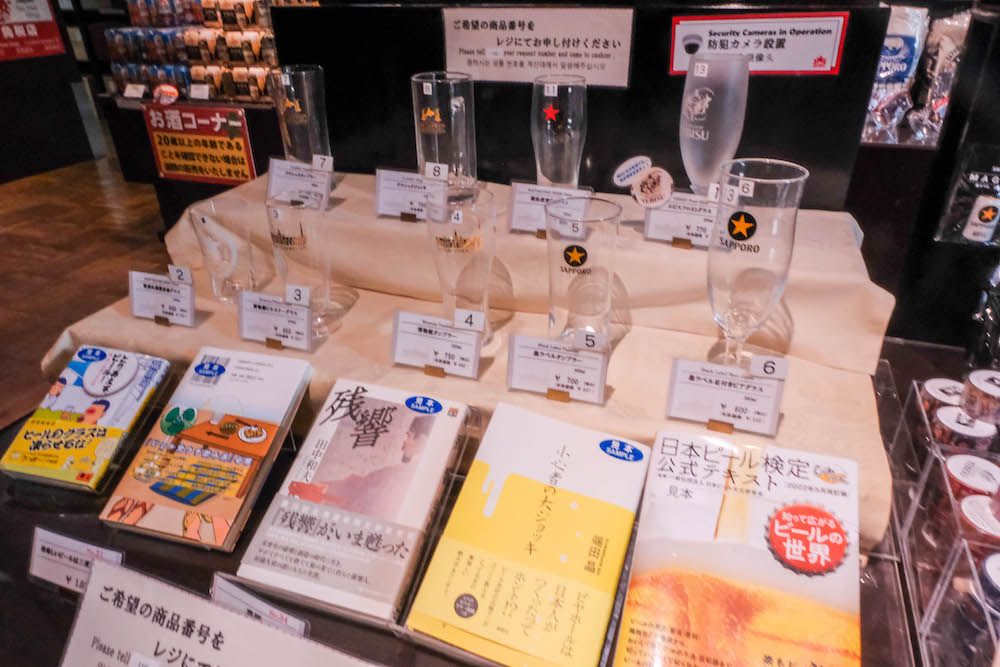 Another option are Sapporo beer glasses designed to elevate your at-home beer experience, enhancing its aroma, texture, and flavor.
Beyond shopping, indulge in the beer garden's fresh draft offerings. For a complete sensory experience, pair your beer with Genghis Khan at the adjacent restaurant – a Hokkaido signature of grilled lamb harmoniously complemented by Sapporo beer.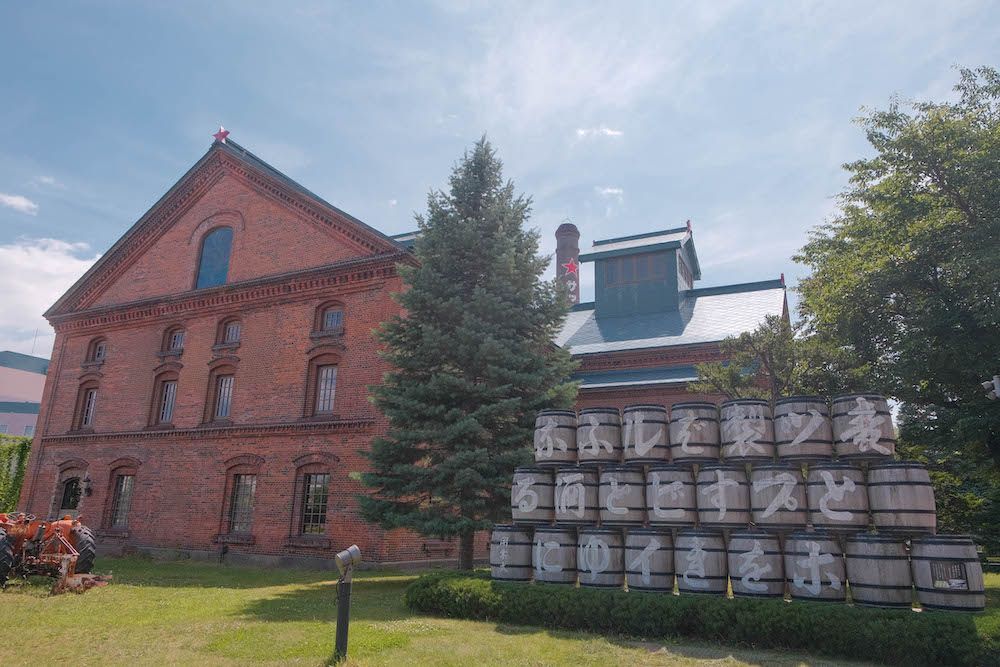 The allure of Sapporo is not just in its flavorful draft beer but also in its rich history. The museum offers gastronomic delights in its restaurant and beer garden, all housed within beautifully preserved architectural wonders. On your next Sapporo visit, don't miss out on this immersive experience at the museum.
Sapporo Beer Museum Details
・Opening hours: 11:30 - 21:00 (Last order 20:40)
・Closed on December 31
・Telephone: 0120-150-550 (Sapporo Beer Garden Reservation Center)
 Customers using IP phones please call at 011-742-1535.
・Parking (free up to 6 hours for customers, 150 cars)
・Tour booking website: https://onl.sc/XMqBzvB
・Fees: Adults: ¥1,000 | Junior High School to 20 years old: ¥500 | Elementary School Students and below: Free.
The tour includes two opportunities to sample Sapporo Beer.
For adults who prefer not to consume alcohol, alternatives of two non-alcoholic beers or soft drinks are available. Those underage will have the option to choose two soft drinks.

Payment is strictly cash-only.
・Official website/restaurant reservations: https://www.sapporo-bier-garten.jp/global/english.html
▶︎ Google map
---
Download the Ikidane Nippon App: iOS / Android
Let us know if there is something that needs to be fixed: Feedback Form