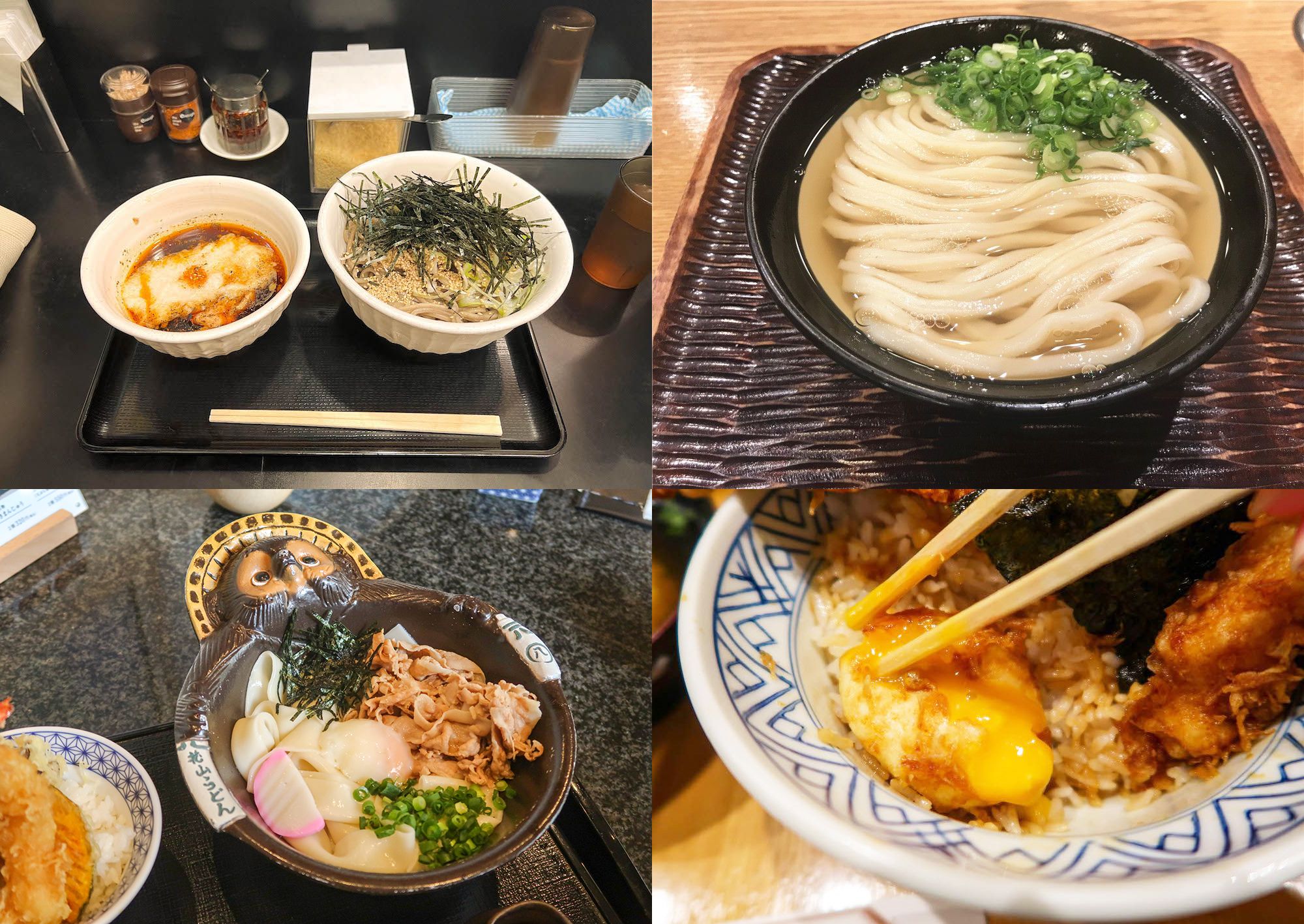 One of the most common queries from tourists in Japan is: "What should I eat today?" Solo travelers often wonder: "Where can I dine alone? Can I order without knowing Japanese?" Fret not! Today, we spotlight Tokyo eateries that are wallet-friendly, welcoming for individual diners, and hassle-free in terms of language barriers.
Contents
Naze Soba Ni Rayu Wo Ireru No Ka: Spicy Soba
Soba, a beloved Japanese noodle, boasts various flavors and styles, varying from region to region and even shop to shop. One standout eatery in Tokyo is Naze Soba Ni Rayu Wo Ireru No Ka (なぜ蕎麦にラー油を入れるのか), which translates to "Why do you put rayu (chili oil) in soba?" This renowned soba chain, scattered throughout Tokyo, offers diners the unique taste of soba with a hint of spicy rayu. With prices starting at an affordable 450 yen, it's a must-visit for noodle aficionados.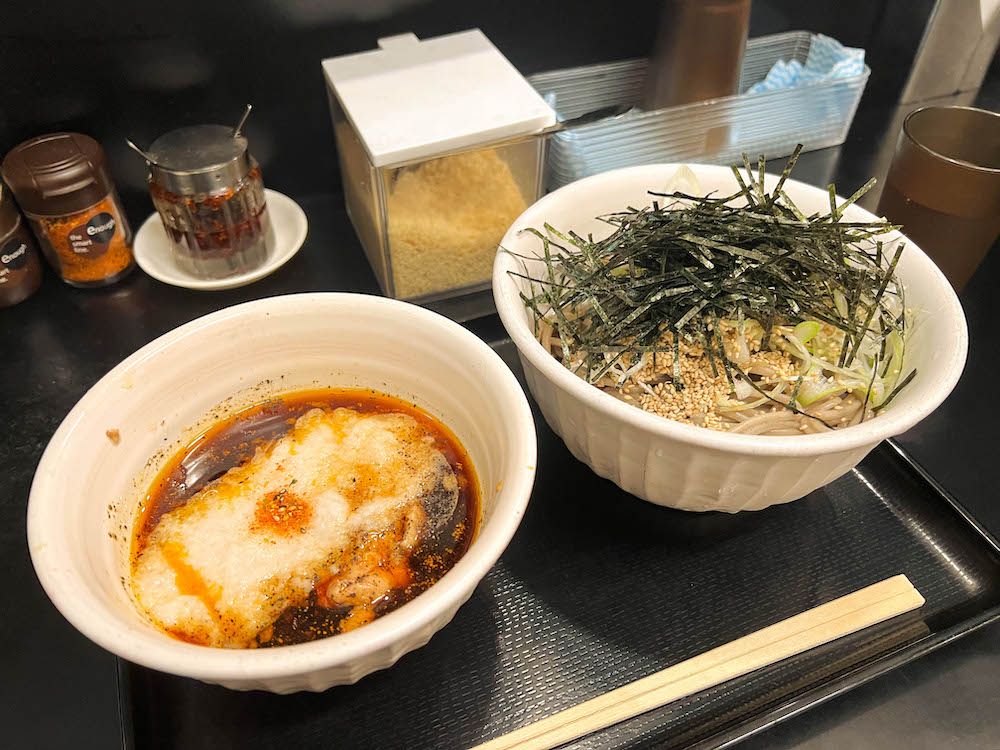 Soba stands out in the culinary world as a healthy choice, especially among women. Richer in protein and vitamins than many starchy alternatives, these noodles are a nutrition-packed delight. Paired with the zesty kick of rayu, a favorite among the Japanese, the dish becomes irresistibly appetizing. Whether you prefer donburi (bowl) or tsukesoba (dipping noodles), the menu caters to all tastes, genders, and ages at accessible prices.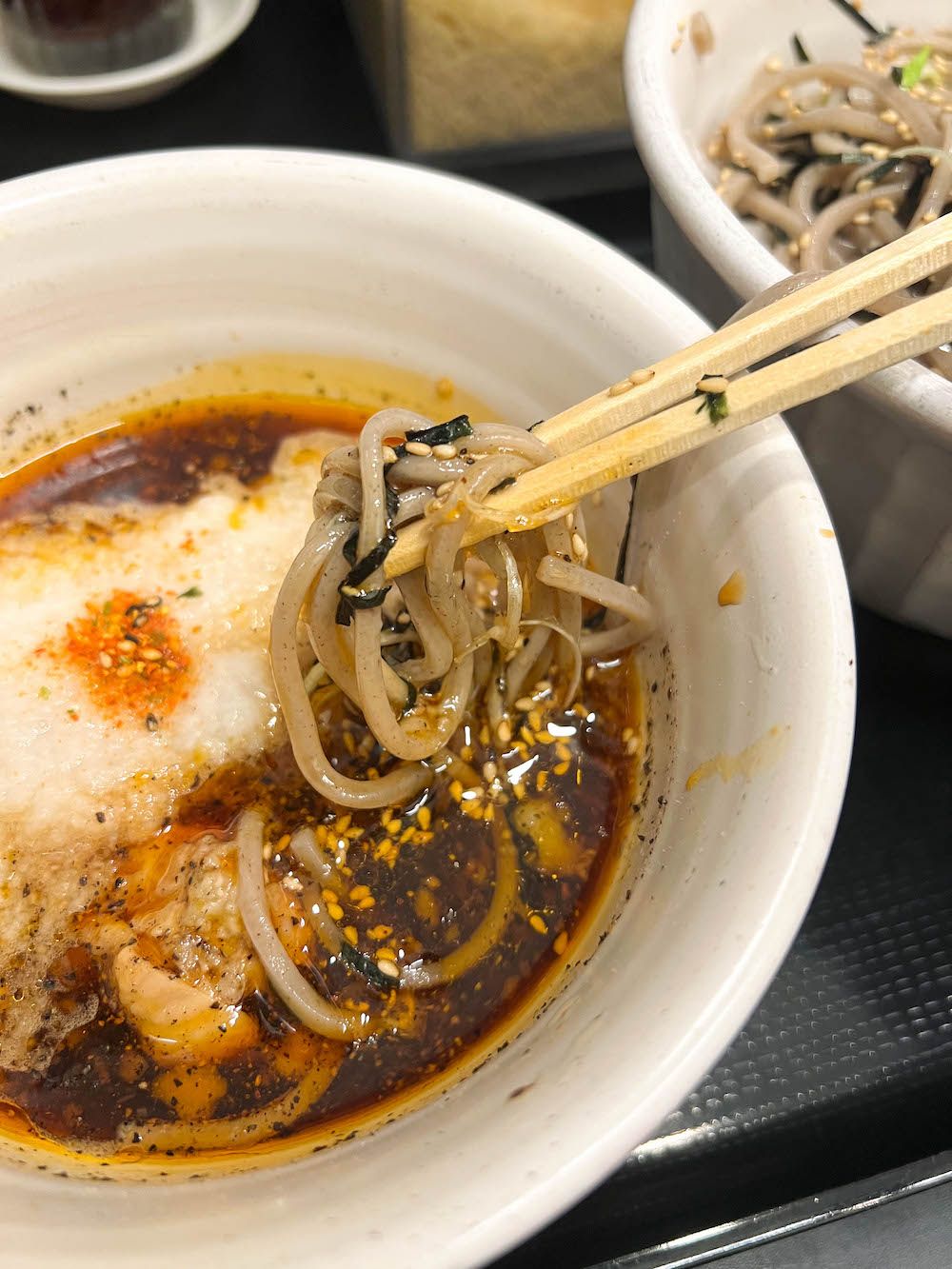 With such a blend of affordability, taste, and generous portions, giving this dish a try is a must. You're bound to leave satisfied!
▶︎ https://nomimono.co.jp/brand/nazesoba/
▶︎ Google Map
Tokyo's Premier Udon Spot: Maruka
For connoisseurs of Japanese cuisine, it's well-known that the pinnacle of udon comes from Kagawa Prefecture. Maruka is Tokyo's top Kagawa udon establishment, as ranked by Japan's leading restaurant review site, Tabelog.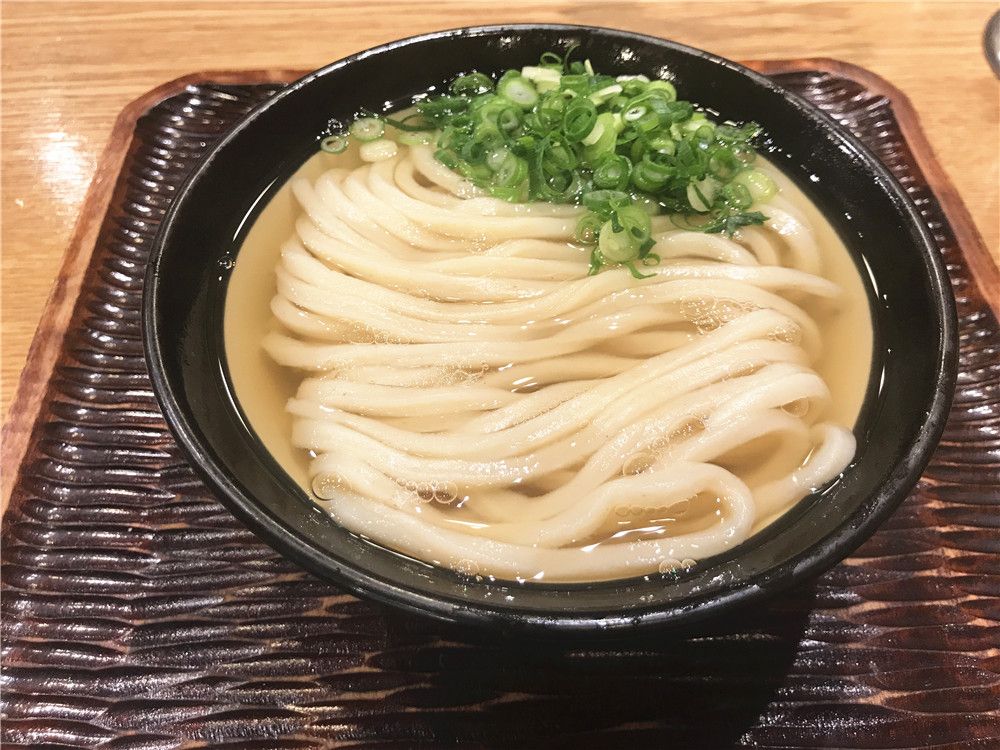 Maruka (丸香) offers an uncomplicated menu, with prices starting a mere 460 yen. Helmed by an owner from Kagawa, the restaurant stays true to its roots by using authentic Kagawa udon. These noodles, celebrated for their soft yet chewy texture, are hailed as Japan's finest. Paired with their exquisite broth, it's easy to see why many declare Maruka as Tokyo's udon zenith.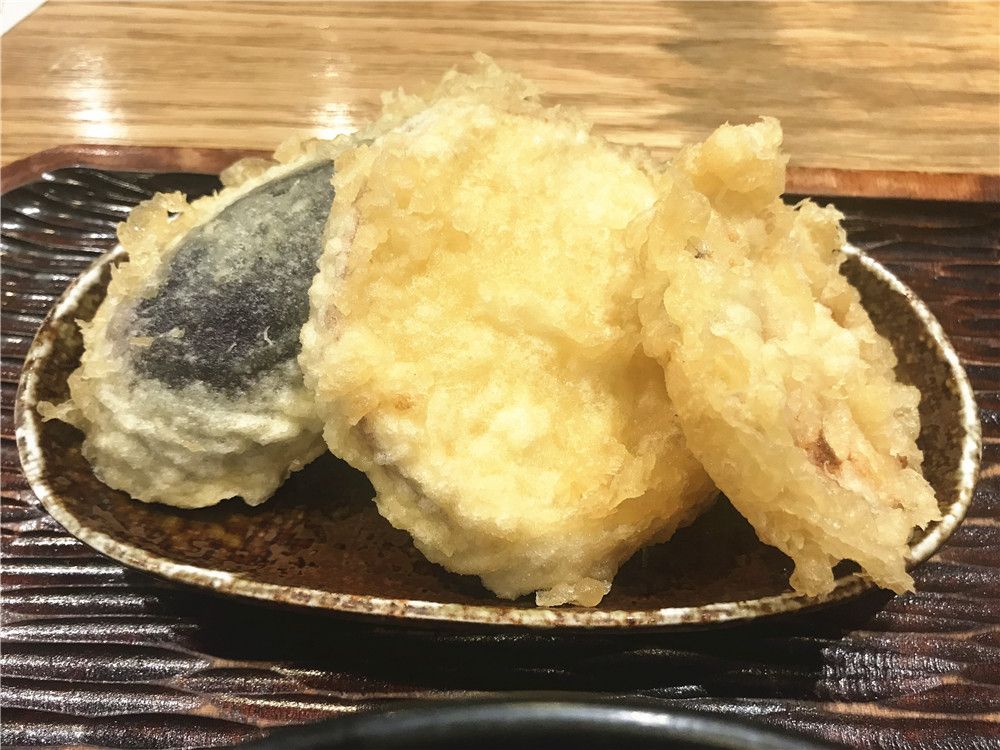 The eatery also boasts an array of accompaniments such as seasonal vegetable and shrimp tempura. A tip for prospective visitors: aim to visit before noon. Given its strategic location in an office district, the lunch rush between 12:00 and 14:00 often sees lengthy queues.
▶︎ Google Map
Kanekoya Kichijoji: Dive into a Generous Tempura Rice Bowl
Born from the renowned tempura haven, Kaneko in Nihombashi, Kanekoya Kichijoji (金子屋 吉祥寺) maintains the same impeccable quality but often with shorter wait times. With multiple branches dotted across Tokyo, finding a convenient spot to indulge is a breeze.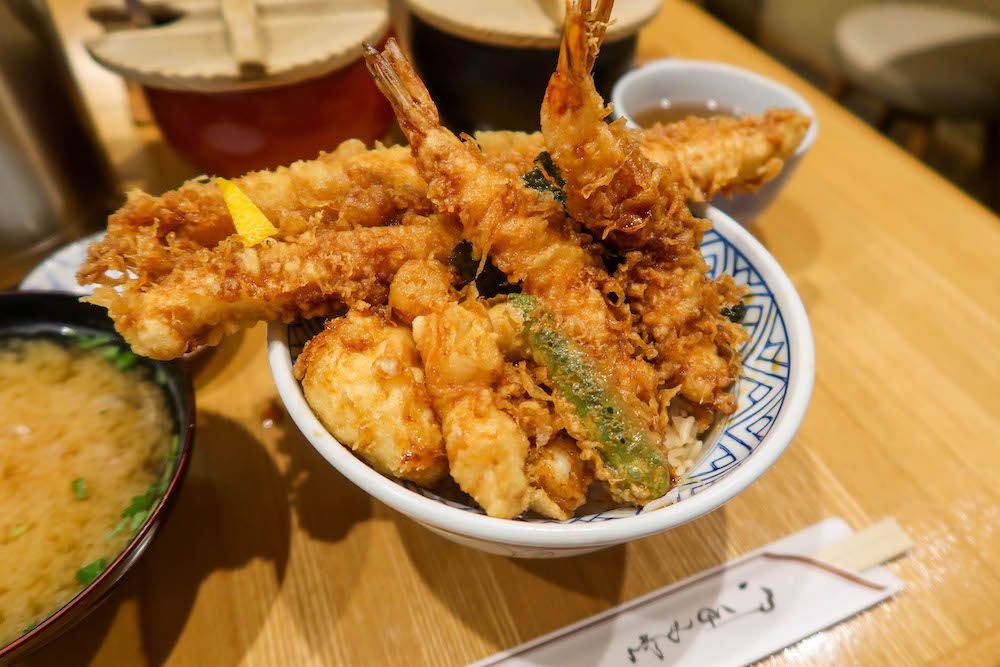 The highlight here is the overflowing tempura rice bowl. Despite being generously drenched in the shop's signature sauce, the tempura retains its crispness. Dive into a medley of anago (eel), succulent scallops, seaweed, tender squid, and two shrimp — a feast in every bite. Don't miss the perfectly fried onsen egg, a delectable treat in itself.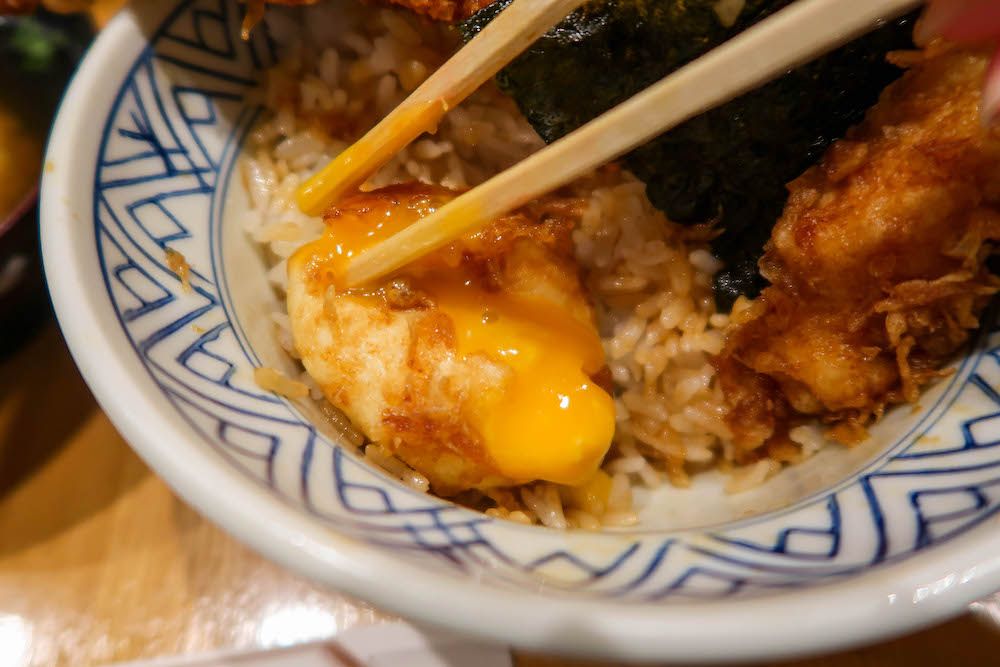 Many frequent this eatery for a quick, satisfying solo meal. Given its popularity among individual diners, you'll find a comfortable spot to relish this energizing dish. A delightful culinary experience awaits, all within a budget of 3,500 yen or less.
▶︎ Google Map
Hanayama Udon: Award Winner for Three Consecutive Years
When you think of udon, you likely picture round, white noodles. However, Hanayama Udon (花山うどん) offers a delightful twist with its unique onihimokawa (鬼ひも川) udon — flat, wide, and lengthy.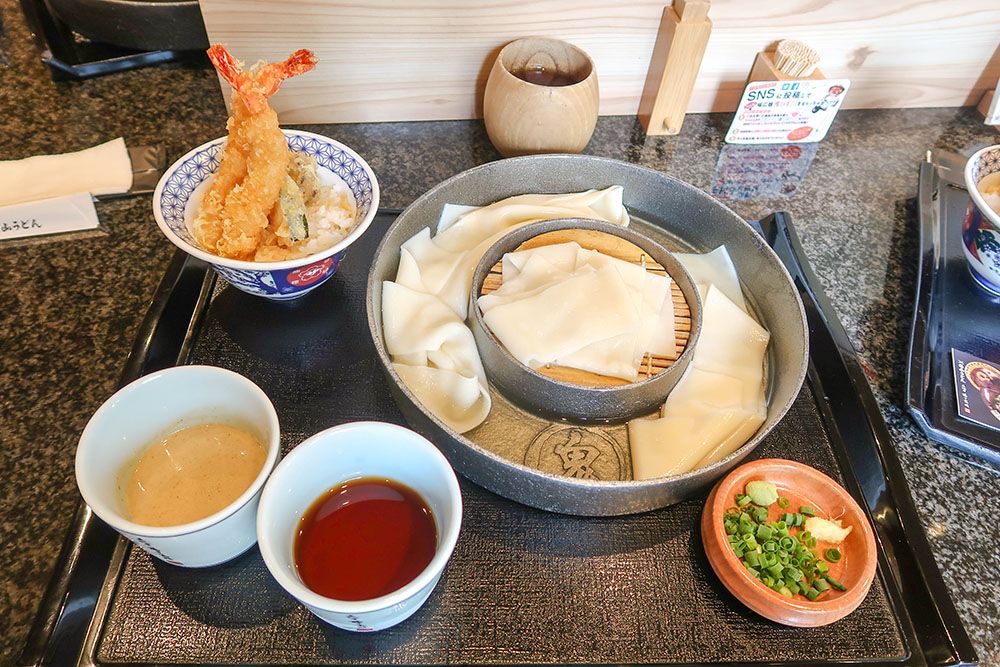 Situated conveniently at Ginza Station, Hanayama Udon has captured the hearts of patrons across all ages and genders. Its delectable noodles aren't just a treat to the palate, but their innovative design also resonates particularly well with the younger crowd. Such is its charm that the eatery clinched the top noodle award for three straight years. For those wary of wait times, a real-time customer count can be accessed on Google.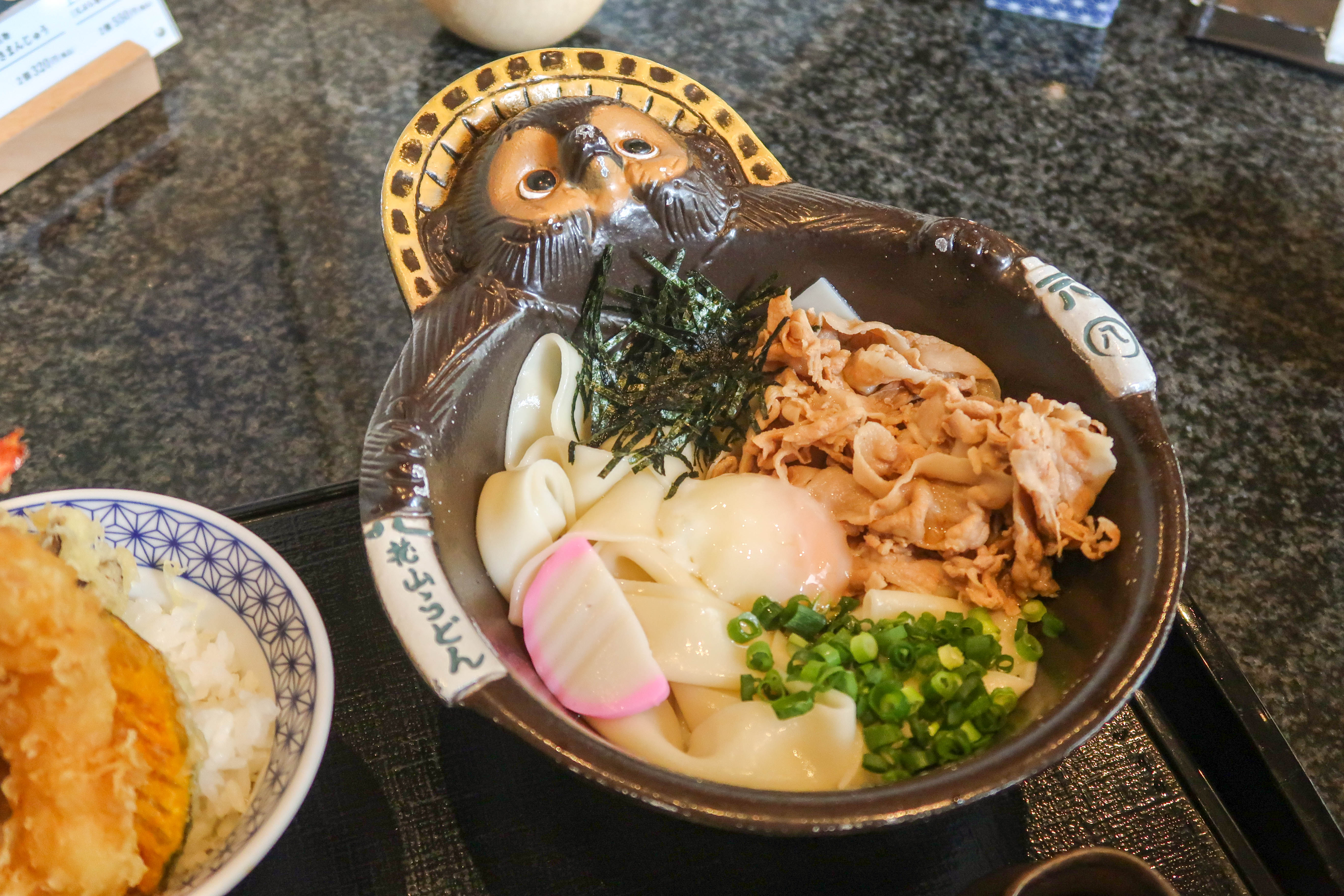 The menu primarily revolves around two standout dishes: the warm Onikama (鬼釜) and the cold Zaru (ざる). The hot variant is served in a tanuki-shaped bowl, a dish that garnered them the prestigious number 1 award in Japan! For added variety, you can opt for accompaniments like tempura rice (tendon) or pork rice. The best part? You can relish this gourmet experience for under 2,000 yen. Perfect for solo diners, a visit to Ginza isn't complete without a meal at Hanayama Udon.
▶︎ https://www.hanayamaudon.co.jp/
▶︎ Google Map
Bondy: The Crown Jewel of Jimbocho's Curry Scene
Jimbocho is synonymous with curry rice, a dish that has left an indelible mark on the area's culinary landscape. Amidst the plethora of curry rice restaurants, Bondy stands out as a beacon of flavor and finesse.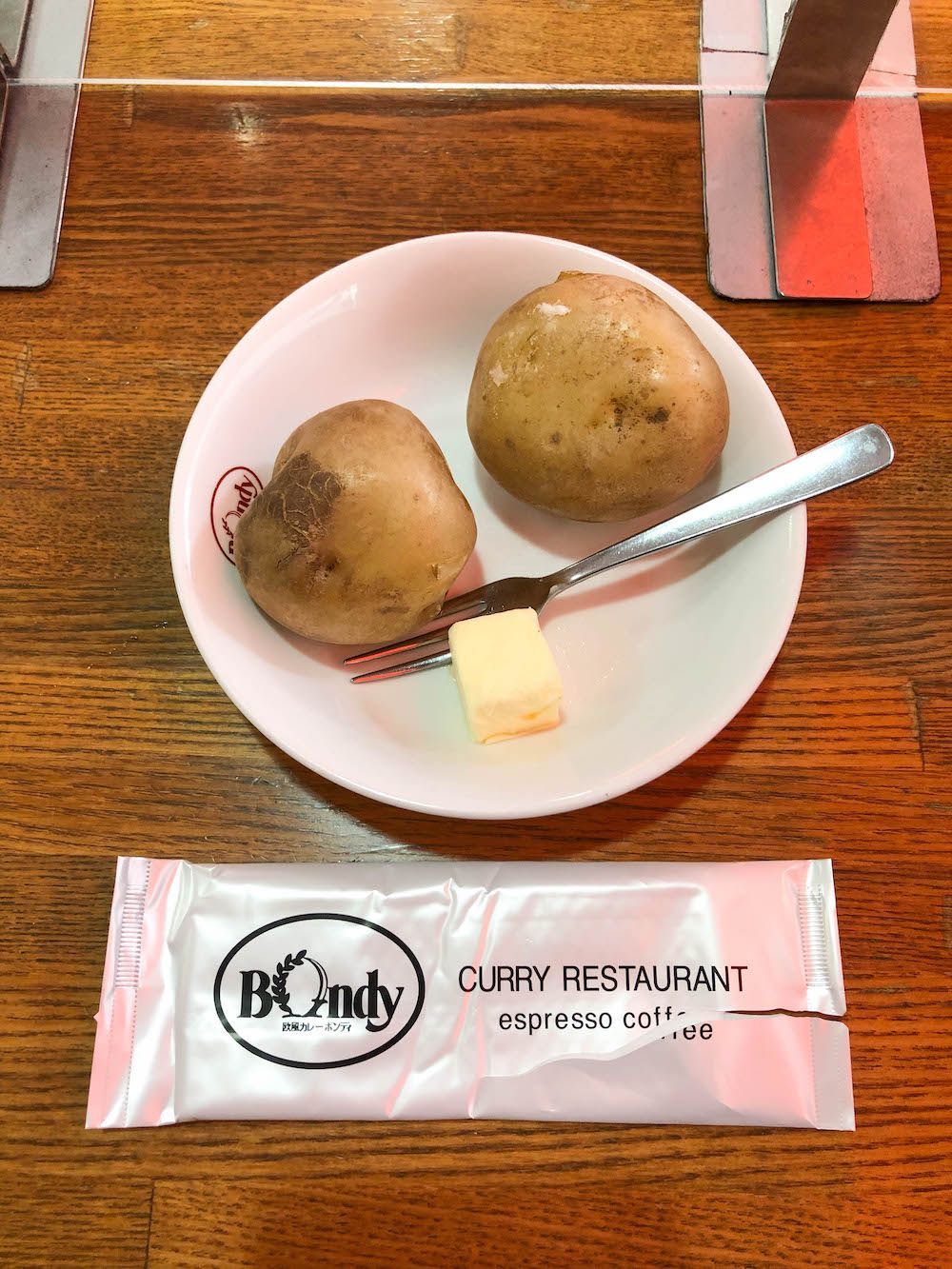 Visiting Bondy is an essential experience for curry enthusiasts in Jimbocho. What sets it apart? The complementary buttered potatoes served as an appetizer. You can relish them before diving into the main dish or save them to be savored with the curry. Recognized as a premier European-style curry destination, Bondy boasts accolades including a spot on Tokyo's list of 100 esteemed curry eateries and a coveted Michelin star.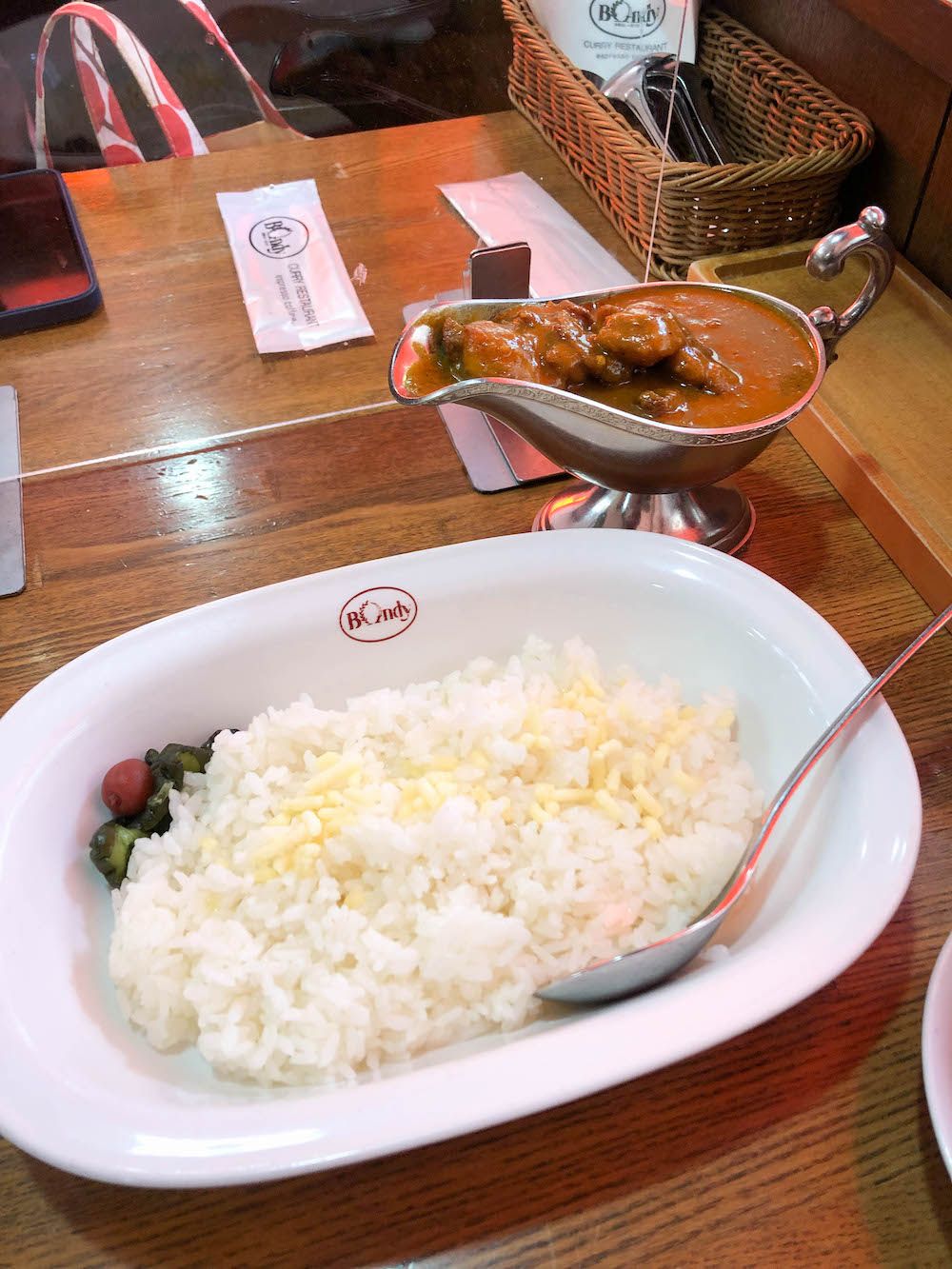 Their signature dish, the chicken curry, is a testament to why Bondy is lauded as the best in Jimbocho. The curry is a harmonious medley of creaminess with the natural sweetness of fruits and vegetables. You can customize the spice level, ranging from 1-5. With its consistent quality, Bondy has cultivated a loyal clientele that frequents the establishment. Priced at 2,000 yen, it offers a quick yet satisfying meal. With two outlets in the Jimbocho vicinity, a culinary journey to Bondy is a must for every food lover.
▶︎ Jimbocho
▶︎ Ogawamachi
Yakiniku Like: Solo Grilling Bliss
Craving grilled meat but on your own? No problem! Introducing Yakiniku Like (焼肉ライク), the haven for solo diners who adore grilled delicacies.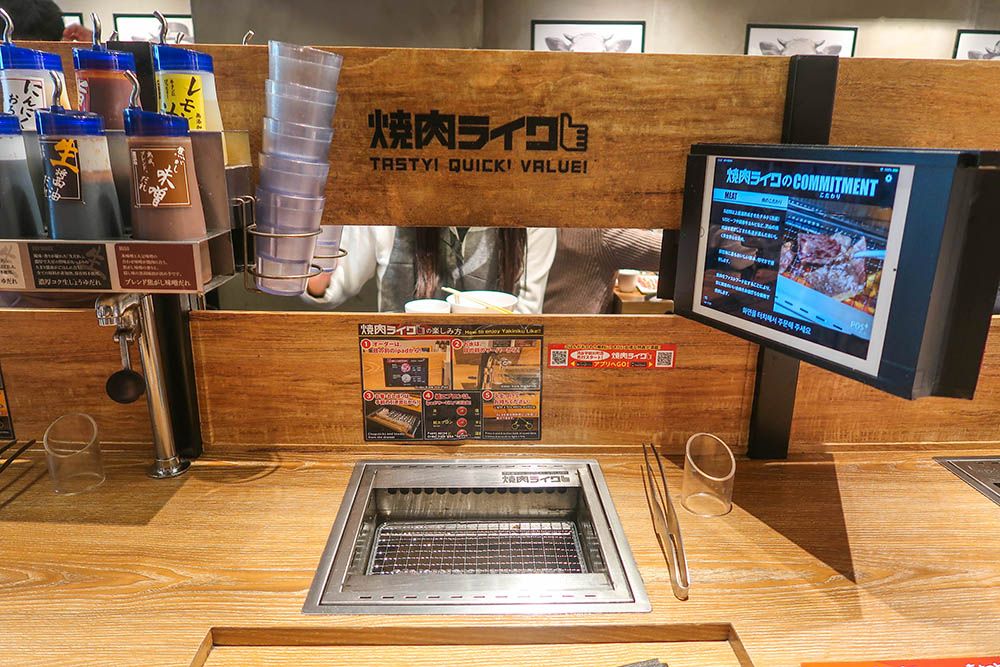 Typically, yakiniku eateries are synonymous with communal experiences, often necessitating a group. The grills, designed to cater to multiple patrons, can make solo visits seem awkward and isolating. Yakiniku Like breaks this mold spectacularly. Here, every diner receives their very own personal grill, housed at a private table. This means you can savor scrumptious grilled meat at your own pace, free from any perceived judgments. Perfect for the solo adventurer, or for those on-the-go, meals start at a budget-friendly 900 yen. Your final bill is influenced by the meat portions you select, ensuring you pay for exactly what you consume.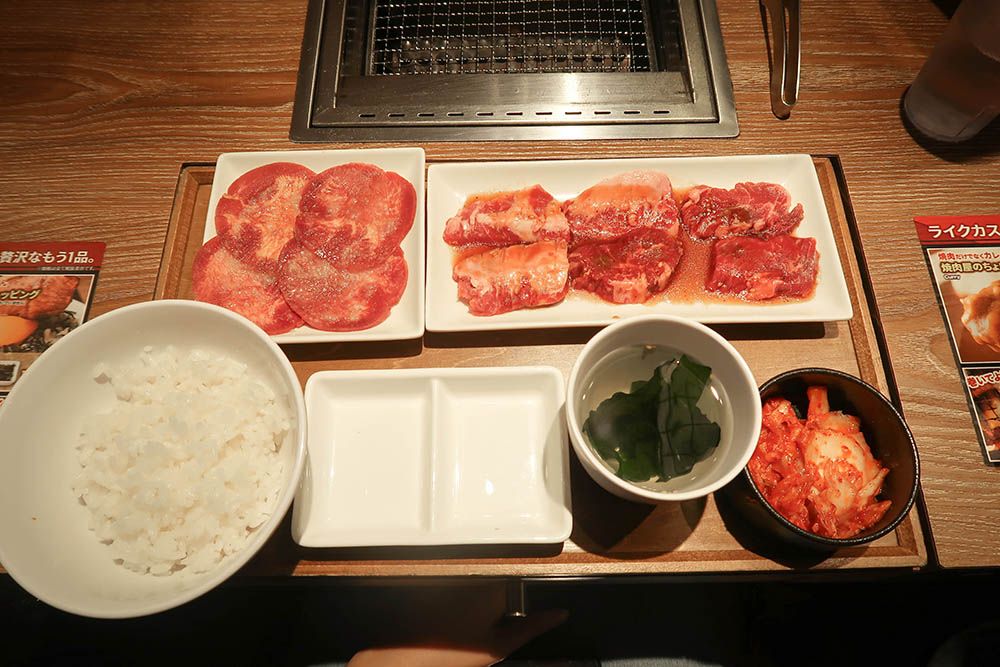 Ordering is a breeze thanks to the tablet-based system, offering multilingual menu options, including English. Once your selection is served, the grilling reigns are handed over to you, supplemented by an array of delightful sauces. Experience grilling reimagined, with unparalleled privacy and taste, only at Yakiniku Like.
▶︎ https://www.yakiniku-like.com/
▶︎ Google Map
We hope you've found our restaurant recommendations enlightening! This guide aims to simplify your dining choices while exploring Japan. If any eatery piques your interest, simply enter its name into Google Maps to locate nearby branches in real time. Here's to a delightful and flavorsome journey through Japan. Bon appétit!
---
Download the Ikidane Nippon App: iOS / Android
Let us know if there is something that needs to be fixed: Feedback Form