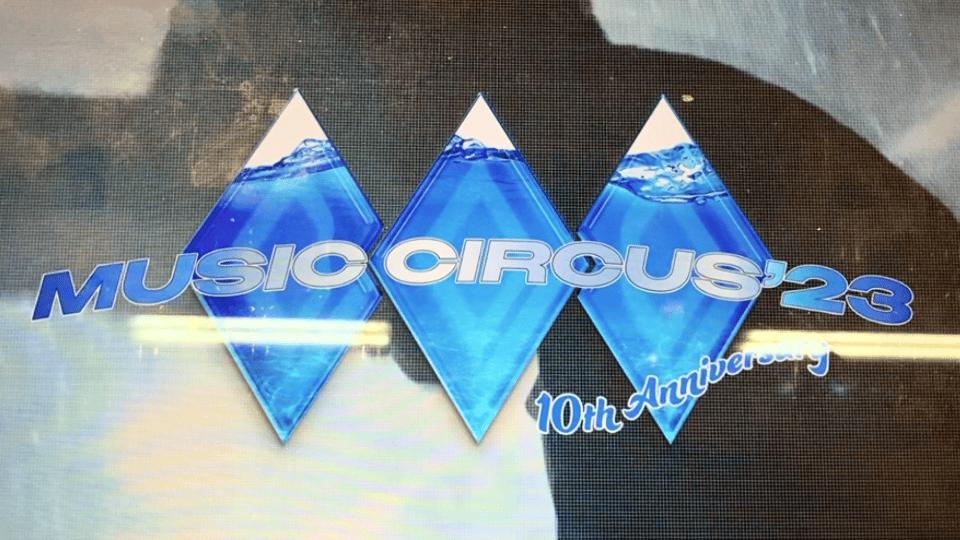 ■Dates: August 11, 12, 13
■Time: Starts at 10:30 / Starts at 11:00 / Ends at 21:00
■Venue: SENNAN LONG PARK (2-201 Rinkuminamihama, Sennan, Osaka)
■Tickets: Men 9,800 yen / Women 7,600 yen (one-day pass, including 3 drinks)
■Official website: https://music-circus.jp


Japan is home to numerous music festivals, many of which rely on purchasing licenses from overseas. However, the MUSIC CIRCUS festival is a remarkable exception to this trend. Originating in Osaka, this prestigious beach music festival is a celebrated icon in the Kansai region and boasts the honor of being the country's first music festival of its kind.
Marking its 10th anniversary this year, MUSIC CIRCUS is pulling out all the stops by joining forces with the Songkran Festival for a fusion of tradition and modern entertainment. With a blend of Songkran 💧 x Music 🎵 x Fireworks 🎆 x Food 🍗, this festival transcends the ordinary by integrating these exciting elements into an unforgettable experience. Prepare to be drenched and delighted by immense water cannons. In this feature, we introduce some of the highlights of this event.
A symphony of summer memories

The MUSIC CIRCUS festival will unfold over a thrilling three-day period. With a diverse lineup featuring styles ranging from indie pop to rock, attendees can expect a dynamic, one-of-a-kind auditory experience that resonates with the very essence of summer. To help festival-goers, we have compiled a list of the artists performing on each day.

DAY - 1

👨‍🎤 Singers:
Thelma Aoyama (青山テルマ), Cream, Hitomin, Miliyah Kato (加藤ミリヤ), Mäbu, OZworld, Mukadi Inman (百足&韻マン), Shota Shimizu (清水翔太), Hina Shimokita (下北姫菜), t-Ace, South Blue...
💿 DJs:
Beauty Noise Tokyo, Mone, Pretty Dragon, DJ10CHM and BEAR RABBI, Gagaku from *Groovy workshop....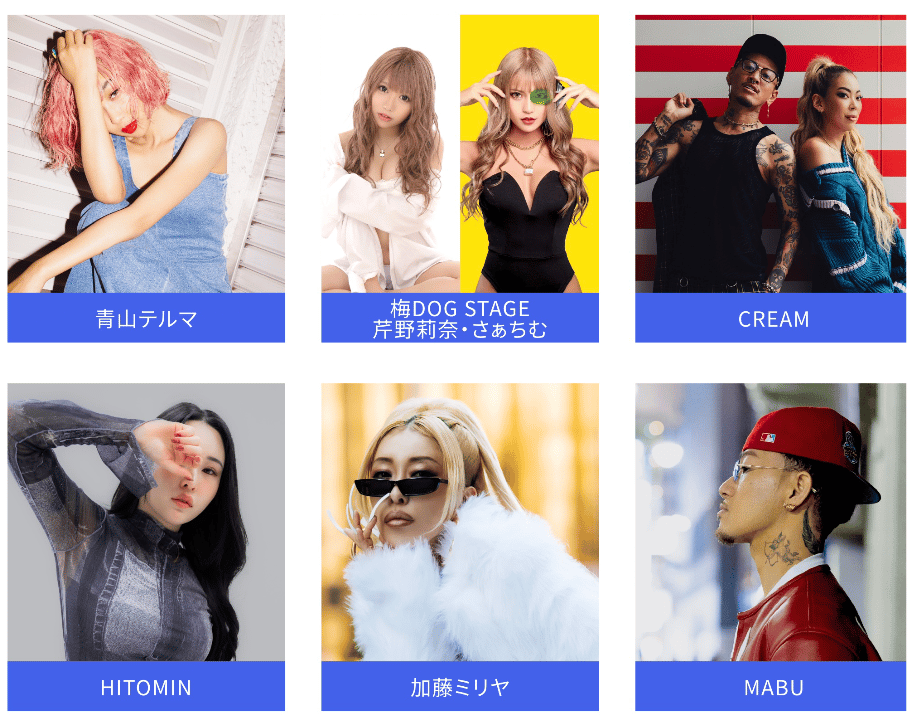 DAY - 2

👩‍🎤 Singers:
Aklo, Apollo, Awich, Candee, Carz, Chehon, Japanese Magenese (ジャパニーズマゲニーズ), JP The Wavy, Jin Dogg, J-Rexxx, Kenty Gross, Lana, 775, Natural Weapon, Red Eye, MC Tyson...
💿 DJs:
Murda Beatz, Vice, Pickle, DJ Chari, Fuji Trill, Merry, Nasthug, Pretty Dragon, Red Spider...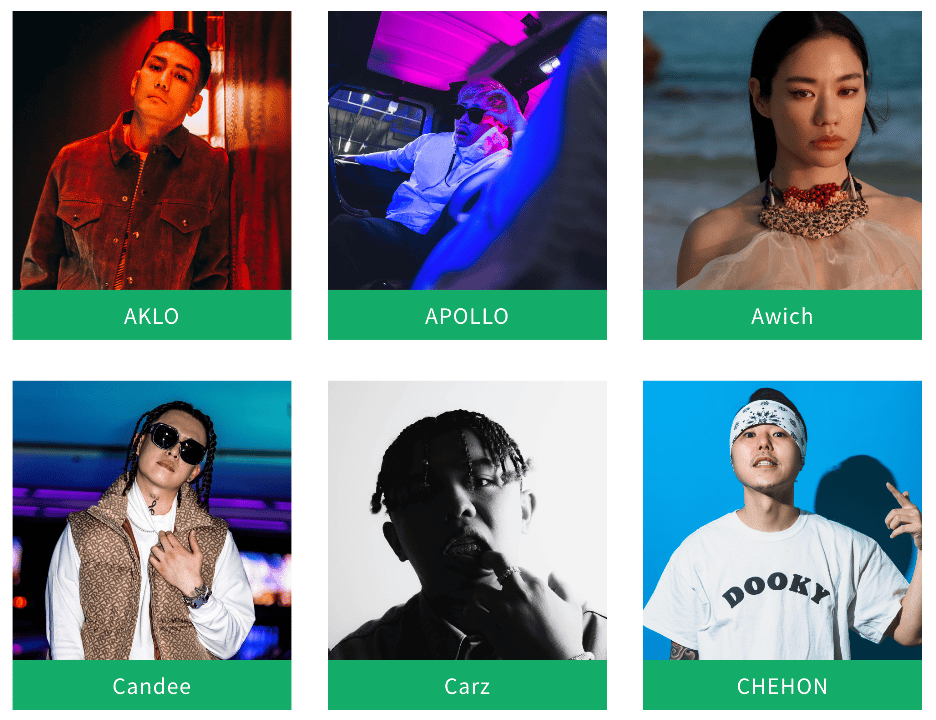 DAY - 3

💿 DJs:
Kayzo, KURA, MAKJ, DJ Soda, 22Bullets, Casper Yu, Fumi, Ksuke, Party Monster, Peach, Pixzy, Pretty Dragon, Tank, Yamatomaya...
👨‍🎤 Live:
iamSHUM....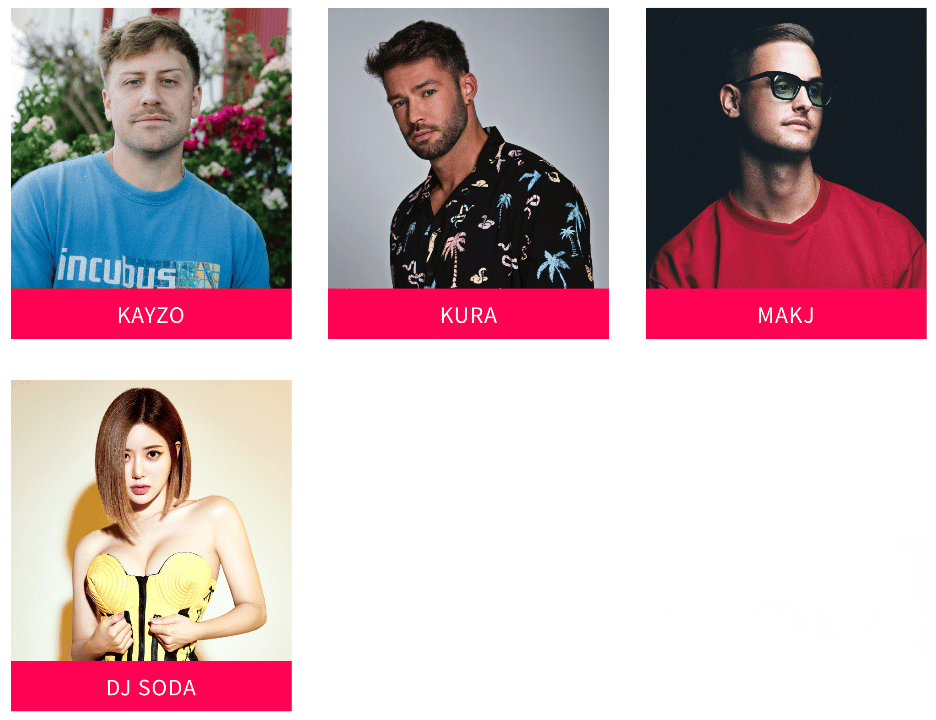 💃 Dance Groups:
Why limit the festival to strong songs when hot dances can add sizzle? CYBERJAPAN DANCERS, one of Japan's sexiest girl groups, leads a thrilling dance lineup including STELLA JAPAN, HONEY TRAP, Amgel Dancers, and BAMBI MONSTERS. Joined by electrifying idol groups such as BLOOD/., PATI PATI CANDY...★, and Sky Sound パレード, the festival's blend of music and dance promises a hotter-than-ever experience! 🌶️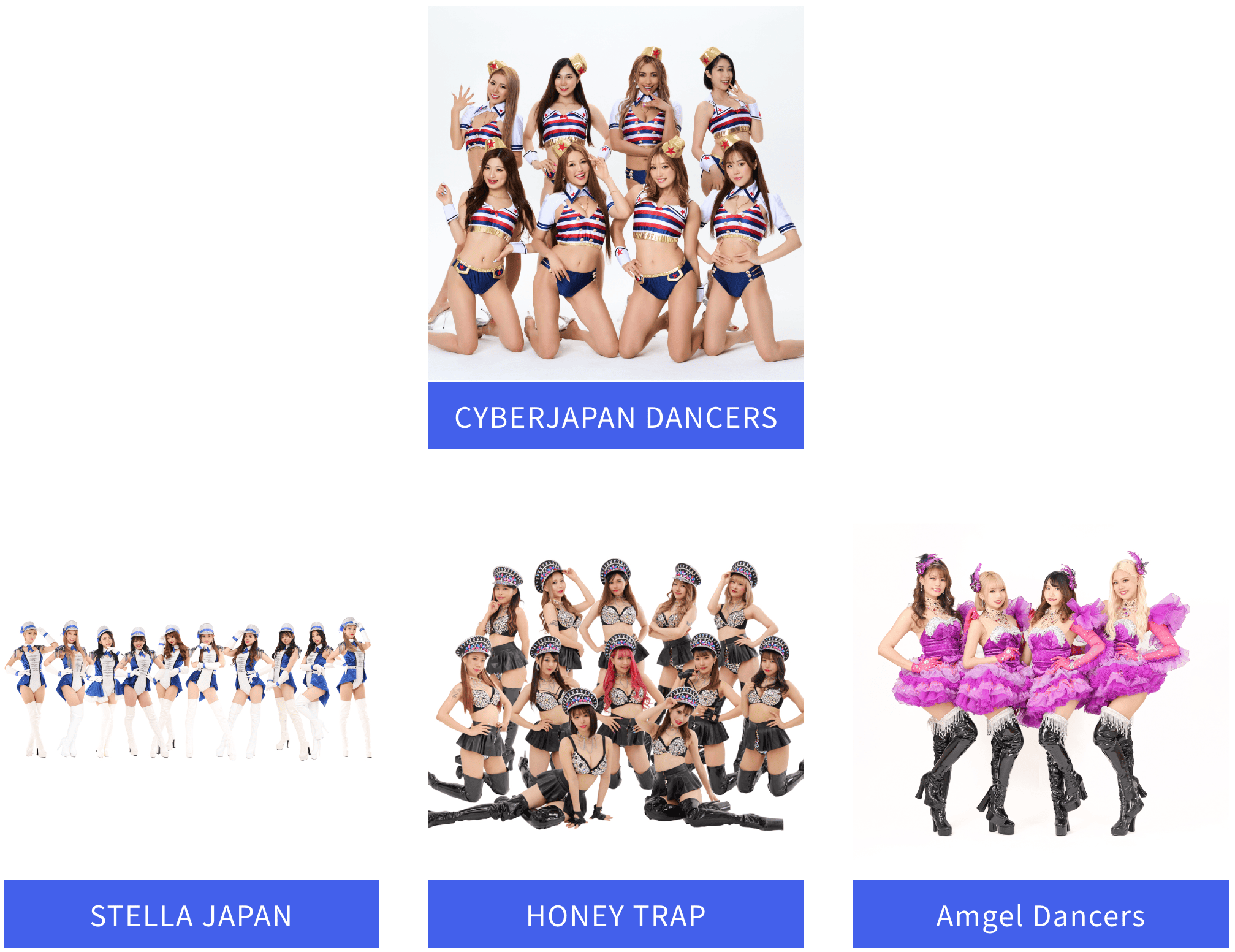 Elevate your excitement
Let the adrenaline soar with the exclusive festival merchandise available on the official MUSIC CIRCUS website! From water-resistant mobile phone bags for splash-filled fun to stylishly simple yet distinctive sunglasses, masks, towels, and T-shirts, the collection has been designed with both elegance and personality in mind. Donning the full set at the festival won't just offer practical benefits—it will also set you apart as a true aficionado, ready to embrace the musical celebration in super cool style! 🕶️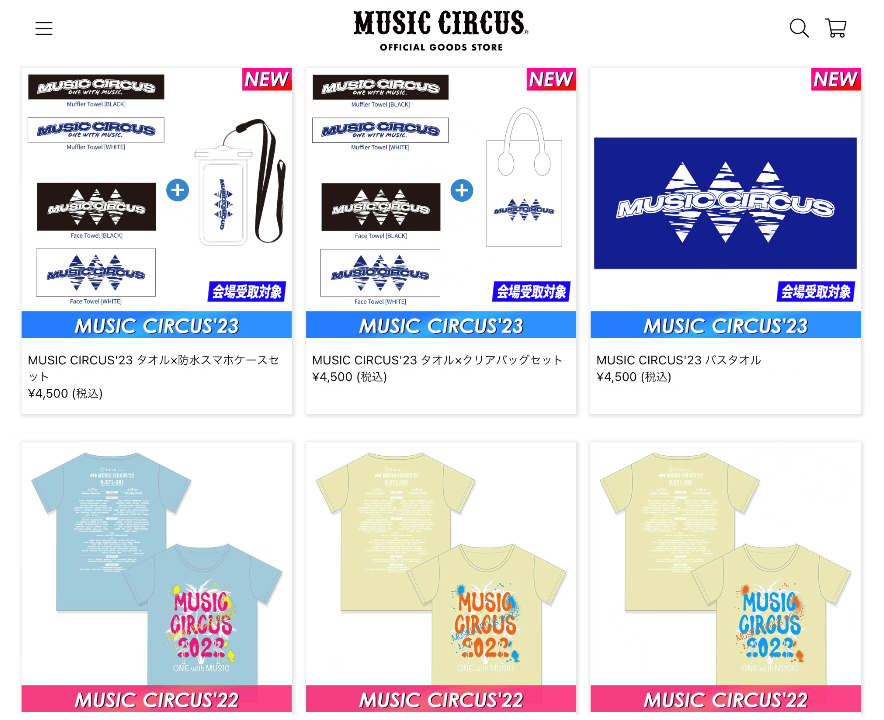 For convenience in obtaining your festival merchandise, choose between picking it up directly at the venue or having it delivered to your home after the performance.
A Pick up directly at the venue
Time: 18:00-23:59, July 21
Pick up location: Osaka SENNAN LONG PARK
B Shipping post event
Period: 18:00 on July 21 – 23:59 on August 13
Delivery: Around mid-August
Dream Collaboration
Fashion enthusiasts, take note! The MUSIC CIRCUS festival has teamed up with the popular fast fashion brand SHEIN to bring festival-goers a wave of exclusive and cool benefits.
1. T-Shirt Tickets
Purchase a collaborative T-shirt and save 2,000 yen off the original price! Plus, wearing the T-shirt grants you access to all three days of festival activities. Act quickly, as quantities are limited! Don't miss out on this exclusive offer, click on the link to shop now: 👉 https://jp.shein.com/campaigns/music_circus23

Precautions:
1. If you've purchased a T-shirt ticket, please be prepared to pay for 3 drinks on the spot when entering the venue, totaling 2,000 yen.
2. The T-shirt must be worn to enter the venue. Ensure you have it on to gain access to the festival.
3. Whether you're a woman buying a men's T-shirt ticket or vice versa, the price difference will not be refunded. Please choose your size carefully.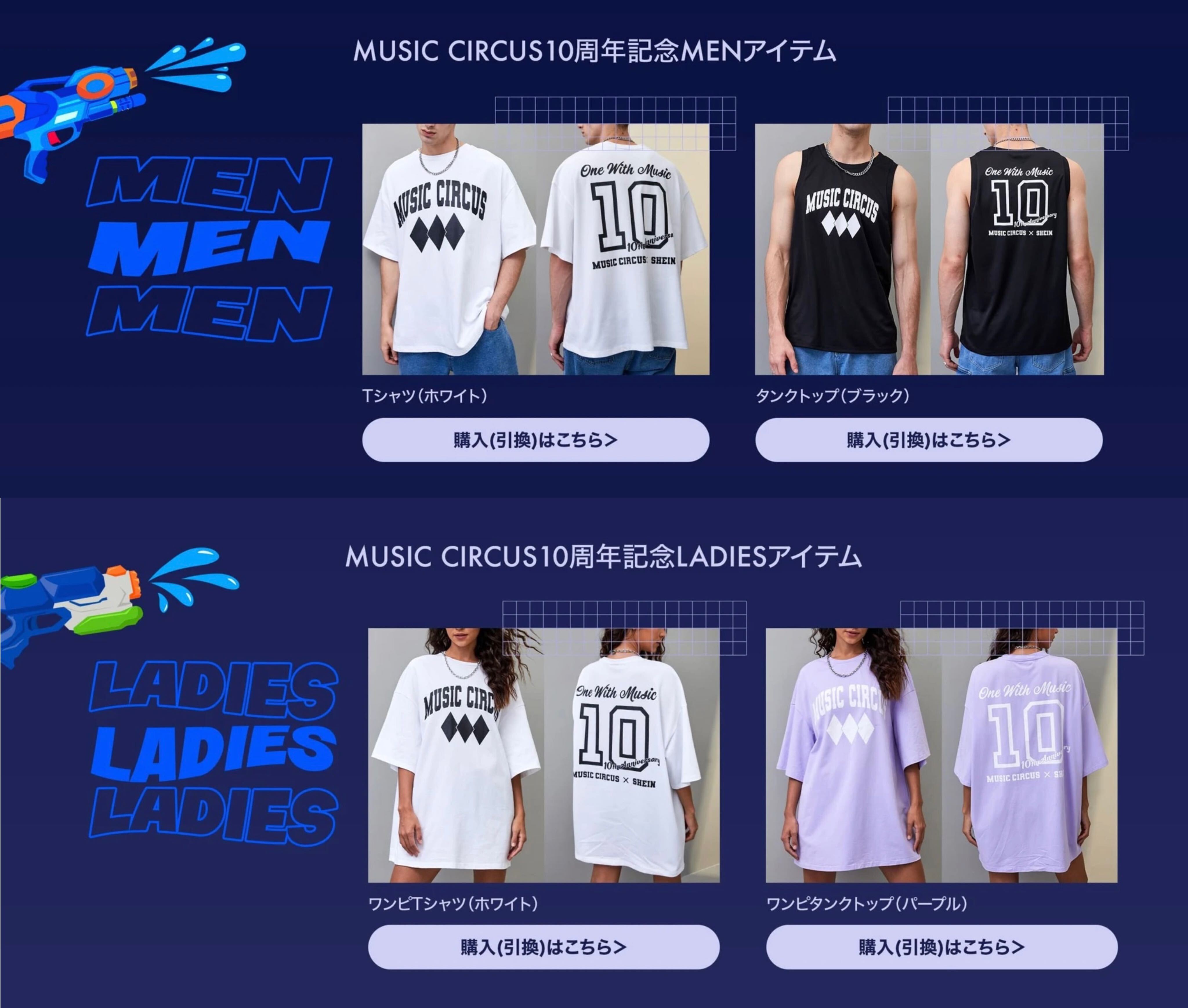 2. Exclusive Discounts
In celebration of this collaboration, SHEIN has extended special benefits to festival-goers via Twitter. Use the exclusive discount code MC2023 to enjoy: (1) A 10% discount on purchases from 0 to 5,999 yen; (2) A 15% discount on purchases over 6,000 yen. This offer is valid until August 31st.

The content of the festival is still being updated.
Keep an eye on the official channels for the latest updates 🫱:Twitter、Instagram、Facebook、YouTube
With music at its core, the festival is designed to create the liveliest and most enjoyable summer atmosphere.
Mark your calendars for August 11th to August. We can't wait to see you there!

🎸🎸🎸

---
Download the Ikidane Nippon App: iOS / Android
Let us know if there is something that needs to be fixed: Feedback Form