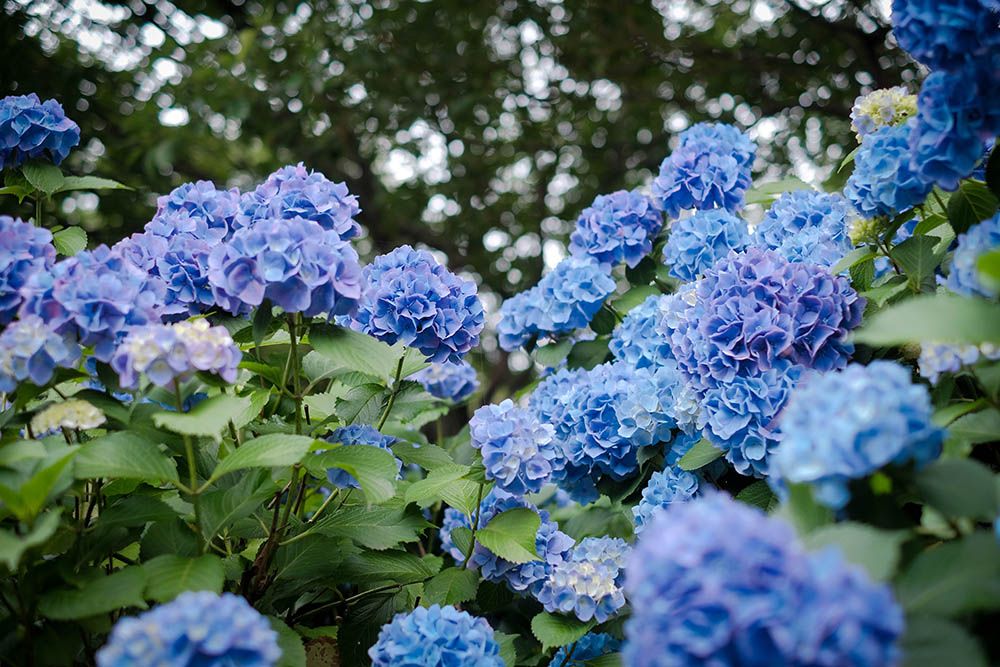 June in Japan is known as the rainy season, which lasts for a relatively short period before the summer season arrives. Although there are no major festivals or cultural events during this time, the season is adorned with various seasonal flowers that add color to the otherwise gray days. Among them, the hydrangea (ajisai in Japanese) is particularly associated with the rainy season in Japan. These beautiful flowers look especially stunning on cloudy or rainy days, with sparkling droplets of water on their petals. In this article, we introduce three of the best hydrangea viewing spots located in the suburbs of Tokyo.


List of contents

●Hakusan Shrine (白山神社)
●Asukayama Park (飛鳥山公園)
●Symbol Promenade Park (シンボルプロムナード公園)
Hakusan Shrine (白山神社)


Hakusan Shrine (白山神社) is a small shrine located near Hakusan station (白山駅) on the Mita Line in Tokyo. Situated away from the main city area, this shrine is surrounded by a peaceful neighborhood with few office buildings. Every year, the shrine hosts Bunkyo Ajisai Matsuri (Bunkyo Hydrangea Festival), during which visitors can admire up to 3000 hydrangea bushes within the shrine grounds and the adjacent Hakusan Park.



Interestingly, the shrine is known to alleviate toothaches, and as a result, many people visit the shrine seeking a blessing for dental health. It is not uncommon to see offerings of toothbrushes left at the shrine in hopes of receiving this blessing.



Event information:https://www.city.bunkyo.lg.jp/bunka/kanko/event/matsuri/ajisai.html

Access: 3-minute walk from Hakusan station (白山駅) / 5-minute walk from Honkomagome station (本駒込駅)
Google Map:https://goo.gl/maps/XksfjTgEyiSYp3mR7


Asukayama Park (飛鳥山公園)


Asukayama Park (飛鳥山公園) is a spacious park located near Oji station (王子駅) and is known for its diverse range of seasonal flowers that bloom throughout the year. The park is a popular spot for cherry blossom viewing, and on the west side of the park, visitors can also enjoy the sight of up to 1,300 hydrangea plants in bloom.



The hydrangea viewing spot within the park is especially popular as visitors can capture unique photos of the colorful hydrangeas with trains in the background. All 1,300 hydrangea bushes are planted along a 350-meter stretch, called Hydrangea Road, providing visitors with an impressive view of these gorgeous flowers.



Access: 1-minute walk from the South Exit of JR Oji station (王子駅) / 3-minute walk from Exit 1 of Oji station on the Tokyo Metro Namboku Line.

GoogleMap:https://goo.gl/maps/g4qoTtqvXdunY1ig9


Symbol Promenade Park (シンボルプロムナード公園)


Symbol Promenade Park (シンボルプロムナード公園) is a picturesque park located in the Odaiba area, offering stunning views of the sea and a replica of the Statue of Liberty. During the rainy season, the park becomes a popular destination for viewing hydrangeas and it has a rare garden featuring white hydrangeas. Visitors can also capture unique photos of hydrangeas with the iconic Odaiba Ferris Wheel (Daikanransha) in the background, making for a memorable visit to Odaiba.



You can also admire numerous blue hydrangeas, which are planted with great care and attention to detail. These hydrangeas boast vibrant, fresh colors reminiscent of those sold at flower shops, a testament to the skill and dedication of those who maintain the park's flora.



Access: 3-minute walk from Tokyo Teleport station (東京テレポート駅) or Aomi station (青海駅) on the Rinkai Line
Google Map:https://goo.gl/maps/86REVfDprnSVZbTP8


If you're in Tokyo during the rainy season, make sure to add these hydrangea viewing spots to your itinerary. All of these locations are free and open to the public throughout the day, offering a beautiful and unique way to experience the summer season in Japan.



---

Download the Ikidane Nippon App:iOS/AndroidLet us know if there is something that needs to be fixed:Feedback Form