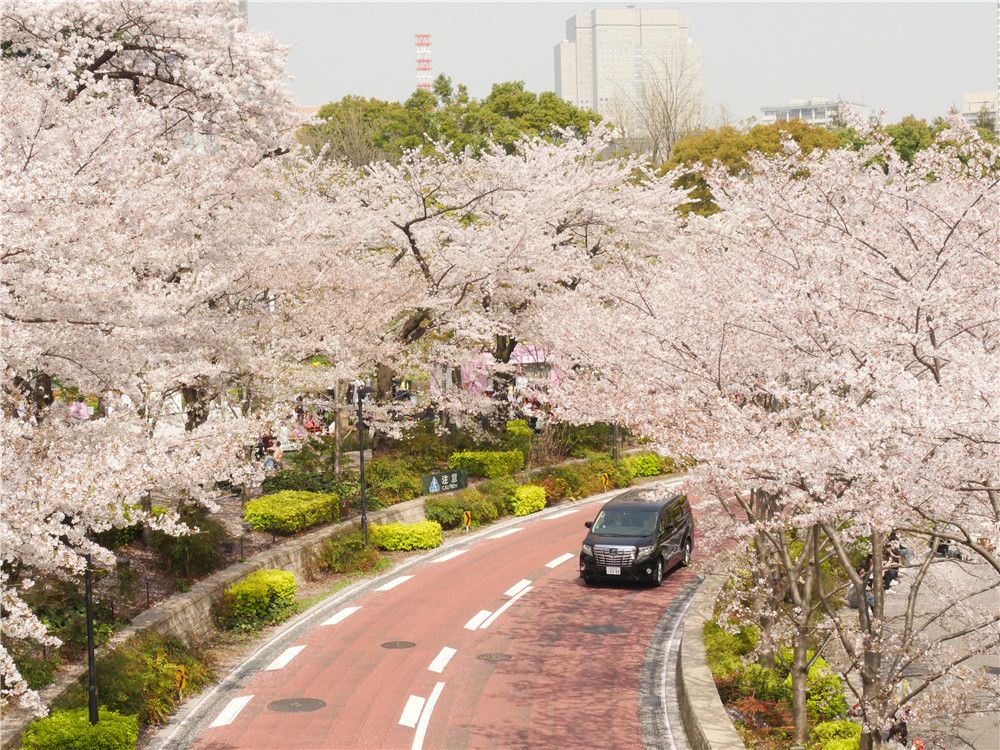 Cherry blossoms reached their peak bloom earlier this month in Tokyo, signaling the end of the season for this year. However, if you're planning a future trip to Tokyo, it's always a good idea to make a list of these amazing sakura spots that are easily accessible from anywhere in the city.


Spots
1. Nakameguro (中目黒)
2. Chidorigafuchi Park (千鳥淵)
3. Roppongi Midtown
4. Ueno Park (上野公園)
5. Sumida Park (隅田公園)
6. Shibuya (渋谷)
7. Nakano Dori (中野通り)
8. Kuramae Shrine (蔵前神社)



1. Nakameguro (中目黒)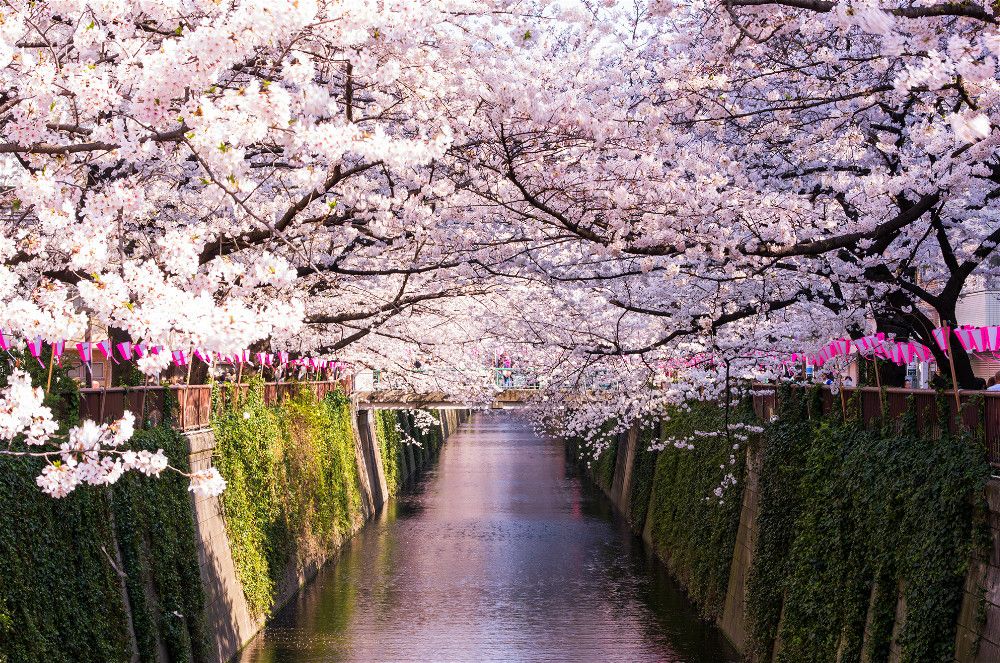 The Meguro River is an extremely popular destination for cherry blossom viewing in Tokyo. Tourists and locals alike can enjoy the stunning cherry blossoms that line the river both during the day and at night, thanks to the beautiful lighting. The river flows for about 8 km through the center of the city and eventually empties into Tokyo Bay. Over 800 cherry trees are in full bloom along the riverbank from Ikejiri-Ōhashi Station to Meguro Station, making it one of the most famous sakura viewing spots in Tokyo.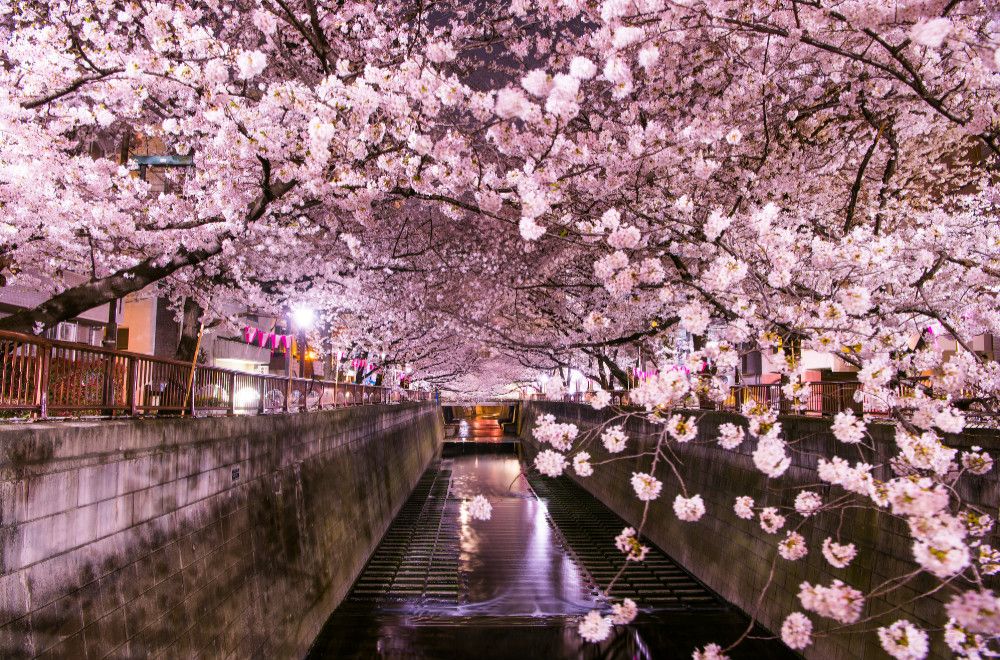 Visitors can also take a leisurely walk along the river and explore the many stores, cafes, and restaurants here. Several establishments offer gorgeous views of the blossoms, so you can have a delightful time with friends or family. The area is also known for its sake breweries and mochi shops, adding to the overall cultural experience.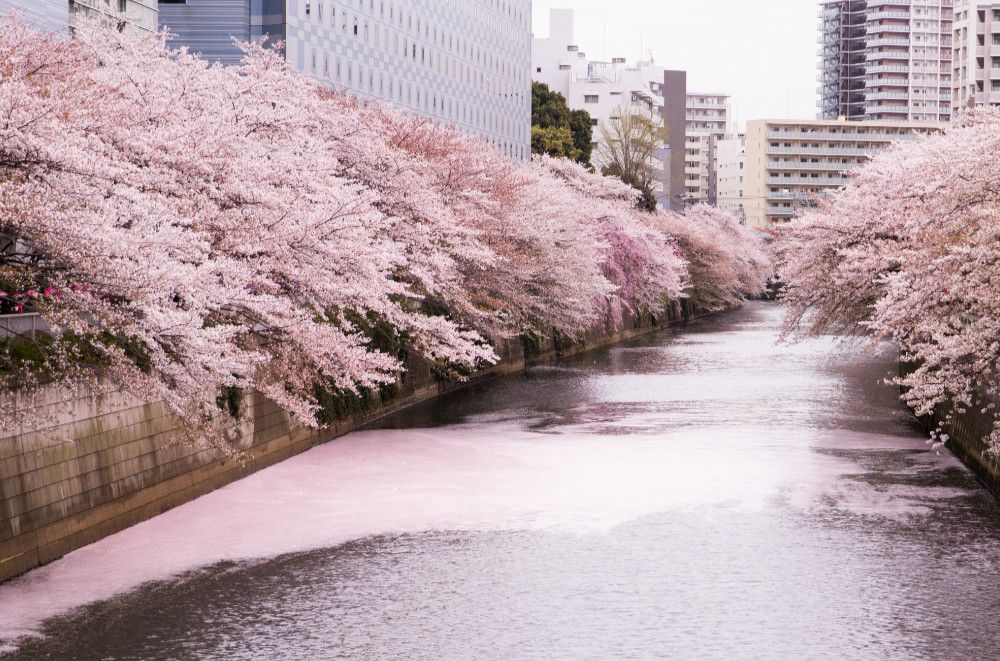 Google map:https://goo.gl/maps/znNV1nwe7qAAcmP6A



2. Chidorigafuchi Park (千鳥淵)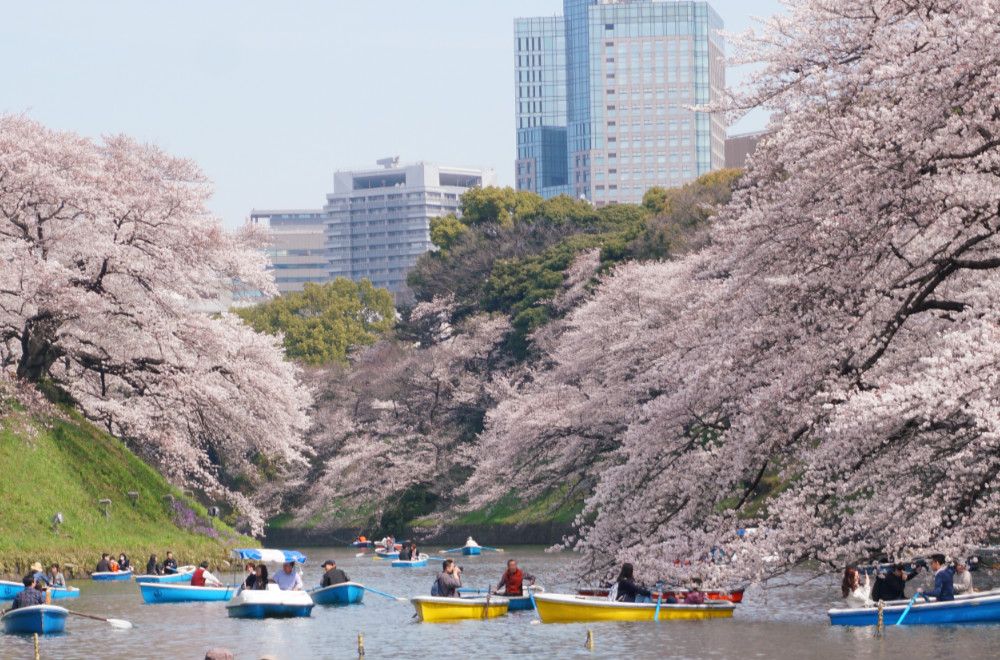 Chidorigafuchi is a moat that surrounds the Imperial Palace in Tokyo, featuring approximately 260 cherry blossom trees that bloom along its banks. This scenic location has become one of the most popular spots in the city for sakura viewing, as the tree branches lean gracefully over the water. Visitors can enjoy a leisurely stroll along the 700-meter esplanade lined with cherry blossoms, and can also view the illuminated trees at night. During the sakura season, more than one million people visit Chidorigafuchi to take in its stunning beauty.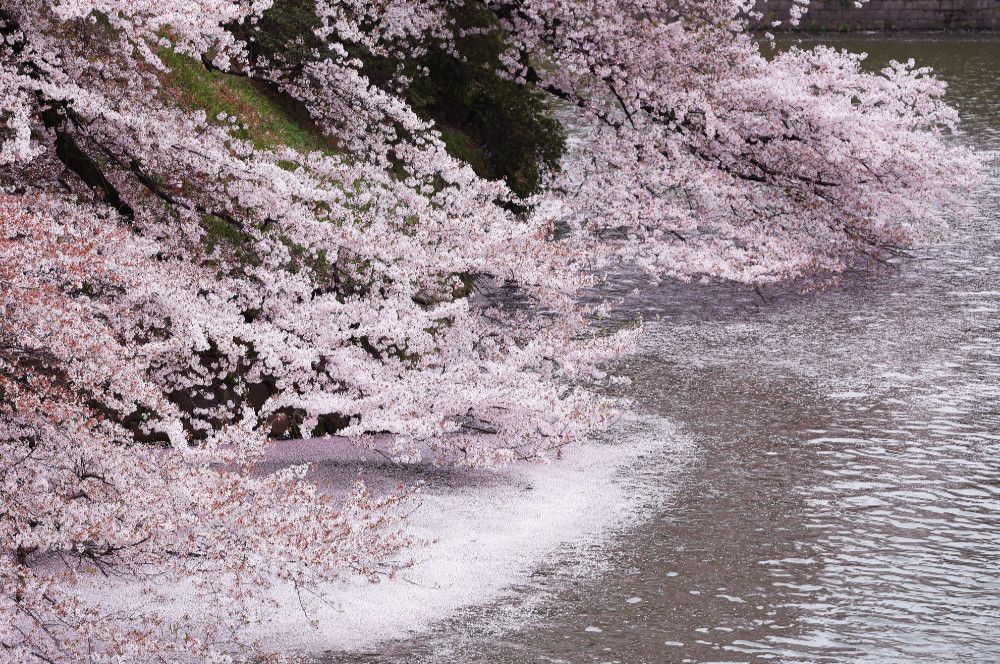 Once the peak bloom period has passed, the petals of the cherry blossom trees lining Chidorigafuchi's moat begin to fall into the water, creating a stunning river of pink that visitors can paddle through.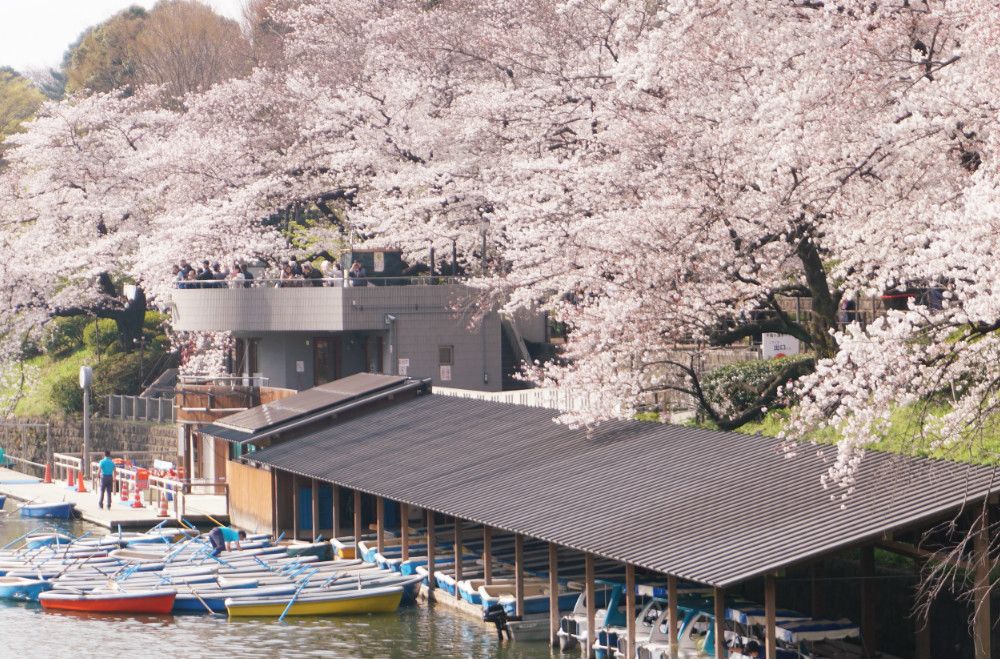 Google map:https://goo.gl/maps/NbgjbX5qdR9BETaw7



3. Roppongi Midtown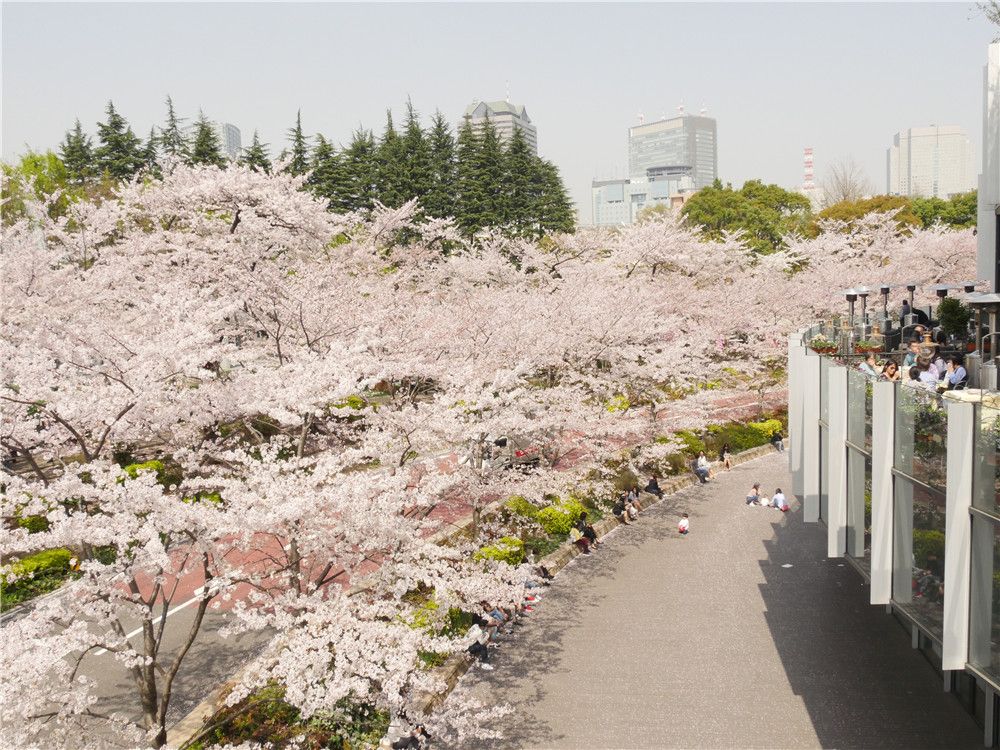 Roppongi is a well-known destination for nightlife in Tokyo, but it's also home to one of the city's most spectacular cherry blossom viewing spots. Located at the back of Tokyo Midtown, a comprehensive facility that offers a range of dining, shopping, and entertainment options under one roof, this spot boasts several restaurants that provide breathtaking views of the cherry blossoms. While the cherry blossom trees are planted along a road, the area sees very little vehicle traffic, allowing visitors to fully immerse themselves in the beauty of the blossoms without any distractions from noise or movement.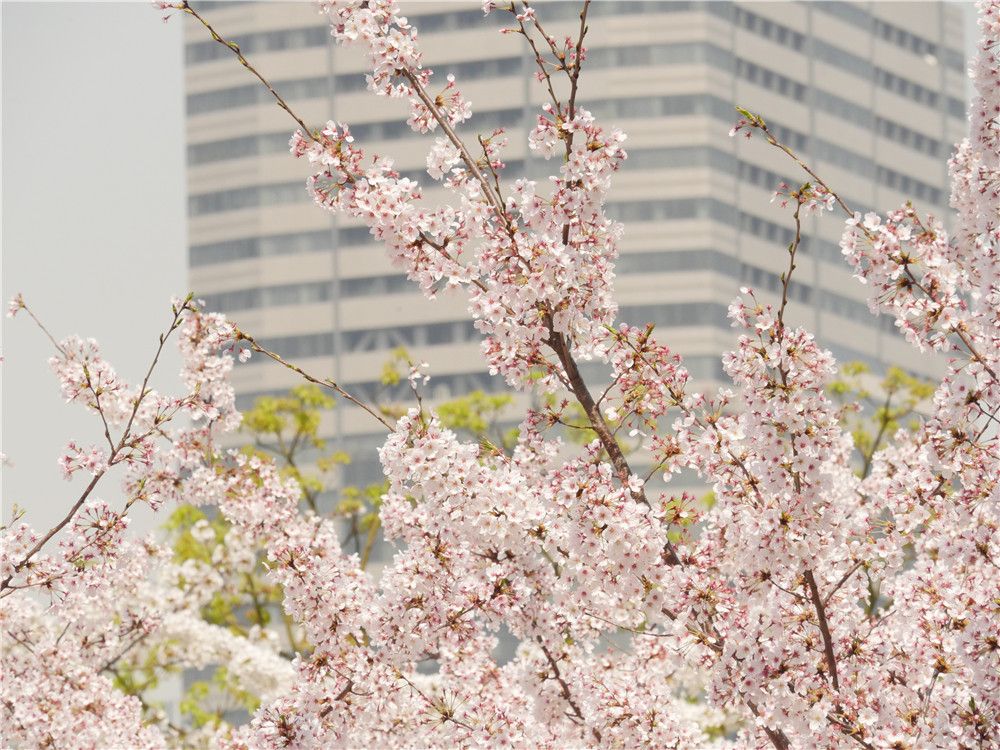 Google map:https://goo.gl/maps/bnVyX2ueok5isohf9



4. Ueno Park (上野公園)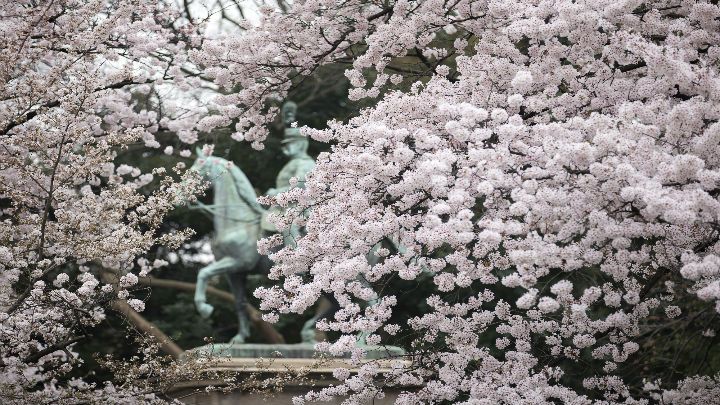 Ueno Park, which opened in 1873, is a must-visit spot for anyone looking to enjoy a lively cherry blossom viewing experience. With its vast area of 530,000 square meters, it offers a unique blend of nature and history. Visitors can enjoy both day and night views of the cherry blossoms, with the park's atmosphere staying lively throughout spring with hanami parties. Additionally, the park is home to several cultural and educational facilities, including the National Museum of Nature and Science, the Tokyo Metropolitan Art Museum, and the Ueno Zoo, where visitors can see giant pandas.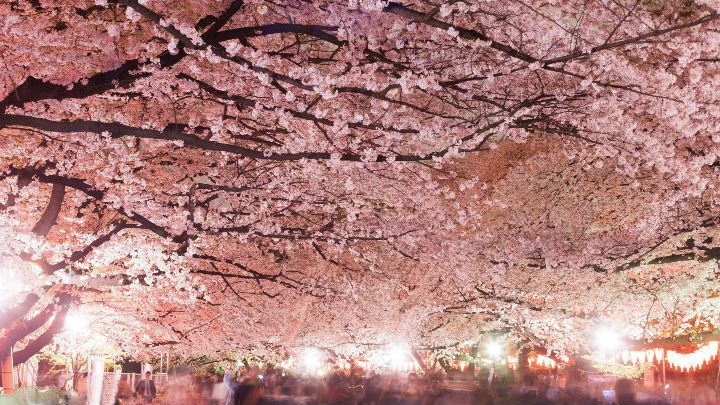 Click here to know more.
Google map:https://goo.gl/maps/HtuLi5Jn2WiB27Yj7



5. Sumida Park (隅田公園)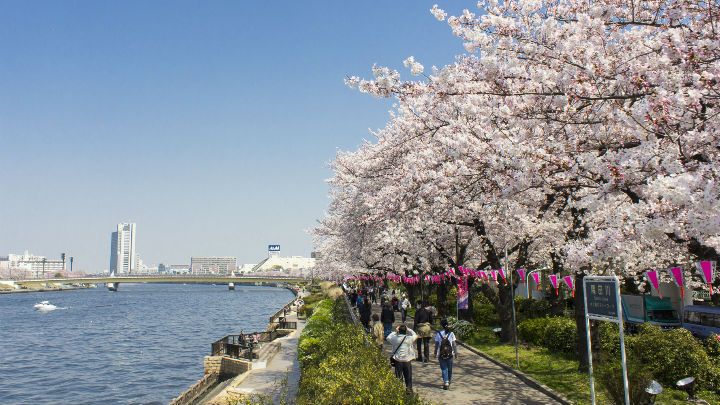 Sumida Park is a sprawling green space that runs alongside the picturesque Sumida River. Covering over 100,000 square meters, it's a popular destination for tourists, alongside other notable Tokyo landmarks such as Asakusa and the Sky Tree. With a history dating back to the Edo period, when the 8th shogun ordered the planting of cherry blossom trees, the park has since become a celebrated hanami spot, boasting over 640 trees in full bloom during spring.


The Sakura Festival takes place during this time with plenty of food stalls along the park. You can also get stunning photos of the Sky Tree from the opposite bank especially in the evening when the tower is lit up in sakura pink.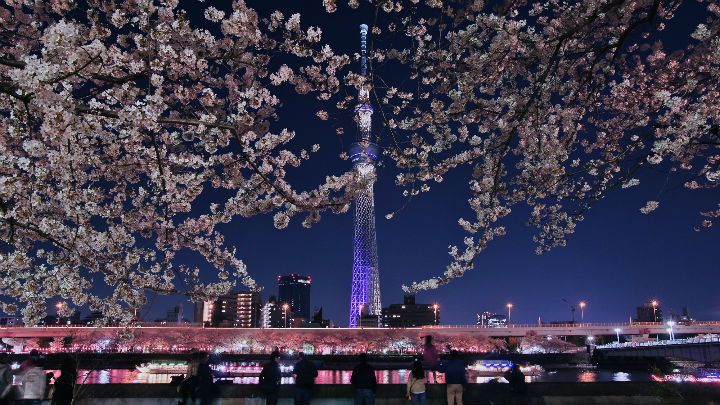 Click here to know more.
Google map:https://goo.gl/maps/enamxUyGdAL2Hbmb6



6. Shibuya (渋谷)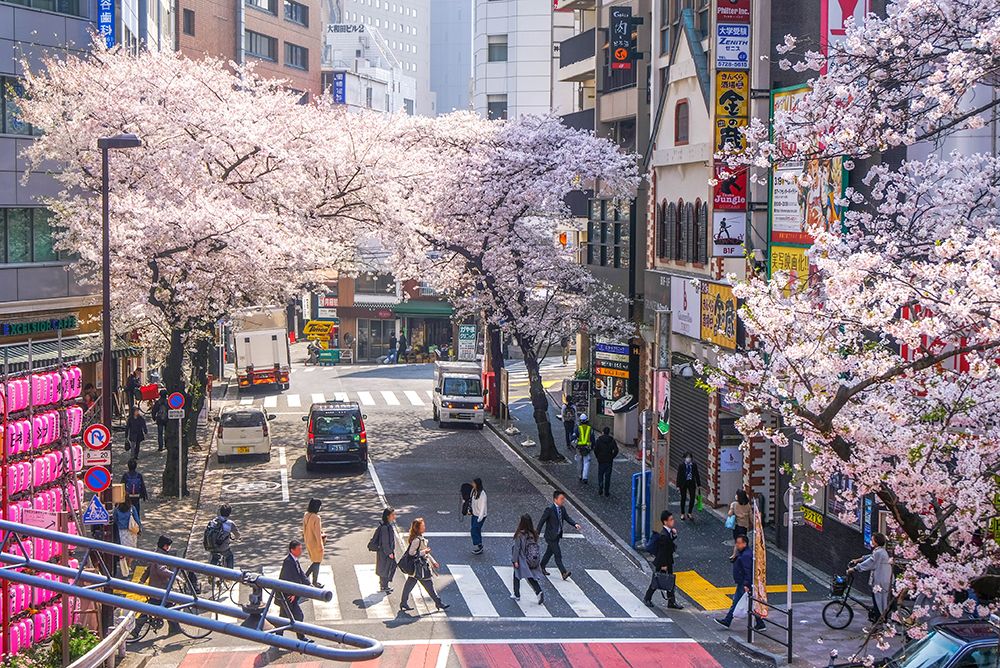 When you think of Shibuya, the first thing that may come to mind is Hachiko and the Scramble Crossing, but hidden close to the West Exit is a beautiful cherry blossom-lined slope that may catch you by surprise. This stunning spot is nestled among the tall buildings of Shibuya and is definitely worth a visit during cherry blossom season.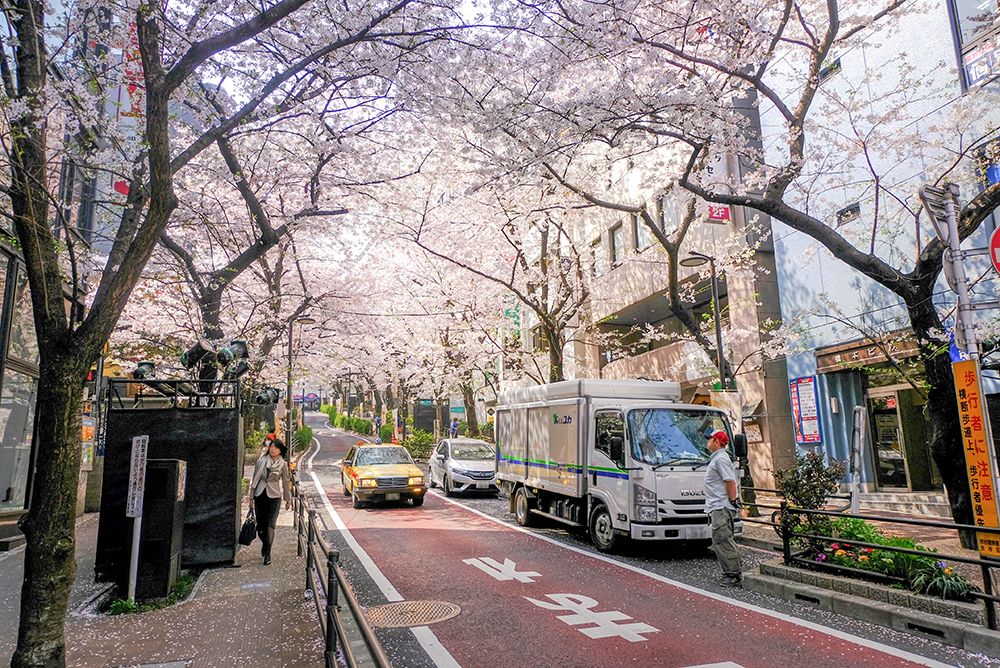 Be careful of traffic if you plan to take photos of yourself on the street!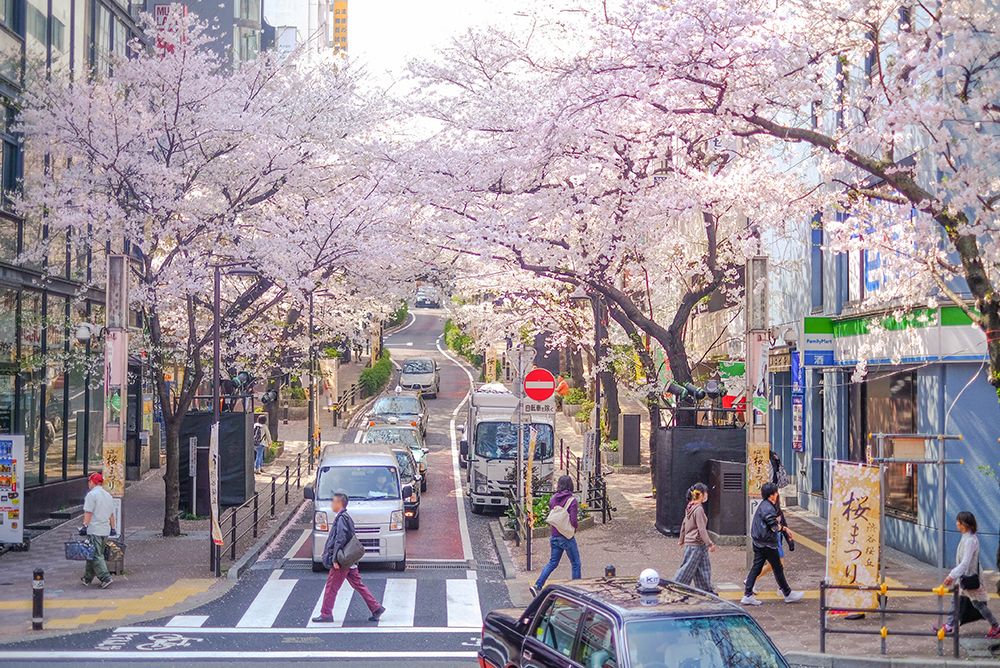 Google map:https://goo.gl/maps/r4ZgPZx4sa82



7. Nakano-dori (中野通り)

Nakano-dori, situated near Araiyakushimae Station (新井薬師前), is a must-visit location for capturing stunning photos of cherry blossoms and the yellow train. This residential area is popular among the international community in Tokyo, and for good reason. The yellow train provides a perfect contrast to the blue bridge and the tunnel of pink sakura, making it a top spot for photographers to capture the beauty of the season. Don't miss out on this picturesque location!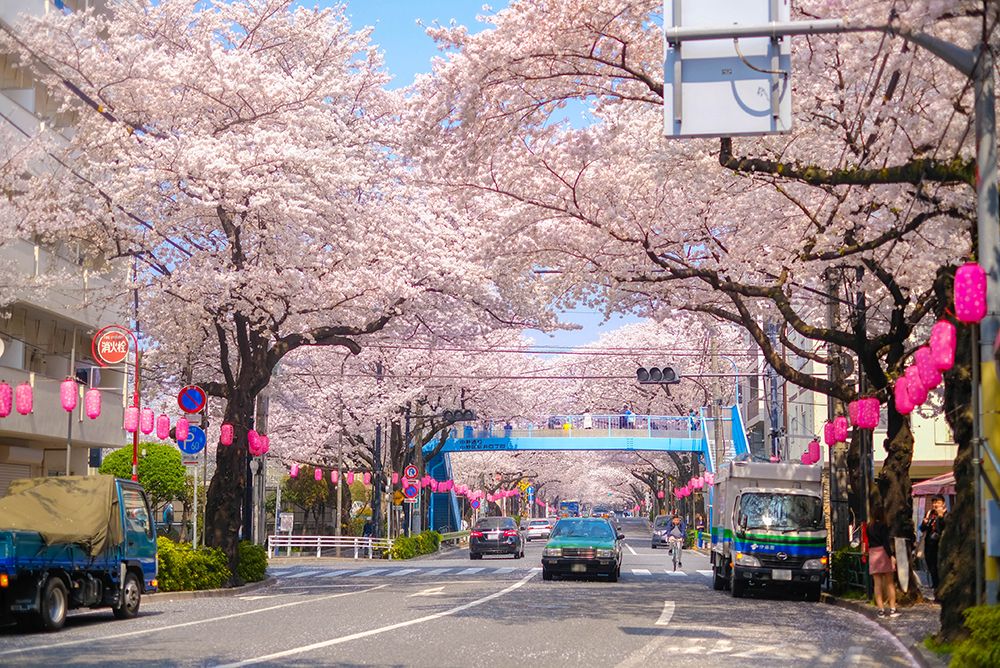 Google map: https://goo.gl/maps/hrce3Y9CbFD2



8. Kuramae Shrine (蔵前神社)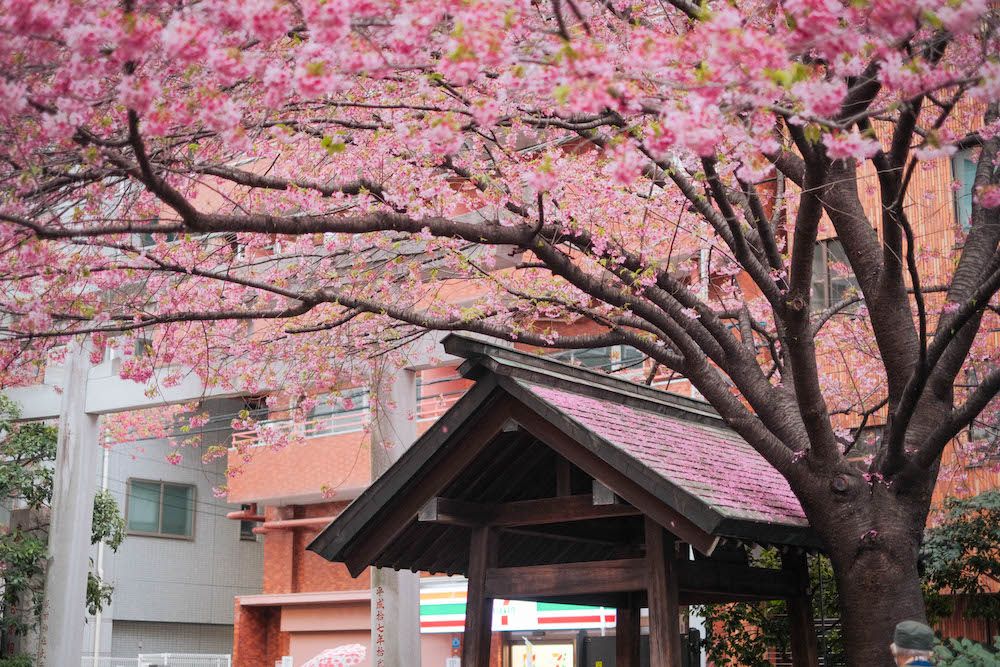 Kuramae Shrine (蔵前神社) is a hidden gem located in Kuramae, just a short distance from Asakusa. It is one of the few places in central Tokyo where cherry blossoms and mimosa flowers bloom simultaneously in the spring, providing visitors with a unique and stunning sight. The cherry blossoms at this shrine are known as Kawazu-zakura, a variety that blooms earlier than Somei-yoshino, which is the most popular cherry tree in Japan. The petals of Kawazu-zakura are a beautiful shade of pink that is slightly darker than other varieties. The cherry blossoms at Kuramae Shrine typically bloom from early March to mid-March, depending on the weather conditions each year.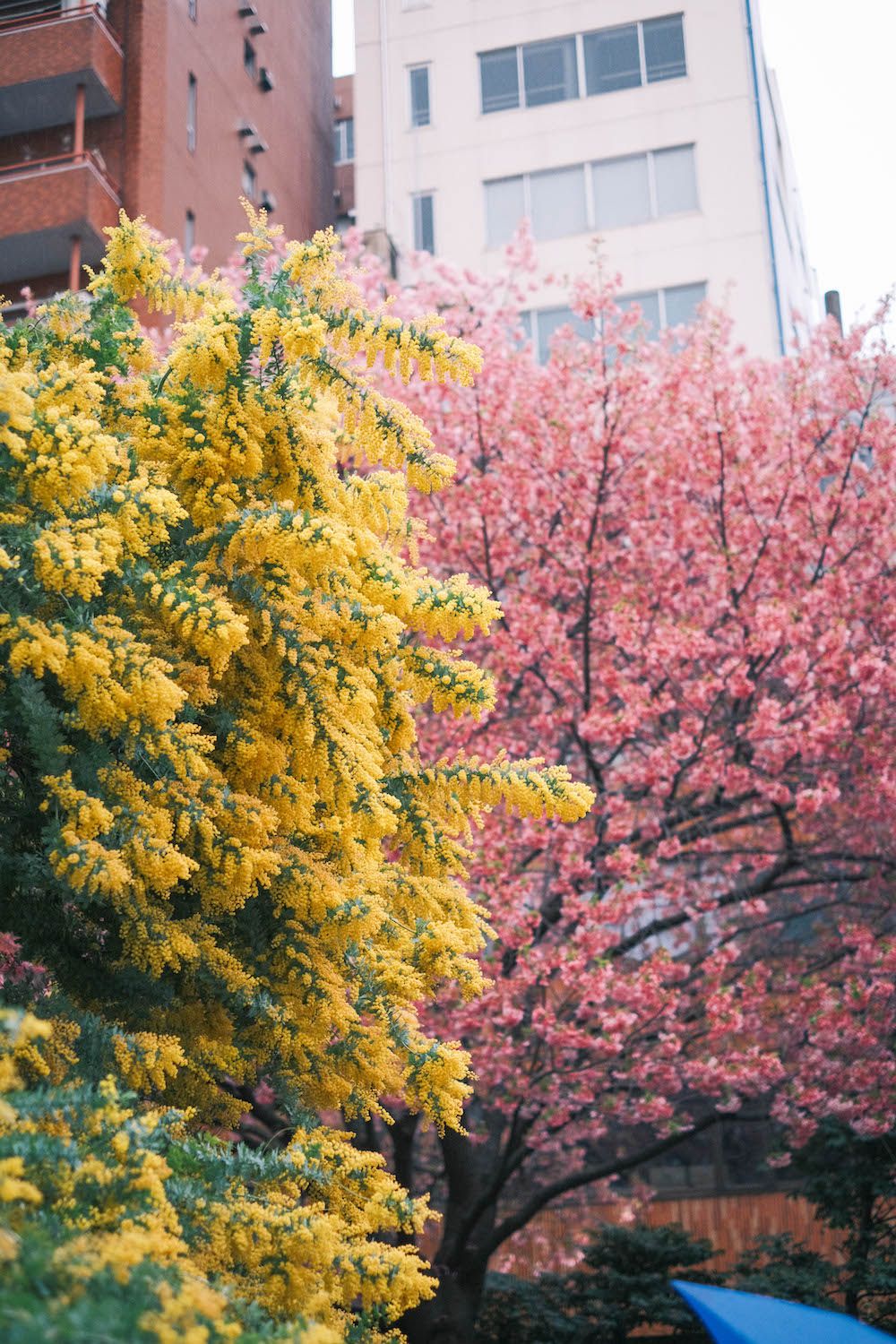 The shrine's charm is enhanced by the stunning yellow mimosa flowers that bloom at the same time, making for a truly picturesque sight. It's a rarity in Japan and has become a popular spot for photographers from all over the country who are eager to capture this hidden gem in Tokyo. Whether you're a local or a tourist, Kuramae Shrine is a must-visit spot for those seeking a beautiful and less crowded place to enjoy the cherry blossoms.

Google map: https://goo.gl/maps/2gmeMgdQhd5TmSY9A


---

Download the Ikidane Nippon App: iOS / Android
Let us know if there is something that needs to be fixed: Feedback Form