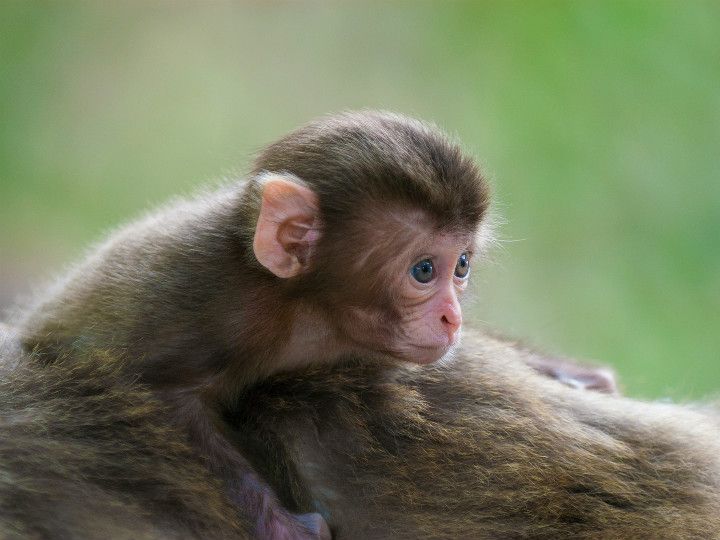 Takasakiyama Monkey Park is a sightseeing facility in Oita where you can see wild but fed monkeys in Takasakiyama walking around freely without being kept in a cage. There are more than 1,500 monkeys living in Takasakiyama now. Surprisingly, each one of them is given a name and treated nicely. You can get real close to them because the monkeys in Takasakiyama are used to humans. Some curious little monkeys even come close to you. However, please remember they are wild monkeys and you shouldn't reach your hand to touch them.
Monkeys Rush in the Central Play Area for Food
In the central play area in Takasakiyama, monkeys are fed with flour every half an hour, and with sweet potatoes twice a day. Especially when potatoes, monkeys' favorite are fed, hundreds of monkeys run in a mad rush fighting for food. It is an astonishing view.
Be Happy at Takasakiyama
There are many things that are believed to "bring you happiness" in Takasakiyama. It is said that patting the statue of a monkey on the head would bring a harmonious relationship between couples, while finding "the monkey rock," a rock that looks like a monkey's profile makes the finder happy. Also, it is said that you will get better luck if a monkey runs through between your legs. People stand with their legs wide apart and wait for monkeys especially around the feeding time.
Enjoy the View from Sarukko Rail
The mini monorail called Sarukko-rail (monkey kid rail) is available in Takasakiyama. It departs from the entrance at the base of the mountain towards the central play area on the mountain. On the way, you can see the ocean of Beppu Bay and the beautiful seasonal flowers blooming in Takasakiyama.
Learn about Monkeys at Osarukan
The facility located across from Takasakiyama, Osarukan is where you can learn about monkeys. The facility has a cafe, a restaurant and a souvenir shop that offers the selection of monkey goods and snacks. If you go to Takasakiyama, you should drop in Osarukan too.