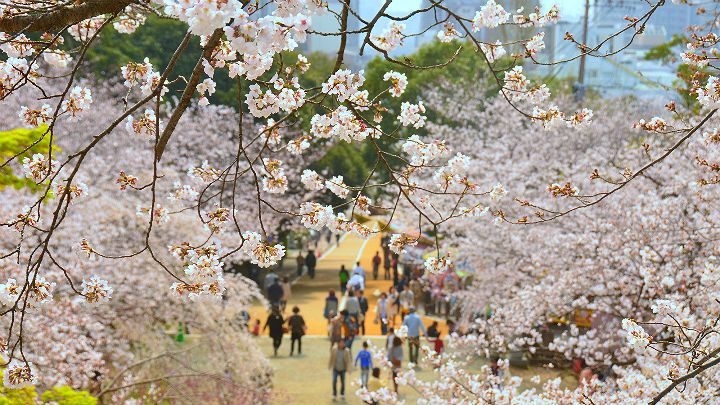 Nishi Park is a seaside park on a small hill full of green in Fukuoka City. The park is colored with around 1,300 cherry trees. Nishi Park is known as one of the best places in Fukuoka for cherry blossoms which many people come to see in spring. The park also has platforms offering great views of Fukuoka City, the Hakata Bay, and also some of the surrounding islands. During cherry blossom season, lots of food stalls and stores open in the park so one can enjoy the festival spirit.
Cherry Blossom Valley
Nishi Park is also chosen as one of the "top 100 places for cherry blossoms in Japan" with around 1,300 somei-yoshino and yama-zakura cherry trees. The most beautiful area of the park is a small place called cherry blossom valley. The highlight of the area is the cherry blossoms in full bloom that flow down the slanting path.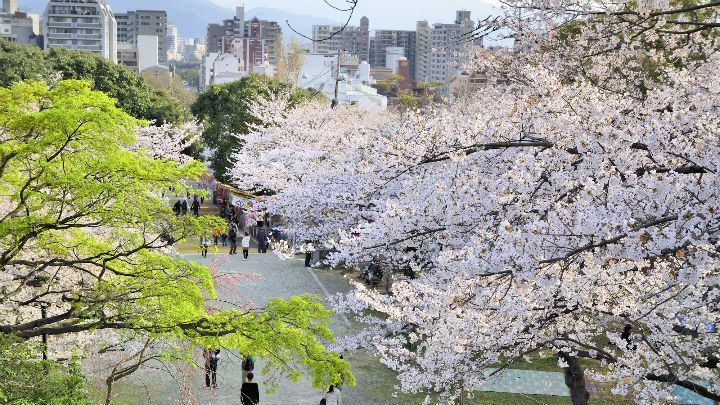 (Source: PIXTA)
Exciting Food Stalls to Enjoy During Hanami
During the cherry blossom season, many food stalls line the sloping path in the park. Enjoy delicious classic festival food like yakitori (chicken skewers), takoyaki (octopus dumplings), yakisoba (stir-fried noodles) and so on while you relax and watch the cherry blossoms.
Terumo Shrine
Inside this shrine is worshipped the genius military strategist, Kuroda Kanbe, who served under the Toyotomi Hideyoshi, the famous lord who sought to unite the country of Japan. The Japanese kanji characters for "Terumo" can also be read as "kou-un," which connotes great fortune, and so the shrine is also known as a great power spot for good luck. Inside the shrine grounds are also many beautiful cherry blossoms.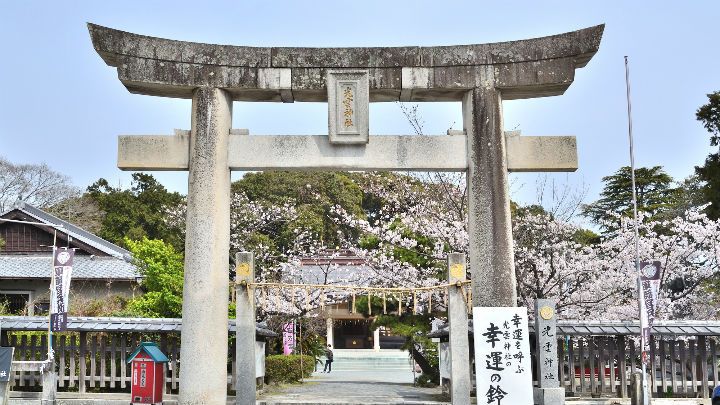 (Source: PIXTA)