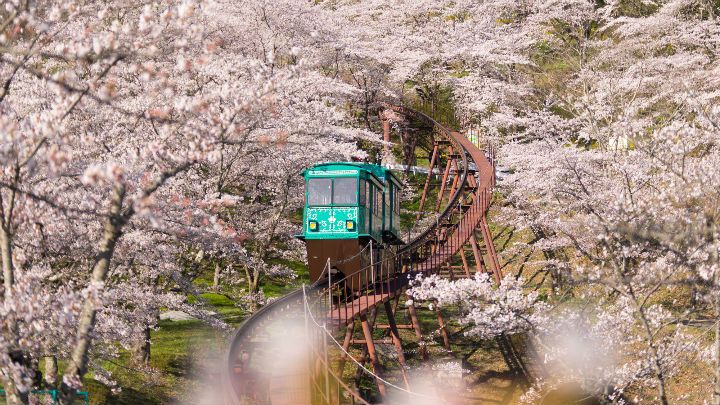 Shibata-cho Funaoka Joshi Park is the only place in Miyagi prefecture that is selected as one of the "top 100 sakura spots." During the period of full bloom, the whole mountain turns into pink announcing the arrival of spring. The beautiful view from the retro slope car that runs through the 305-meter-long sakura tunnel is absolutely recommended. It is also connected by the Shibata Sen'oukyo bridge to another famous sakura spot "Shiroishigawa-tsutsumi Hitome Senbonzakura" across the train tracks, so you can see both at the same time. It is a representative sakura spot of the Tohoku region.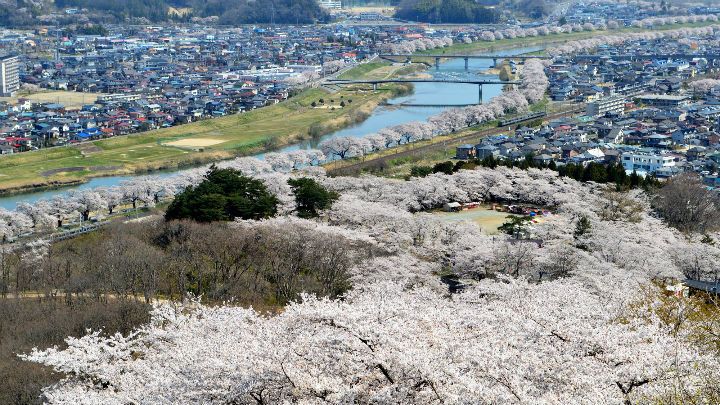 (Source: PIXTA)
Slope Car
The slope car has become a synonym for Funaoka Joshi Park. Once you pass the beautiful sakura tunnel, you reach the mountain top where the 24-meter-tall Funaoka Heiwa Kannon statue stands. Opening hours are extended until 21:00 during the period of night sakura illumination. (Fee for adults 250 yen, children 150 yen)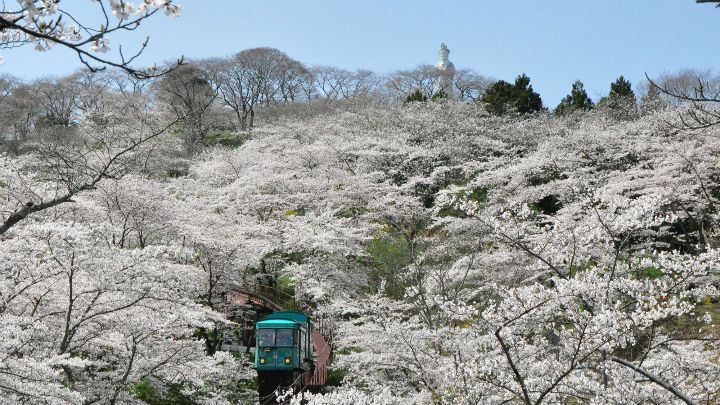 (Source: PIXTA)
View from Joshi Park
Upon reaching the mountain top on the slope car, you will find a gorgeous view of the surroundings. You can enjoy a view on the neighboring "Shiroishigawa-tsutsumi Hitome Senbonzakura" at the same time. The horizon expands in the front of your eyes for miles as there are no tall buildings in this area. It is extraordinary to see the view of Mt. Zao with remains of snow on its surface together with the sakura.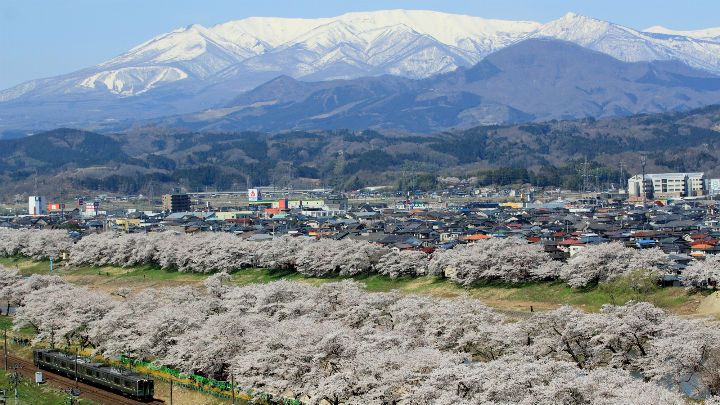 (Source: PIXTA)
Shibata Sakura Festival
The Shibata Sakura Festival is held from early April until late April. Every year, over 200,000 people visit, including foreign tourists. Not only are the sakura illuminated during this period but there are also many events taking place. The place is filled with a festive atmosphere, with stores and stands lined up under the trees. There are also volunteer interpreters so you can have a good time without any worries.