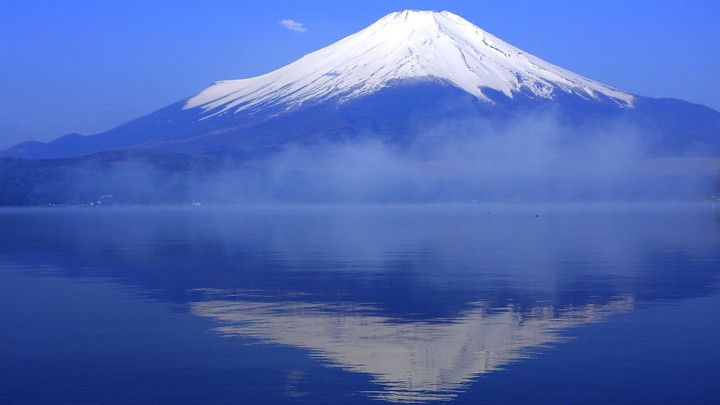 (Source: PIXTA)
Sakasa Fuji and Diamond Fuji
Yamanakako is famous for the sight of upside-down Fuji wherein Mt. Fuji is reflected on the lake surface, and the best spot to view this is from Nagaike Shinsui Park on the north shore. It is not only Sakasa Fuji that you can see but from mid-October to end of February, you will see the phenomenon of "Diamond Fuji." The moment when the sun overlaps with Mt. Fuji's mountain top during sunset, it shines like a diamond and produces a beautiful sight.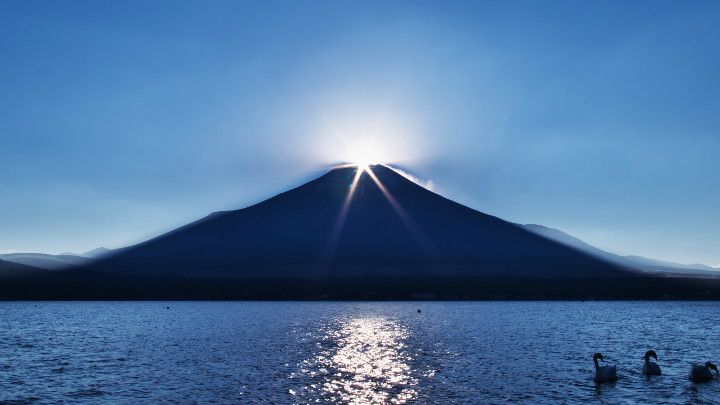 (Source: KK_papa / PIXTA(ピクスタ) )
Yamanakako Kaba
Yamanakako Kaba is a bus that goes both on land and water. After departing from the bus terminal "Yamanakako Asahioka" and driving on land for about 10 minutes, it jumps directly into the lake! It then cruises on the lake for about 20 minutes. The bus requires reservation and makes six trips daily. A fun guide entertains guests while on the ride. (Fare: adults 2,200 yen, children 1,100 yen, infants 400 yen)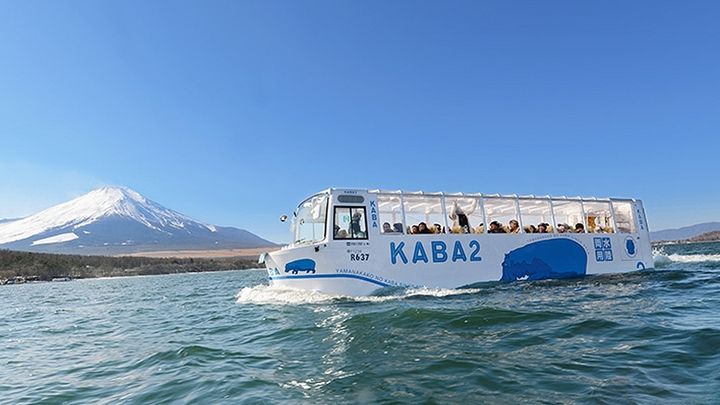 (Source: 山中湖のKABA)
Swan Boat
The swan-shaped cruise boat is characteristic for its charming appearance. It cruises slowly on the spacious Lake Yamanakako. Mt. Fuji seen from the boat has a great atmosphere that is distinct from when seen from the shore. Enjoy the cruise during approx. 25 min for one trip. (Fare: adults 1,000 yen, children 500 yen)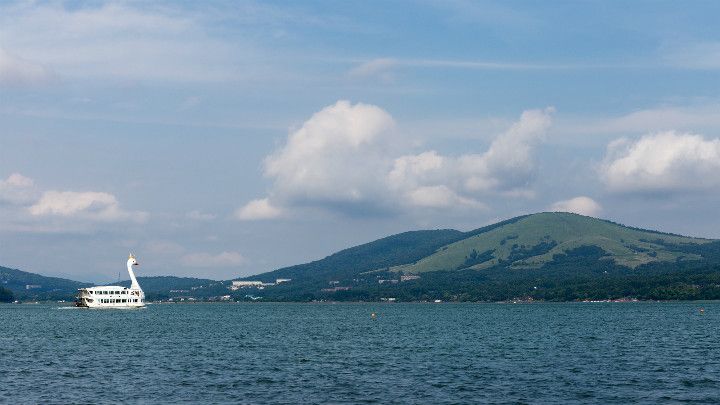 (Source: mashi / PIXTA(ピクスタ) )
Yamanakako Panorama Deck
The Yamanakako Panorama Deck, located near Yamanakako, is a view spot where you will encounter scenery as beautiful as a painting. It overlooks Yamanakako below, Mt. Fuji in the front, as well as beautiful, dreamy sunrises and sunsets. It is a spot where you should definitely stop by.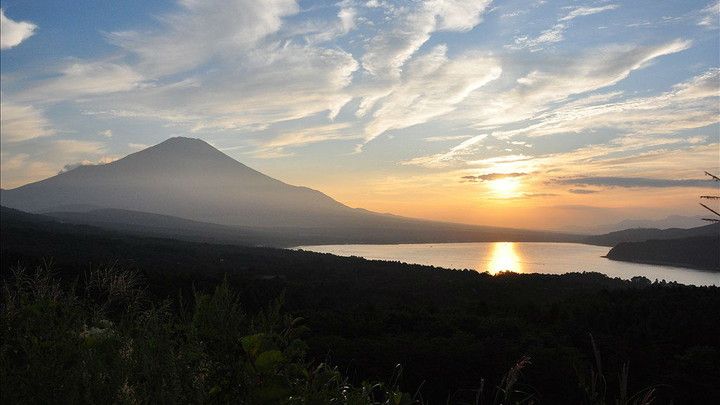 (Source: 気まぐれフォトダイアリ―)
Pond Smelt Fishing
When visiting Yamanakako, you should experience pond smelt (wakasagi) fishing. There are several types such as rowing in your own boat, or, fishing from a dome-shaped boat like the Yamanakako Marine House Momo. Previously, the surface would freeze in winter, when holes were drilled into the ice to fish; however, in recent years, the lake supposedly no longer freezes due to global warming. Pond smeltInside the Dome Shaped Boat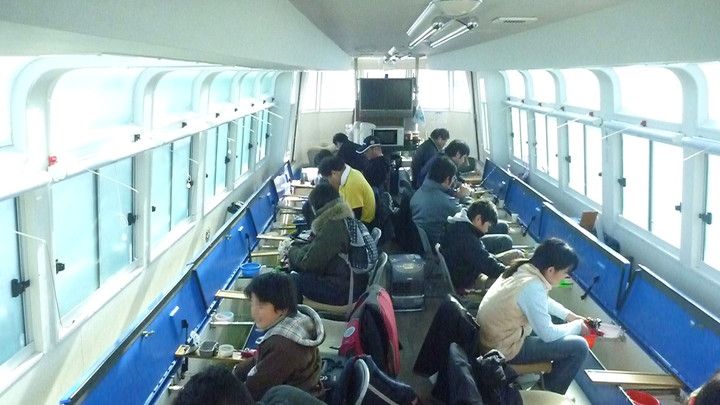 (Source: 尺取物語)
Oshino Hakkai
Oshino Hakkai ("eight seas of Oshino") was formed when Lake Oshinoko that once existed here dried up, leaving a basin, and eight ponds were created by water streams originating from springs of Mt. Fuji. A renowned spot, each of the springs is registered as part of the World Cultural Heritage Site of Mt. Fuji, as well as a national natural monument.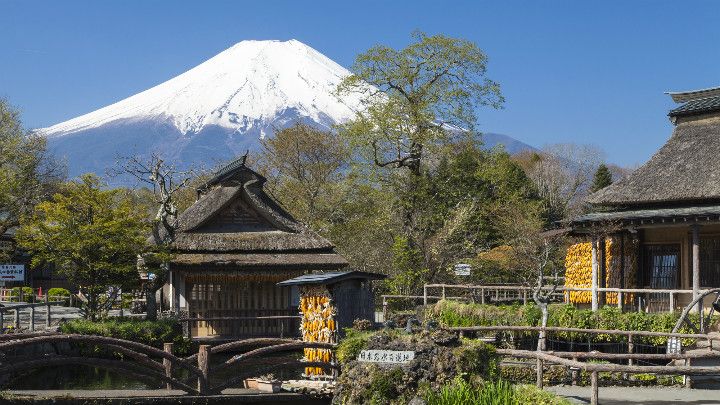 (Source: PIXTA)
Yamanakako Hanano Miyako Park
In this park, various flowers bloom beautifully in each season over its surface of about 300,000 sq. meters. Different flowers fill the park each season, such as tulips in spring, sunflowers in summer and cosmos in autumn. The flower field with the great Mt. Fuji in the back is a remarkable view.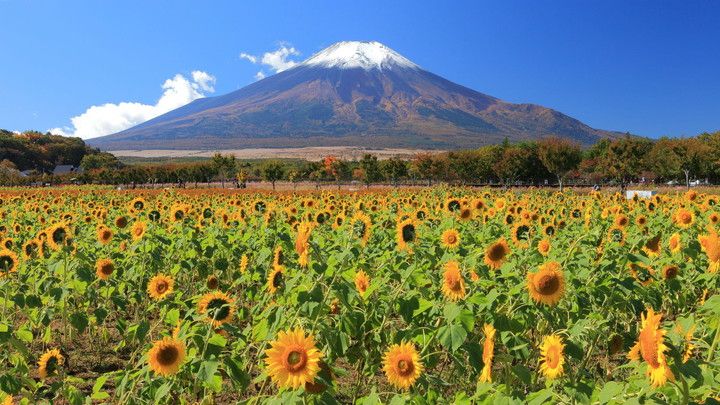 (Source: PIXTA)
Yoshino no Udon, a specialty
Yoshino no Udon located right next to Yamanakako offers the specialty of Fujiyoshida i.e. udon which is characteristic for the thickness of its noodles and a surprising chewiness. It is not only delicious but also quite filling! We recommend you to compare different udon, as there is a wide variety from simple traditional ones to unique punchy ones.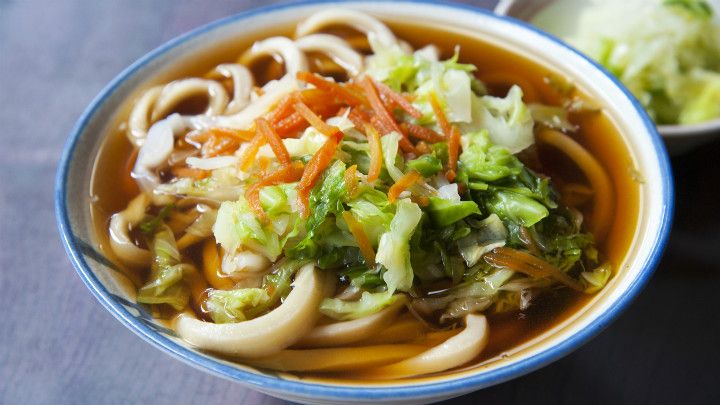 (Source: おはぎさん / PIXTA(ピクスタ) )