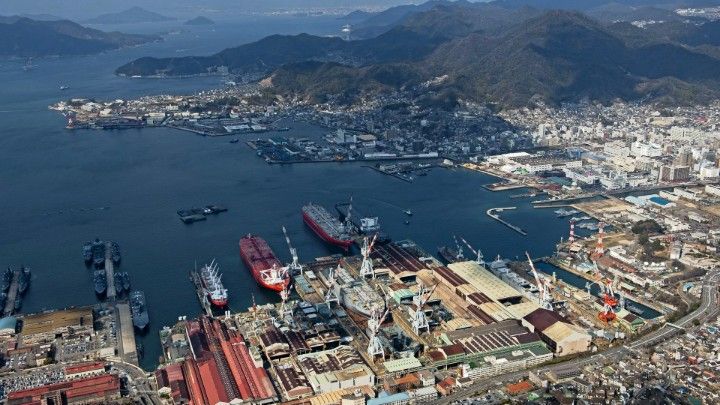 (Source: ういろう大好き)
Yamato Museum (Kure Maritime Museum)
During World War II, the battleship Yamato was created in the navy factory in Kure. Measuring 263 m long, 38.9 m wide and 15 floors high, this gigantic ship was the world's biggest battleship at the time. In Yamato Museum (known as Kure Maritime Museum), you can see a 1/10 scale model of Yamato, a real fighter aircraft and torpedo. You can also learn about the internationally famous Japanese technology of shipbuilding and science.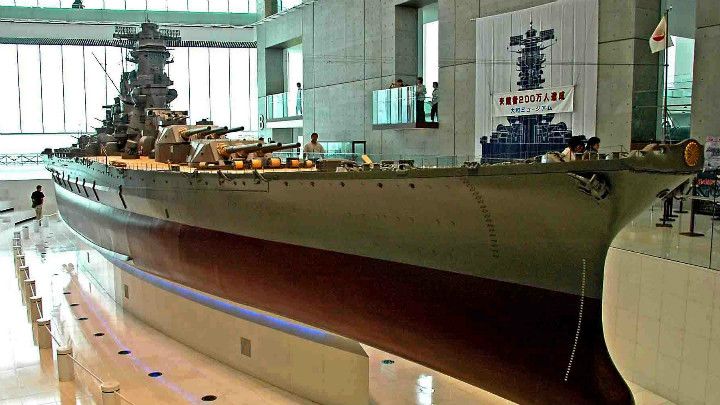 (Source: ブレインズのブログ)
JMSDF Kure Museum (Displaying Akishio Submarine)
JMSDF Kure Museum (Displaying Akishio Submarine) is the only museum in Japan where you can see a real submarine. The 76 m long submarine "Akishio" was actually used by Japanese Maritime Self Defense Force from 1985 until 2004. The interior of the submarine is preserved as it was in function. Therefore, you can visit the control room, captain's room and living space, something you don't usually get to see.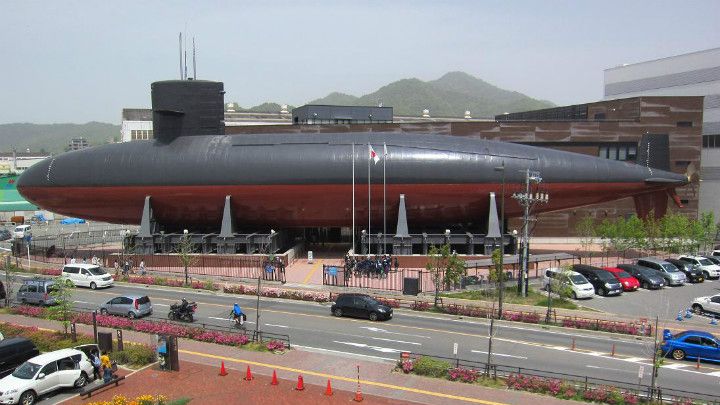 (Source: "みい"の部屋)
Irifuneyama Memorial Museum in Kure
Irifuneyama Memorial Museum is a museum that used to be an official residence of the commanding officer of Kure Naval Station of the old Navy. You can see a simple Japanese house and an extravagant Western-style house. On top of that, there is a museum of history and folklore and local museum. The clock that was placed on the factory tower of the old navy is  very valuable, so it was chosen as Japan's tangible property.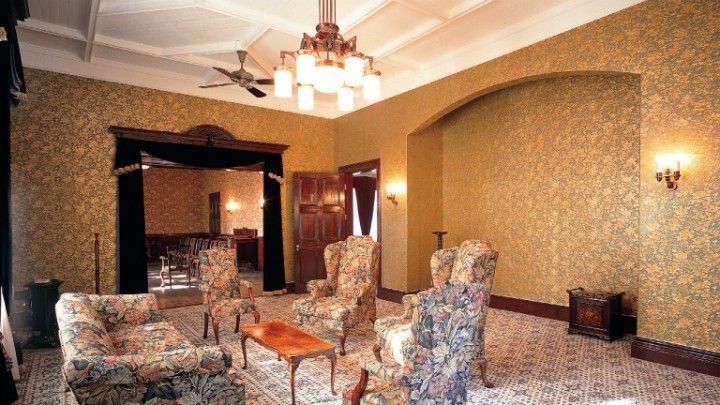 (Source: 広島観光おすすめコース)
Kansen Meguri Cruise
Here, you can visit the JMSDF's base and the old dock where battleship Yamato was built, on the cruising boat. It is a great experience of seeing the gigantic battleship from the sea. The cruising boat leaves near the Sanbashi bridge next to Yamato Museum. There are four boat services a day (5 services on Saturday, Sunday and Holidays). The boat ride takes approximately 30 min.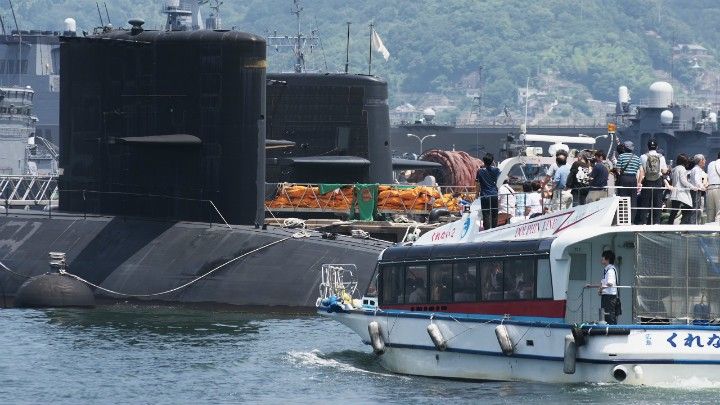 (Source: Ryan-HIROSHIMA α blog)
Renga-dori (street)
Situated in the center of the city, Renga-dori is a commercial street where restaurants and souvenir shops are located. In the arcade made of bricks, you can find the specialty of Kure, a fried manju sweet called "Fried Cake." It is a great place to find snacks while taking a nice walk.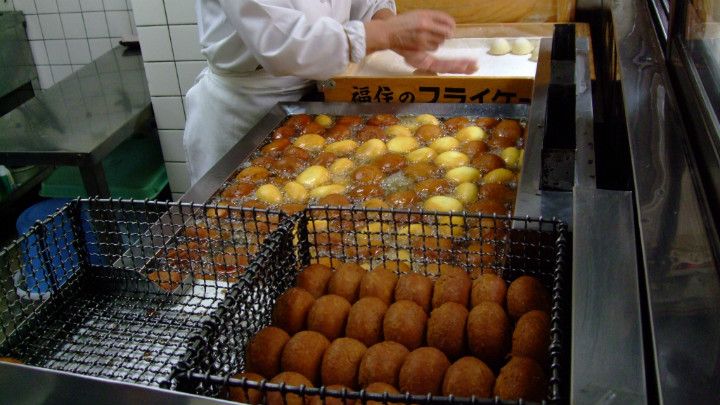 (Source: 改。楽坐日記)
Ondo no Seto
Situated just outside of Kure, Ondo no Seto is a very narrow channel that only measures 90 m. It is said in the legend that the commander Kiyomori Tairano, who has rebuilt the Itsukushima Shrine, dug this channel in only one day, more than 800 years ago. Now there is a bridge that has the same color as Itsukushima Shrine on the channel. You can enjoy a beautiful view from here.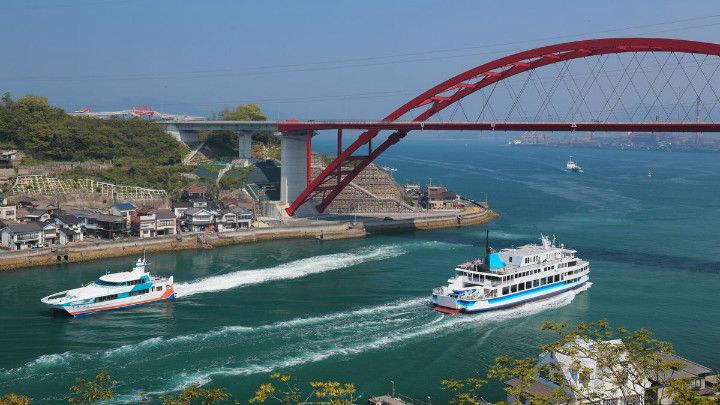 (Source: 呉鳥人~くれとりびと)
Kure Navy Curry
Since Naval fighters spend so many hours on the sea, they have a habit of eating curry every weekend in order to remind them of the day of the week. Therefore, there are so many variety of curries served on different battleships. As a result, you can enjoy 22 types of curry served in 22 different battleship in 22 restaurants inside the city of Kure. You can taste the same curry that navy fighters used to eat.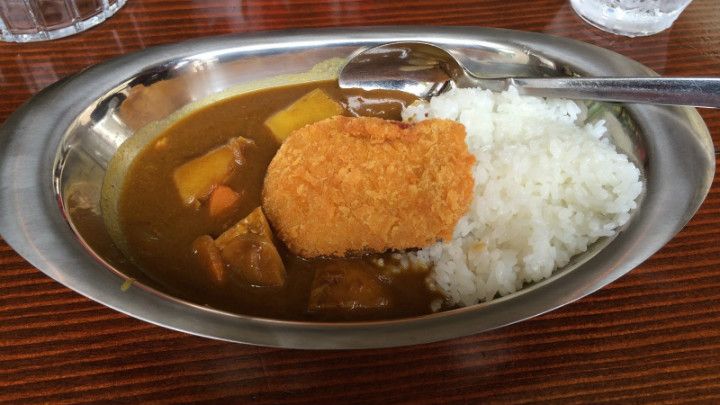 (Source: やっその遠征記録)