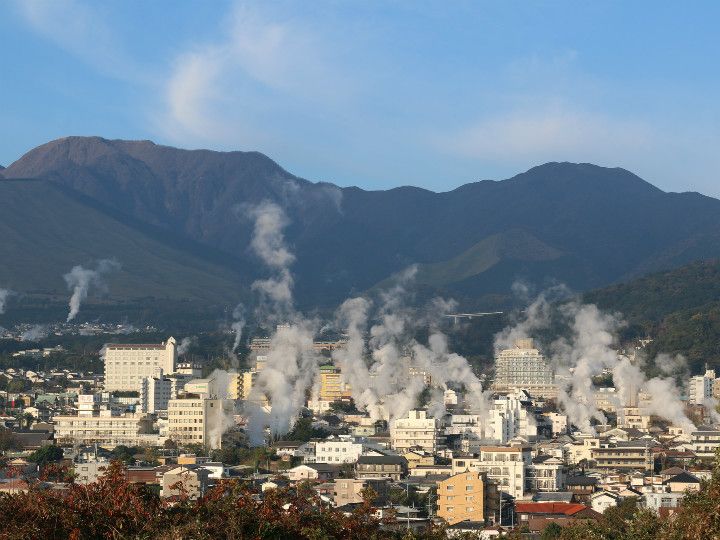 Beppu Onsen (hot spring) in Oita Prefecture is known as the best onsen in Japan. It is also called Beppu Hatto (eight hot springs in Beppu) because it consists of eight onsen and each of them has its original feature. One of these onsen, Kannawa Onsen has an especially long history since its opening in the 1200s. Kannawa Onsen is famous for its Mushi-yu (steam bath) that uses onsen steam. There is also a spot where visitors can enjoy Ashimushi (foot steam bath) for free in town.
Onsen Town Filled with Steam
Kannawa Onsen has the most sources of onsen among the onsen in Beppu Hatto. The source temperature is said to be as hot as 100℃ and its thick steam wafting everywhere can be seen in Kannawa Onsen Resort. The hot water in Kannawa Onsen smells like soap and is believed to have excellent moisture retention effects. People say that the skin is moistened and smooth after taking a bath here.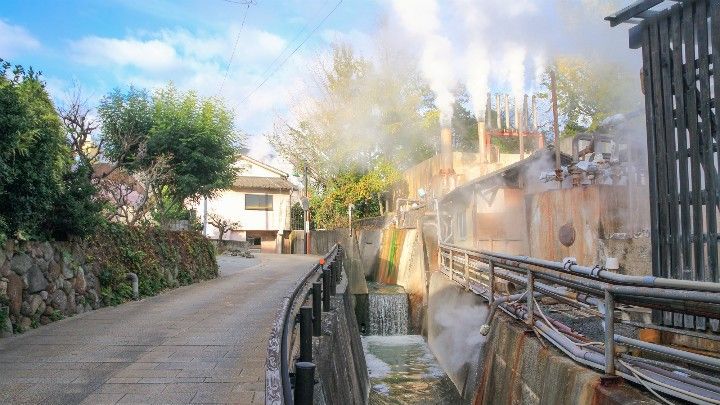 Yukemuri Observation Deck Commands a Panoramic View of Kannawa Onsen
Yukemuri Observation Deck in Kannawa Onsen is the great viewing spot that commands a panoramic view of Kannawa Onsen with steam. The view from here is covered with white steam rising toward the blue sky during the day, while the area is lit up at night. The light up can be seen from 19:00 to 21:00 on weekends and holidays.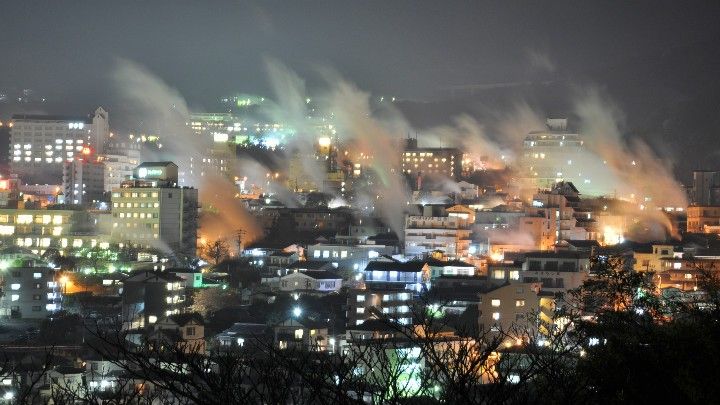 Popular Sightseeing Spot in Kannawa Onsen: Jigoku Meguri (Hell Tour)
The tour in the popular sightseeing spot in Kannawa Onsen, Jigoku Meguri (hell tour) is a tour where you can see the source of hot springs gushing out hot water at 100℃ from 200 m deep underground called Jigoku (hell) from up close. There are six hells in Kannawa Onsen: Umi-jigoku (sea hell), Oniishibozu-jigoku (shaven head of monks' hell), Yama-jigoku (mountain hell), Kamado-jigoku (cooking pot hell), Oniyama-jigoku (monster mountain hell), and Shiraike-jigoku (white pond hell).