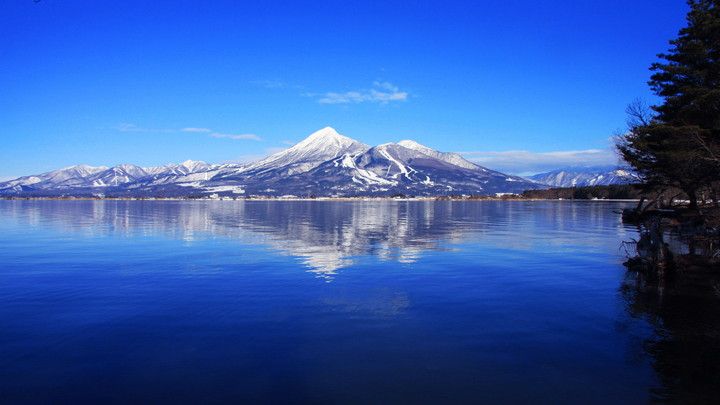 Inawashiroko is the fourth biggest lake in Japan with a surface of 103.32 sq. km and 93.5 meter depth. Its characteristic is the world-class transparency of its water and it is also called Tenkyoko (sky-mirror lake) for its beautiful still surface. In summer, marine sports such as swimming, wake boards and canoe can be enjoyed, while in winter it is a famous migration point for swans. It is a lake that offers many ways to enjoy its surroundings.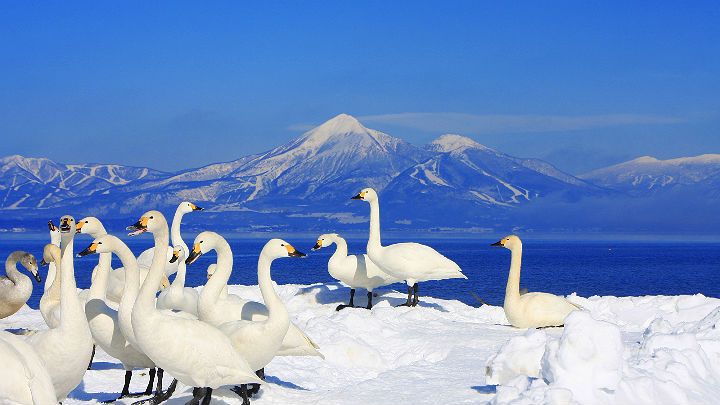 (Source: pixta)
Tenkyoko, Reflecting Mt. Bandai
Inawashiroko prides itself with world-class transparency. The lake reflects Mt. Bandai in every season on its surface like a mirror and is therefore called Tenkyoko. Every year, around 4,000 swans fly over from Siberia between early October and early April and unfolds seasonally beautiful views.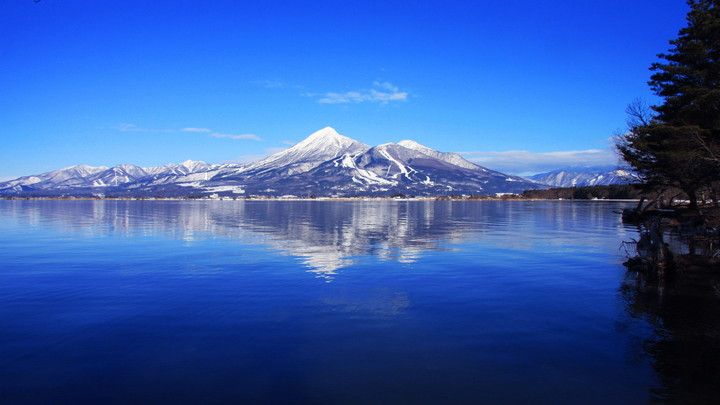 (Source: pixta)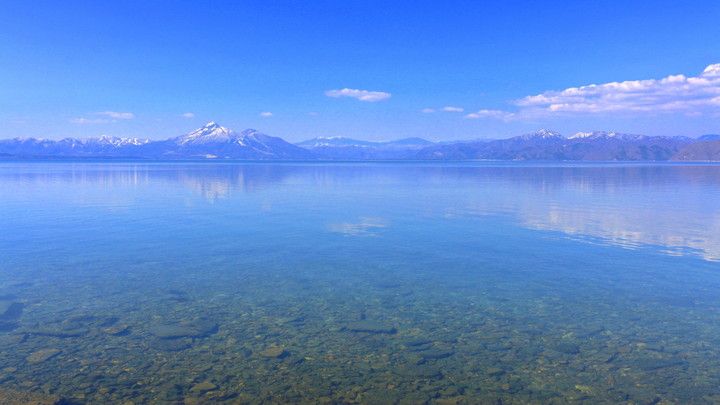 (Source: pixta)
Ice Art: Shibuki-Kori (Splash Ice)
Shibuki-Kori can only be seen during the coldest season. At Inawashiroko, this phenomenon appears every year between mid-January to mid-February on the banks near Tenjinhama. Shibuki-kori is naturally created art formed by lake water that gets splashed onto vegetation on land by strong winds and freezes.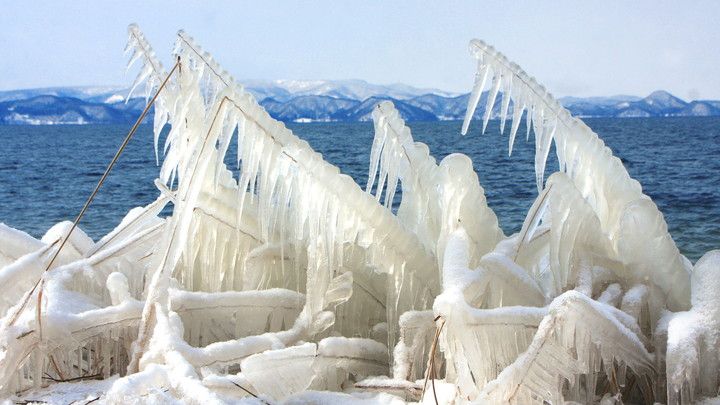 (Source: pixta)
Bandai Cruise Ship
The cruise ship, on which a 35-minute cruise on the lake can be enjoyed, is 1,100 yen for adults and 550 yen for children. It operates every day and there are several different ships shaped as turtles and swans. The view of Mt. Bandai in the different seasons from the lake is remarkable.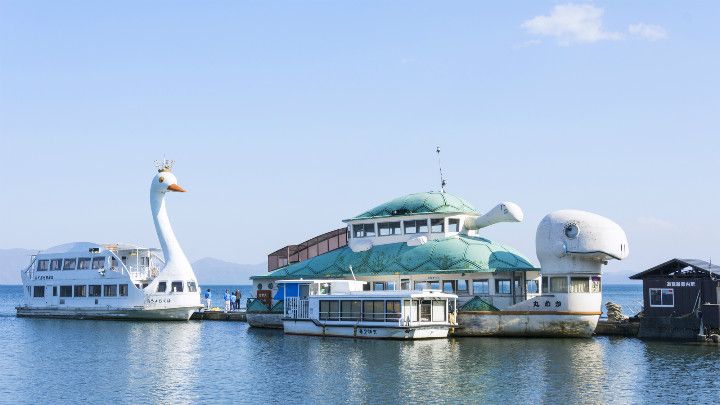 (Source: pixta)
Marine Sports
A variety of marine sports can be enjoyed at Inawshiroko. Visitors can enjoy popular activities such as jet skis running smoothly across the surface, wake boards going at 20-30 km/h and exploring the spacious lake on a canoe with a guide.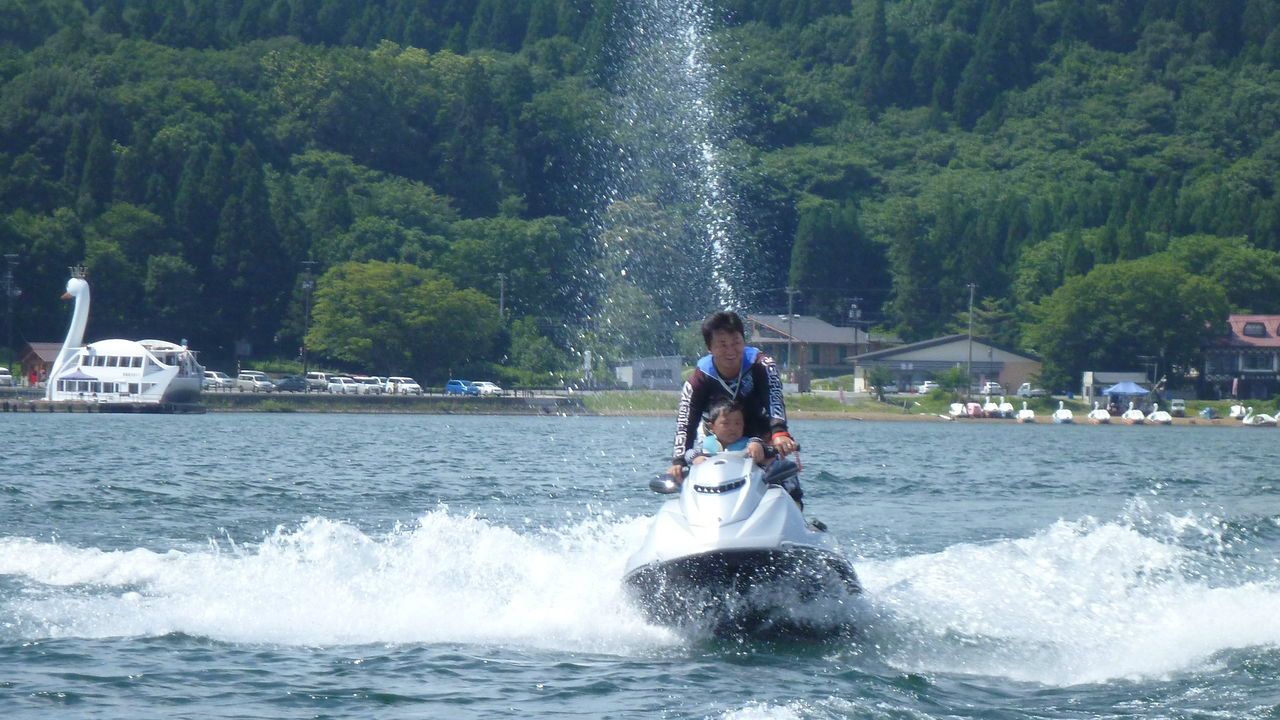 (Source: まったりブログ)