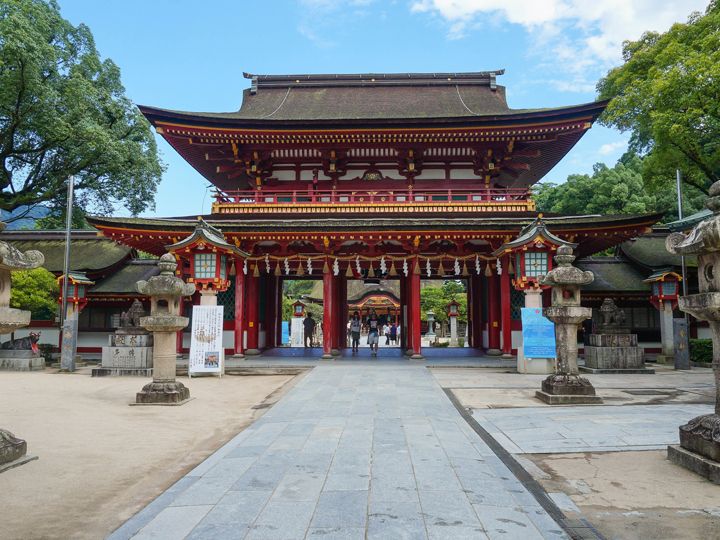 Sugawarano Michizane was an aristocratic scholar, poet and politician during the Heian period. He was sent away from Kyoto to spend the rest of his life in this place. Because he was a great scholar, he is enshrined here as a "god of knowledge." Therefore, many people who wish academic success come here to pray. In fact, 7 million visitors set foot on this temple every year. Most of them are students, who come here to pray before important exams. The main building was rebuilt in 1591 on top of Sugawarano Michizane's grave. Chosen as an Important Cultural Property, it is famous for its 600 plum blossoms. Various flowers and trees blooms inside this large temple.
The god of knowledge: Sugawarano Michizane
Sugawarano Michizane showed great talent in academics. Yet he was claimed to commit a crime that he never committed. Still he continued to be honest and worked hard all his life. He was a great scholar and politician. As a result, he is enshrined as the "god of knowledge" and the "god of absolute sincerity." Many people, particularly those who wish to succeed in academic study, come here to pray. They also write their wish on Ema - a picture tablet where one writes wishes to come true.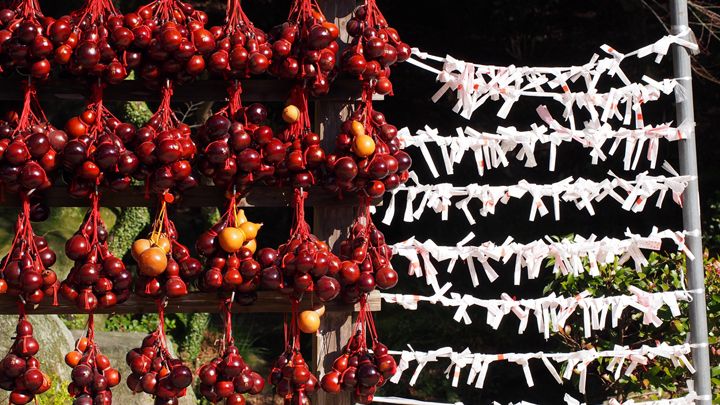 Honden
It took five years to reconstruct Honden in 1591. Now it is nominated as an Important Cultural Property. It is also where Sugawarano Michizane rests in peace. You can still observe the architecture style of the heroic and magnificent Momoyama period even today. It is hard to believe this building was built 400 years ago.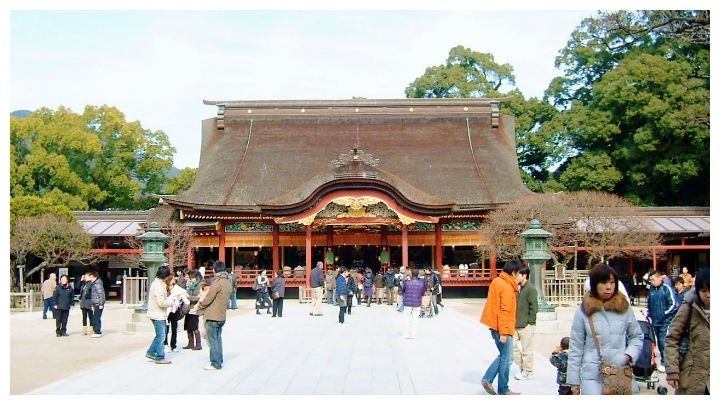 Bridge on Shinji-ike lake: Goshinkyo
"Shin" of Shingi-ike means "heart." There are three red bridges on Shinji Pond. Each bridge represents Buddhist ideology. The first arched bridge means "past," the second flat bridge is the "present," and the third arched bridge means "future." It represent the Buddhist idea that the past creates the present and the present creates the future. This circle continues forever. If you walk cross the entire bridge, it will purify the spirit of the visitor before reaching Honden.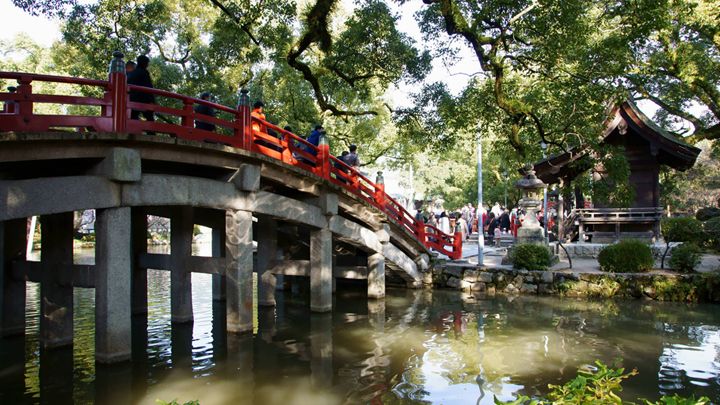 Onkamiushi
Inside the property, you will see many statues of cows called Onkamiushi. It is said that you will become intelligent if you caress the head of these statues. Sugawarano Michizane is deeply related to cows. A legend says that a carriage led by cows took the remains of Sugawarano Michizane's body and stopped at this point; apparently, this spot corresponds to the position of "cow" according to the Chinese astrology. This is where Dasaifu Tenmangu is built.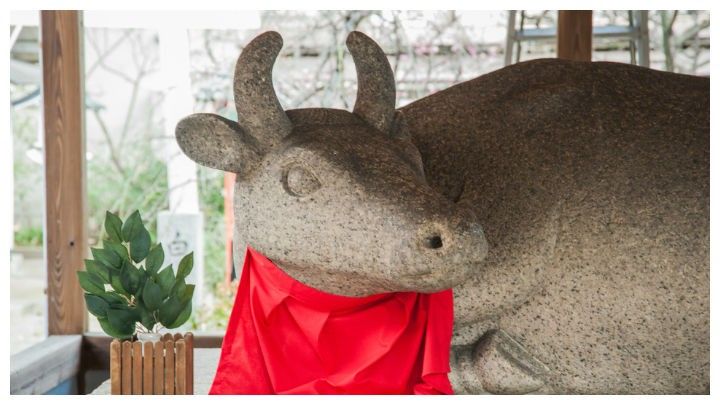 Road that leads to the temple
On the road that leads to the temple, many stores are lined up. There are stores selling the famous sweets "Umegae Mochi." You can also find souvenir stores selling traditional lucky charms. Chinese restaurants serving ramen or pork buns are also available. On top of that, there is a special hamburger called "Dazai burger" that you can only find here. You can also find monaka wafers called "Onigawara Monaka" here which have the design of the devil's face similar to the one found on the tile that was dig up at the site of Dazaifu Teicho. We strongly recommend you to try the specialty of Dazaifu, Umegae Mochi. The outside of this sweet is crispy, but the inside is filled with hot and sweet red bean paste. There are many stores selling "Umegae Mochi" on the way to the temple. Each store has a slightly different taste, so it would be great to compare them.