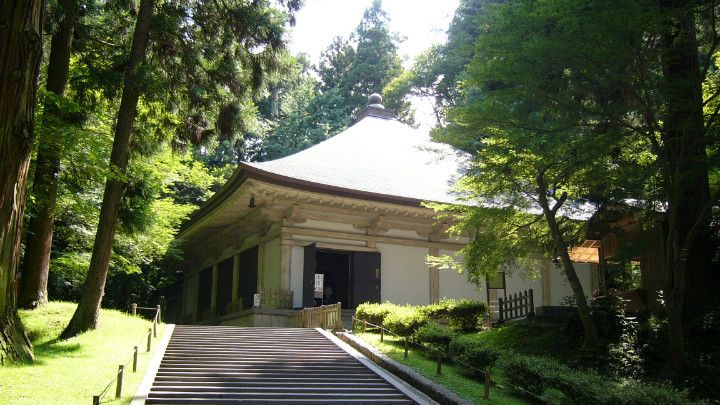 (Source: wikipedia)
Konjikido, a National Treasure
Konjikido, so prominent that it is almost a synonym for the temple itself, was completed in 1124 and was certified as Japan's very first national treasure in 1951. Of all the numerous halls and towers in the precinct, Konjikido is the most elaborately designed. Both the interior and exterior of the building are gilded, with ivory and jewels used for decoration of the interior. Konjikido is protected by an outer building called "Oido," literally translating to a "masking hall."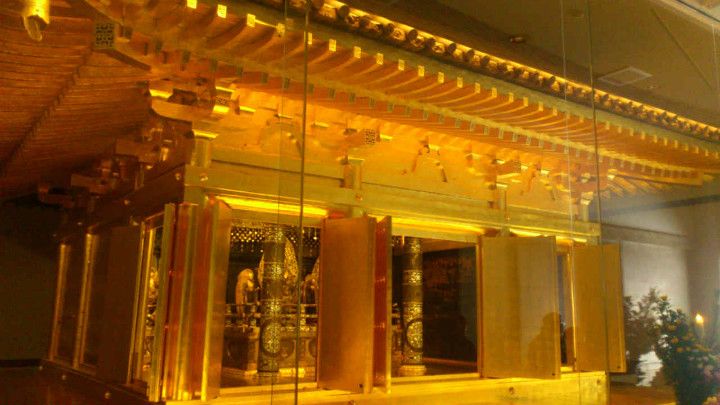 (Source: ヒルコブログ)
Sankozo
Sankozo, also serving as a ticketing center due to its location near the entrance to the precinct, is a treasure hall housing approximately 3,000 cultural properties. In the hall, visitors can see up-close numerous valuable items conveying the culture and style of the era when the temple was founded.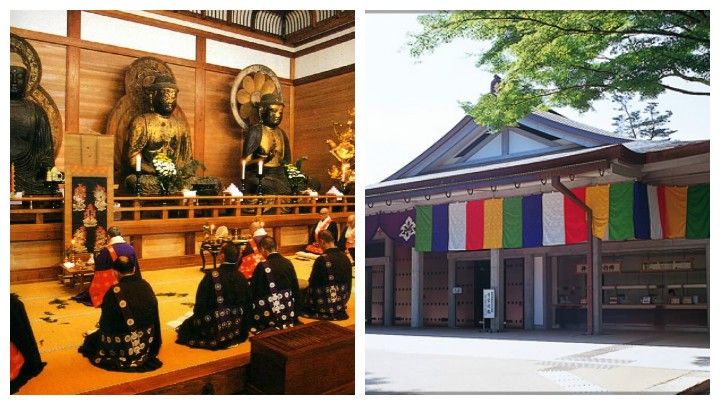 (Source: 奥羽温故知新)
Former Oido
Standing near Konjikido is the former building of Oido, created in 1288 to protect Konjikido from weathering. It diligently performed its mission for over 700 years until the large-scale renovation of Konjikido which took place for four years beginning in 1986. It is now adorned with paintings relating to the Fujiwara clan, which provide a glimpse into the history of Hiraizumi.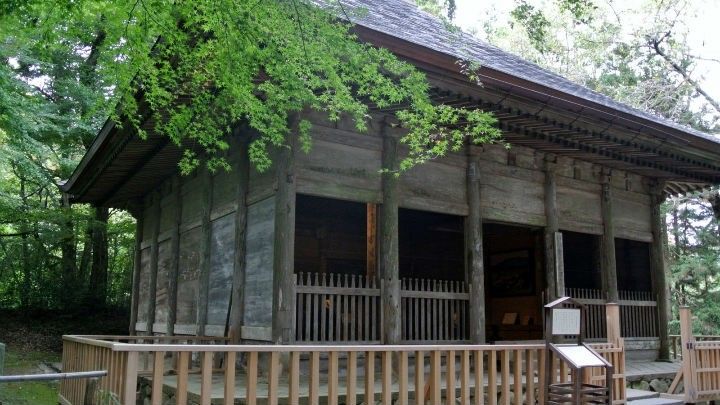 (Source: 巡礼 奥州三十三観音)
Main Hall
The main hall, among other buildings and towers in the precinct, plays the central role hosting many ceremonies and various events throughout the year. Enshrined in the hall is a seated statue of Shaka Nyorai (Shakyamuni), which is as tall as five meters and was recently consecrated in 2013.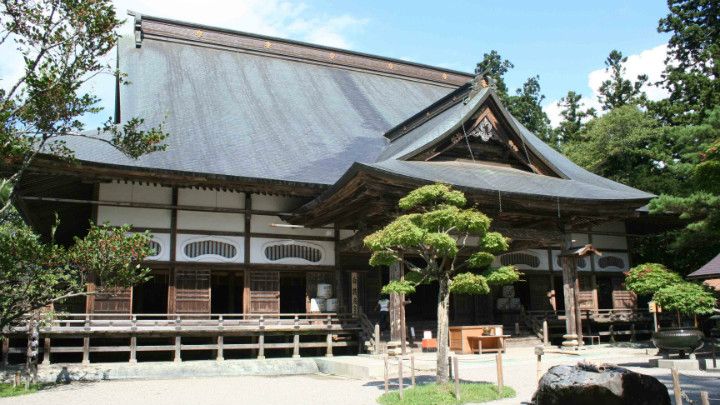 (Source: 如是我見、如是我聞)
Noh Stage of Hakusan Jinja
Located north of the precinct is Hakusan Jinja with its Noh Stage, a nationally appointed important cultural property and one of the most famous structures in Chuson-ji Temple. Built in 1853, it is known to be Japan's most representative Noh stage and it still serves as a venue for Shinto rites and festivals, to which Noh performances are dedicated.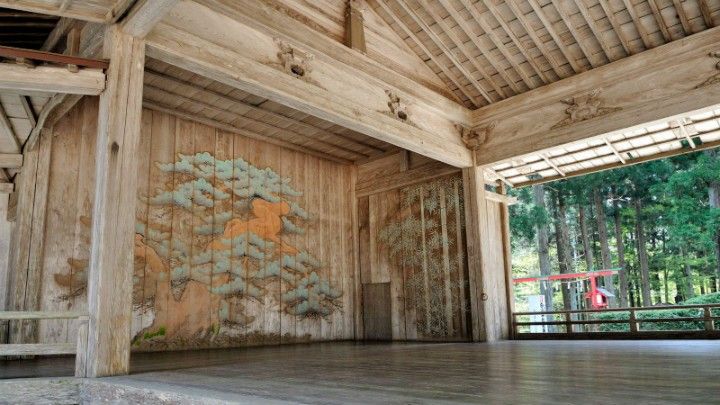 (Source: クルマとカメラとほんのり旅行日記)
Autumn leaves that take your breath away
The best time to visit Chuson-ji is in autumn when every plant in the precinct turns red, yellow or orange. There is no better place to take pictures than a temple or hall surrounded by these colored leaves. Autumn leaves at Chuson-ji are at their peak from late October to early November.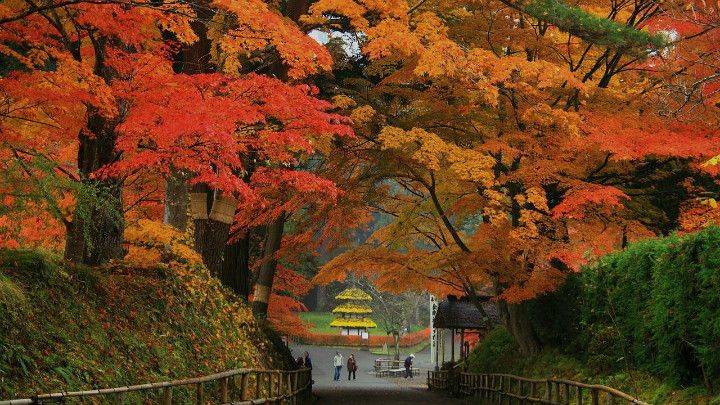 (Source: ついてるレオさんハッピー日記 )
Shoju-an, a tearoom
The tearoom "Shoju-an" at the side of the Main Hall serves matcha and Japanese sweets to relieve you of the weariness from all that walking in the precinct. This tea room is also known to have been built with a contribution from Konosuke Matsushita, founder of Panasonic, a large consumer-electronics manufacturer, that has garnered the nickname "God of Management" in Japan and the world alike.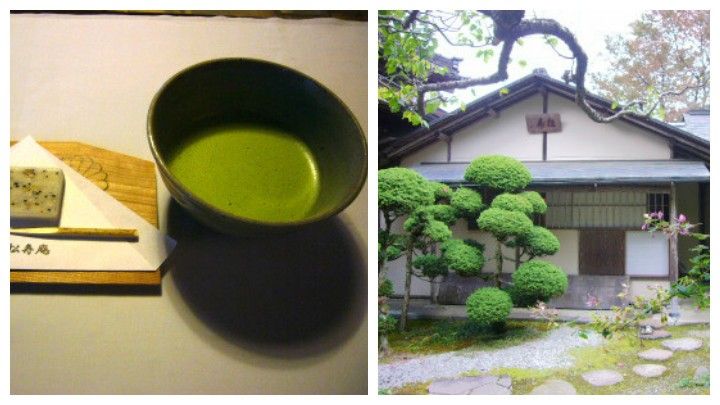 (Source: 食べログ)