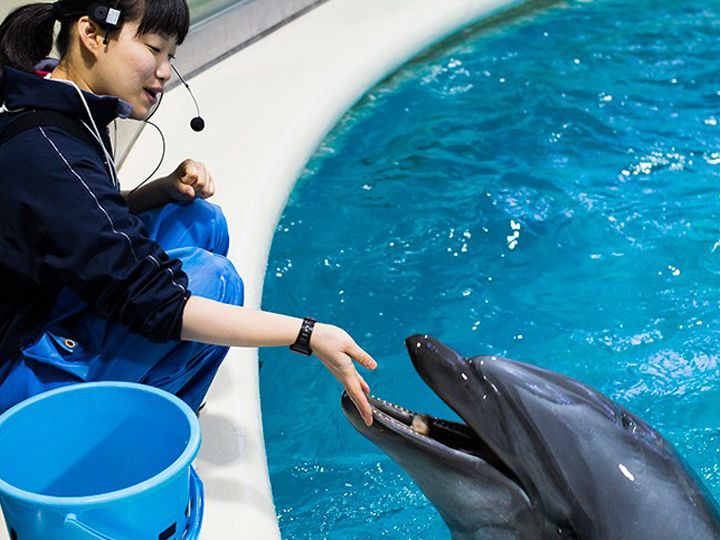 Opened in 1983, Aomori Asamushi Aquarium is the biggest aquarium in the Tohoku region. It is also situated on the northernmost tip of Honshu (main island) near Aomori Bay. In this aquarium, there are various marine resources of Aomori and approx. 300 types of sea animals including rare sea animals of the world, seals and penguins, etc. In the indoor show pool, great shows performed by bottle-nosed dolphins and Pacific white-sided dolphins take place all year long. Since the entrance fee isn't so expensive, many adults and children visit here to enjoy the show. In 2014, after 31 years since its opening, more 10 million visitors visited this place. It was the first time a touristic place was visited by so many people in Aomori.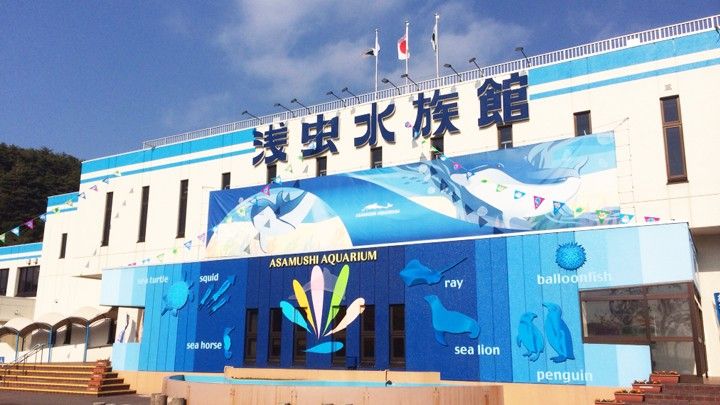 (Source: 甲州津軽ねぷたシンゲンズ)
Indoor dolphin show
Many aquariums have outdoor shows, while the show pool is located indoor in Asamushi Aquarium. There are 4 or 5 dynamic dolphin shows a day in a huge show pool containing 700 tons of water. It is great to see the performances of dolphins close to you!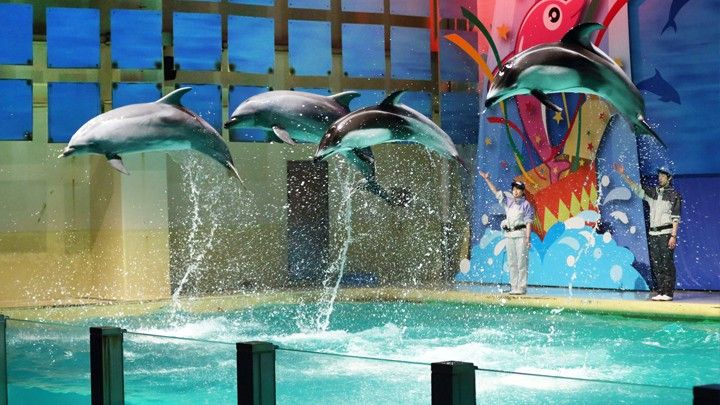 (Source: 浅虫水族館)
Enjoy a walk under the sea! 15 m long fish tank tunnel
The big fish tank measures 15 m long, 10 m large and 4 m deep. Made of acrylic, the tank is shaped in a form of a tunnel. Therefore, you can observe the fish swimming on top of you. Why don't you have a relaxing walk under the sea?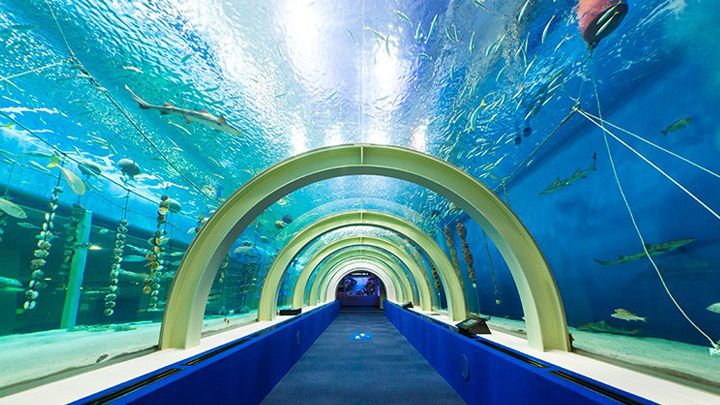 (Source: 浅虫水族館)
Friendly seals, mascot of the aquarium
In addition to dolphins, harbor seals are very popular in Asamushi Aquarium. As you walk in front of the fish tank, friendly and curious seals will follow you along. You can spend hours watching those lovely seals.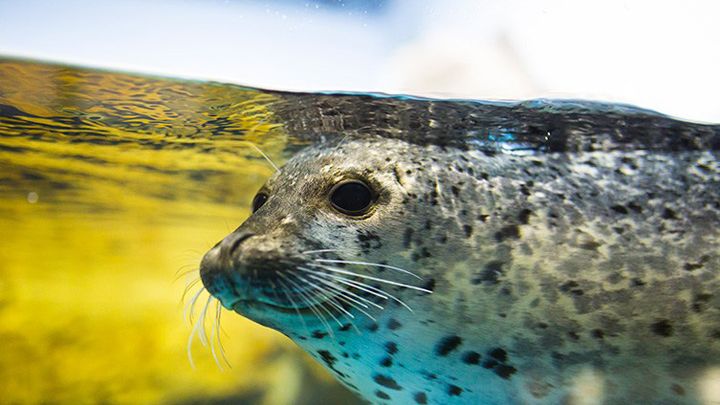 (Source: 浅虫水族館)
Kaijukan
Here you can see popular marine animals including penguins and seals. During feeding time, a guide will explain how penguins and seals live. You must see the cute marine animals here.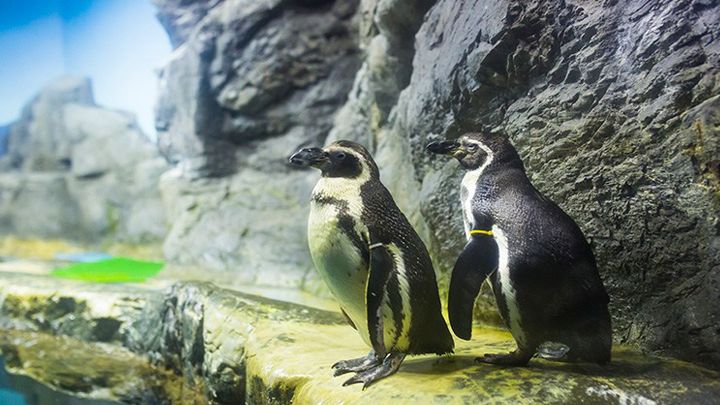 (Source: 浅虫水族館)
Touch Corner
In this corner, you can actually touch creatures that live on shore. You can observe and touch the living creatures, such as urchin, starfish, sea anemone, hermit crab, crab, etc. You can also touch scallop and sea squirt as well.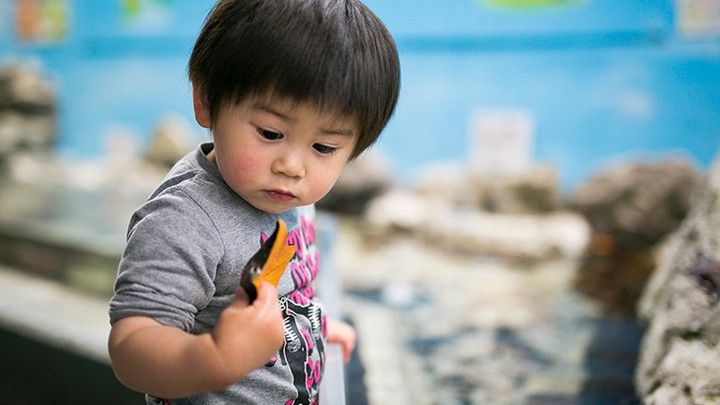 (Source: 浅虫水族館)
Enjoy an ice cream while watching fish
There are cafes, restaurants and resting places available inside the aquarium where you can take a small break. I recommend you to try the local ice cream of Aomori, "Aomori milk ice cream" made of good quality milk. You can eat it while watching fish.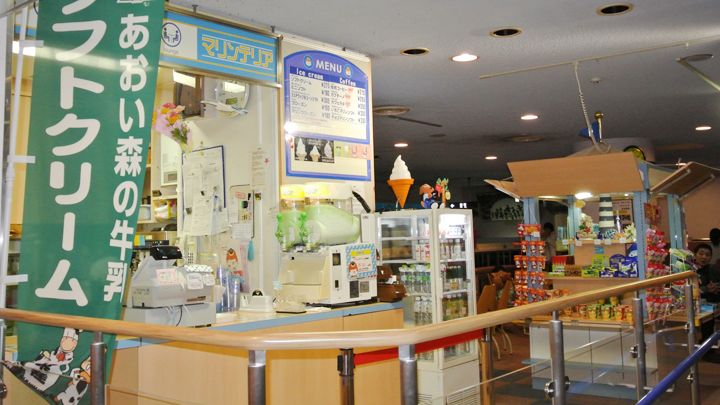 (Source: 浅虫水族館)