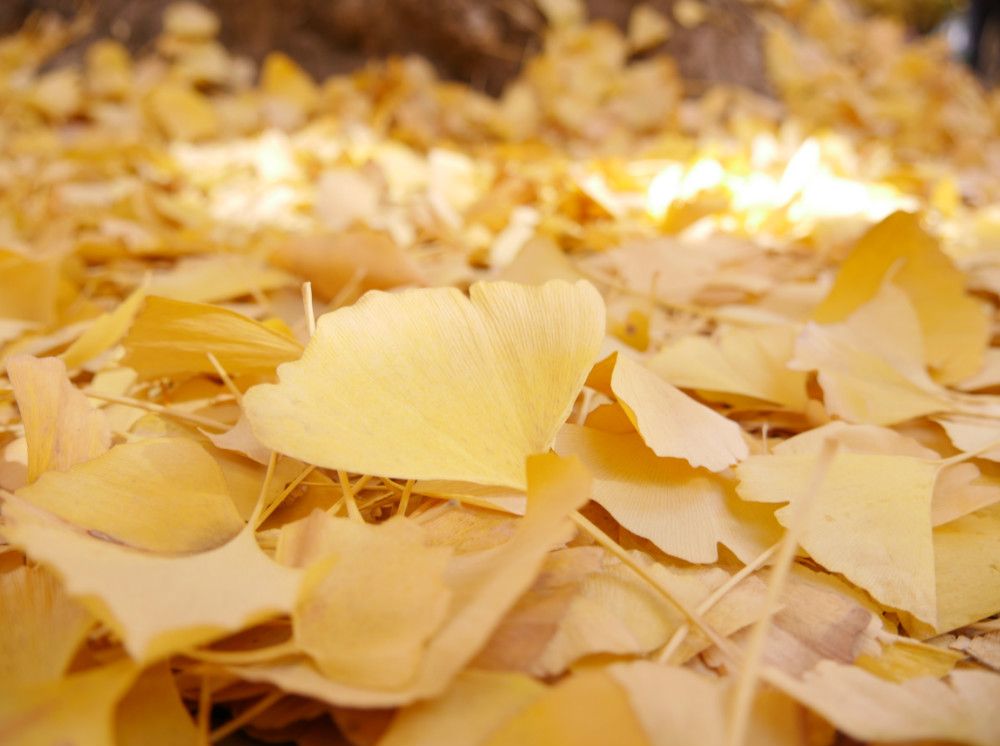 When autumn graces Tokyo with its cool embrace, visitors from around the world often inquire about the prime locations to witness the city's vibrant foliage transformation. While the city is renowned for its stunning maple viewing spots, it's the ginkgo trees that truly dominate the landscape. As the season progresses, the ginkgo leaves transition to a shade of golden yellow, offering a contrasting atmosphere to the red hues of other trees. In this feature, we will guide you through some of Tokyo's most captivating spots to experience the golden allure of the ginkgo trees.
Contents
Ginkgo Forecast 2023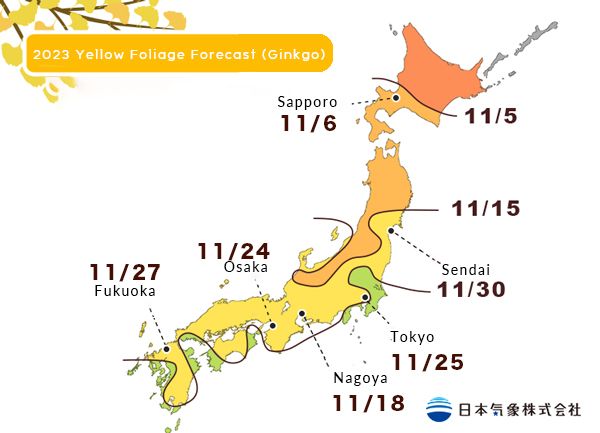 As per the insights from the Japan Meteorological Agency, the fall foliage spectacle for 2023 is predicted to be a tad later compared to the previous year. This delay is observed both in the red leaves and the golden-hued ginkgo trees. It's noteworthy that ginkgo trees tend to change their colors at a faster pace than their red-leafed counterparts. This year, the optimal viewing window is projected to span the entire month of November. However, weather patterns can be unpredictable. We recommend keeping an eye out for the most recent updates before finalizing your travel itinerary.
▶︎ https://n-kishou.com/corp/news-contents/autumn/index.html?lang=en
Hibiya Park (日比谷公園)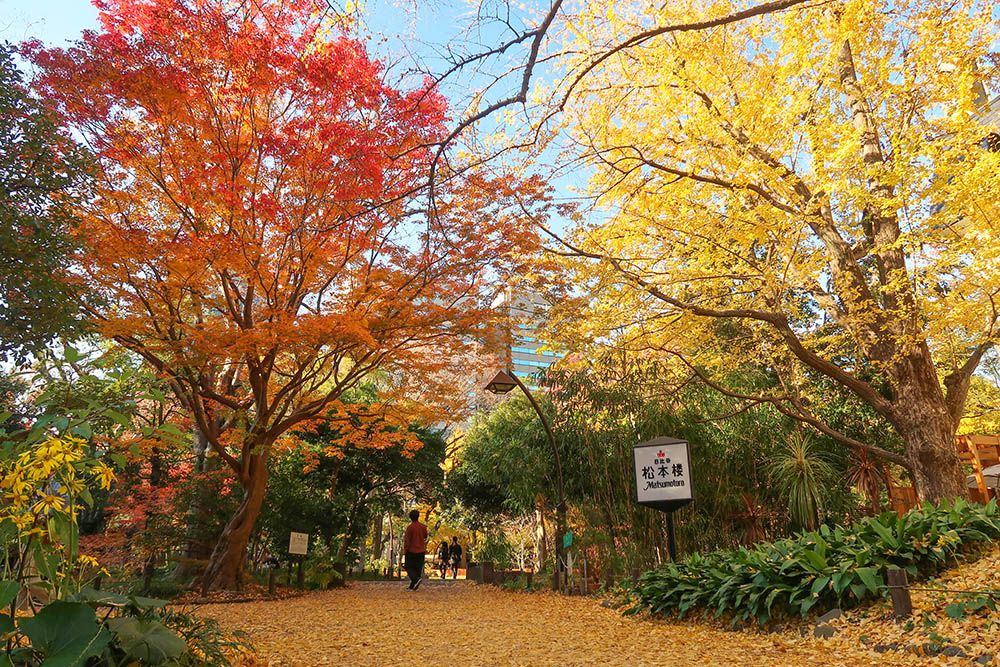 Amidst the office district of Hibiya, where salaried employees weave between towering high-rises, lies an oasis of serenity and natural beauty—Hibiya Park. In stark contrast to its concrete surroundings, this expansive park offers a picturesque retreat, boasting both radiant red foliage and golden ginkgo trees. Here, visitors can find cozy spots to sit and unwind, soaking in the vibrant hues of changing leaves. It's a tranquil haven where one can truly pause and savor the rejuvenating embrace of nature, right in the heart of the city.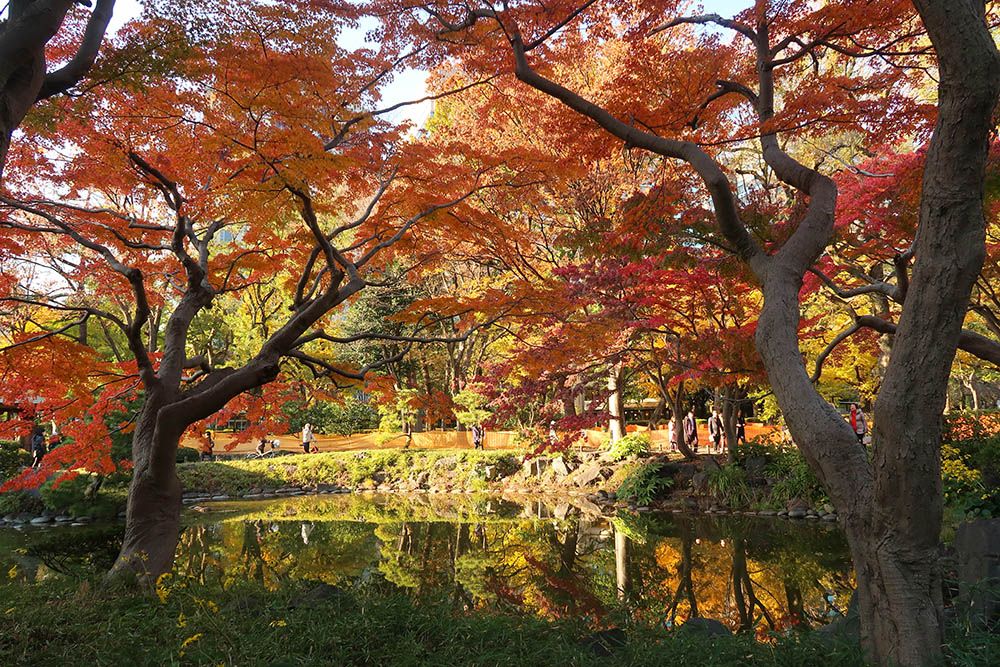 Access: 1-min walk from Hibiya Station or Kasumigaseki Station on the Tokyo Metro
Free entry; Open 24 hours; Light-up after sunset
▶︎ Google Map
Kitanomaru Park (北の丸公園)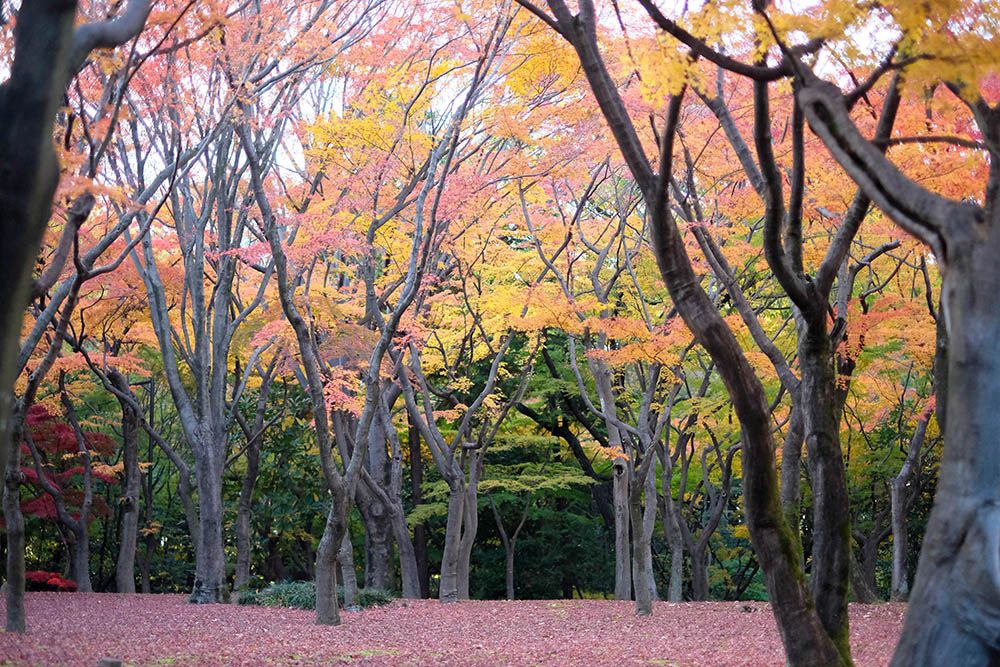 Adjacent to the Imperial Palace in central Tokyo, Kitanomaru Park stands as a testament to nature's grandeur amidst urban sprawl. It's a cherished location, renowned for the vibrant red foliage that adorns its landscape. Framing the garden, a towering presence of ginkgo trees extends as far as the eye can see. As autumn unfurls, Kitanomaru Park becomes a living tapestry of seasonal colors, offering visitors a splendid opportunity to immerse themselves in autumn.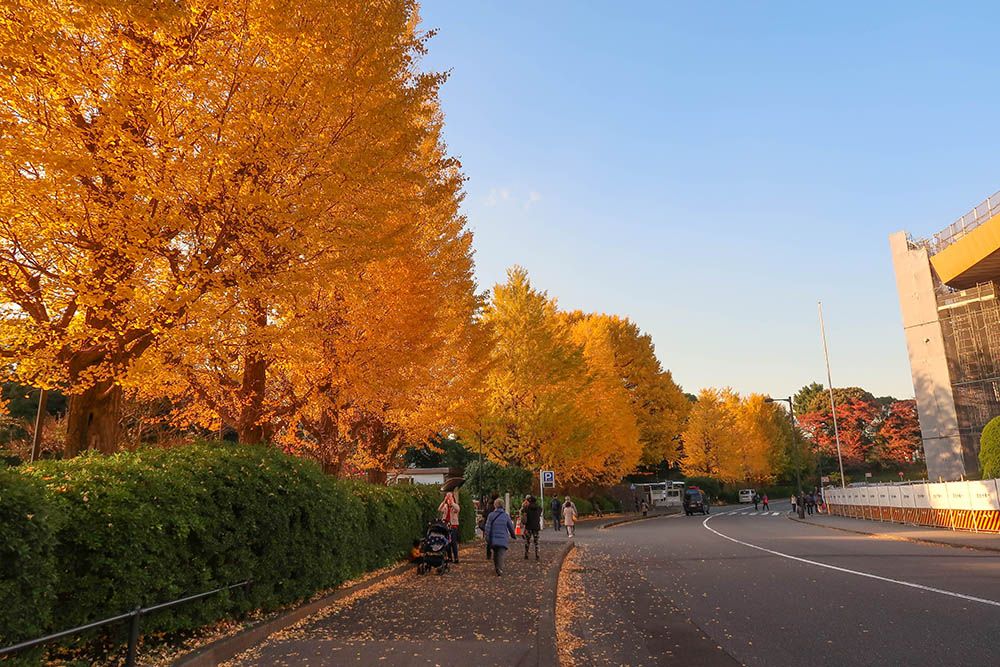 Access: 1-min walk from Kudanshita or Takebashi Station on the Tokyo Metro
Free entry; Open 24 hours; Light-up after sunset
▶︎ Google Map
Meiji Jingu Gaien (明治神宮外苑)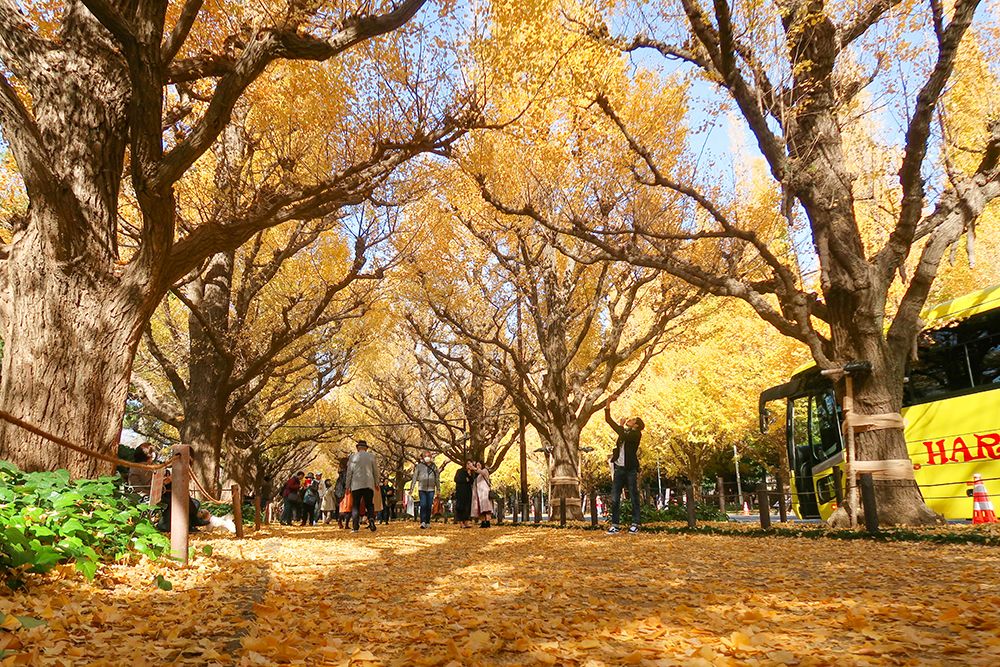 Revered as Tokyo Prefecture's top destination for ginkgo viewing, Meiji Jingu Gaien boasts a ginkgo avenue lined with over 146 trees. As you walk under the trees, it feels like you are passing through a golden tunnel. As the sun sets, the avenue takes on a different charm, illuminated by twinkling lights that accentuate the golden leaves. A favorite among both locals and international visitors, this picturesque location beckons nature enthusiasts and romantic souls alike, day and night.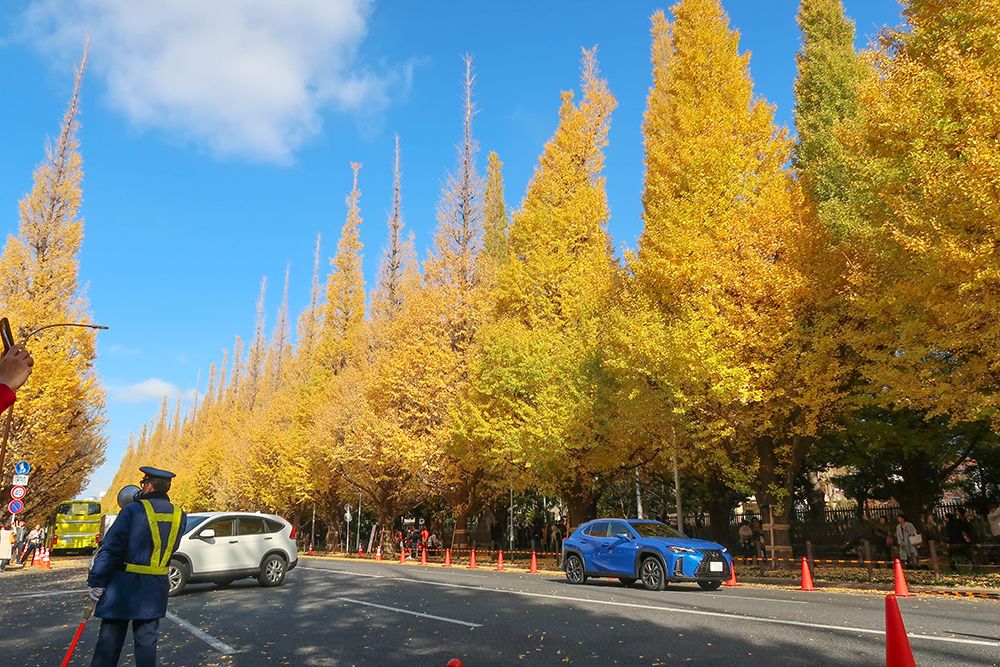 Access: 5-min walk from Gaienmae Station or Aoyama-Itchome Station on the Tokyo Metro Ginza line
Free entry; Open 24 hours; Light-up after sunset
▶︎ Google map
Showa Kinen Park (昭和記念公園)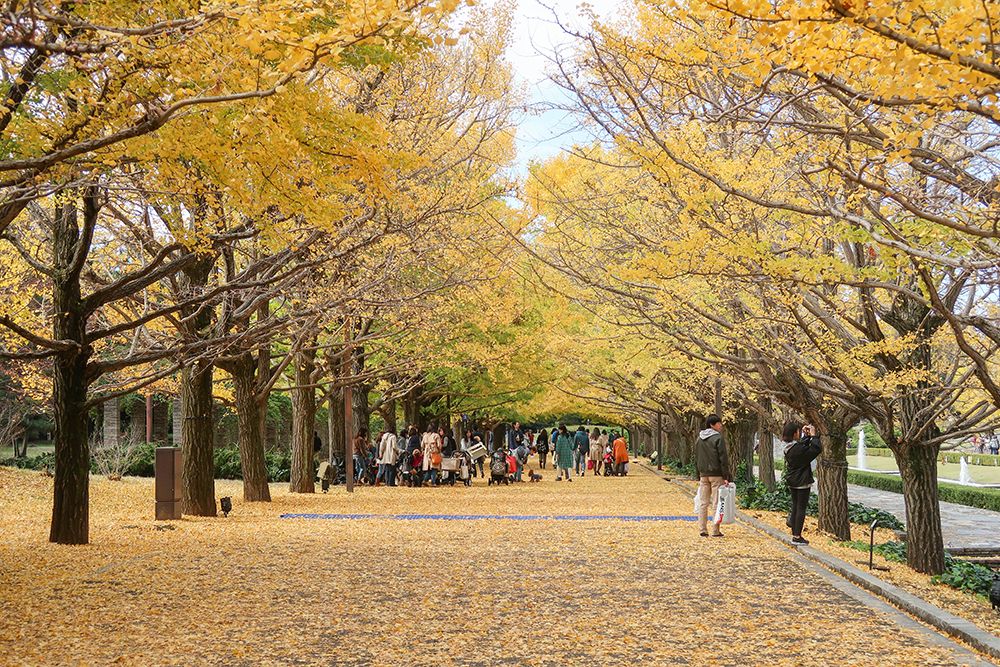 Situated in Tachikawa City within Tokyo Prefecture, Showa Kinen Park is a must-visit for ginkgo enthusiasts. Spanning a vast expanse, the park not only boasts its iconic brass-hued Ginkgo Avenue during autumn but also enchants visitors with seasonal flowers year-round. A single step transports you straight into the heart of Tokyo's autumn splendor.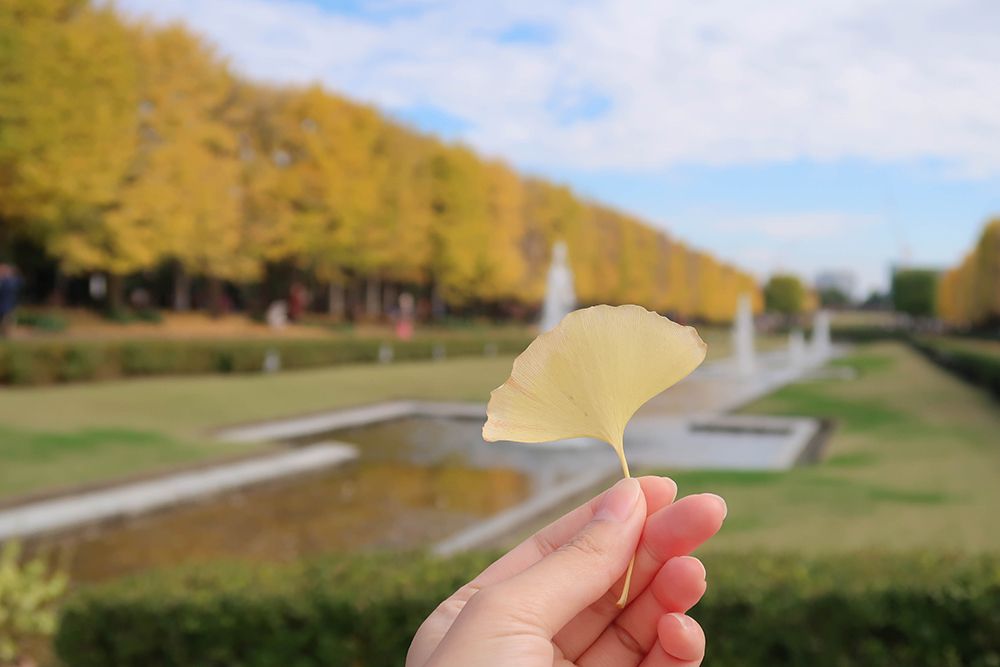 Access: 10-min walk from JR Tachikawa Station
Opening hours: 9:00-16:30; Entry fee: 450 yen / Seniors 210 yen / Children free
Official website: http://www.showakinen-koen.jp/guide-english/schedule-english/
▶︎ Google Map
University of Tokyo (東京大学)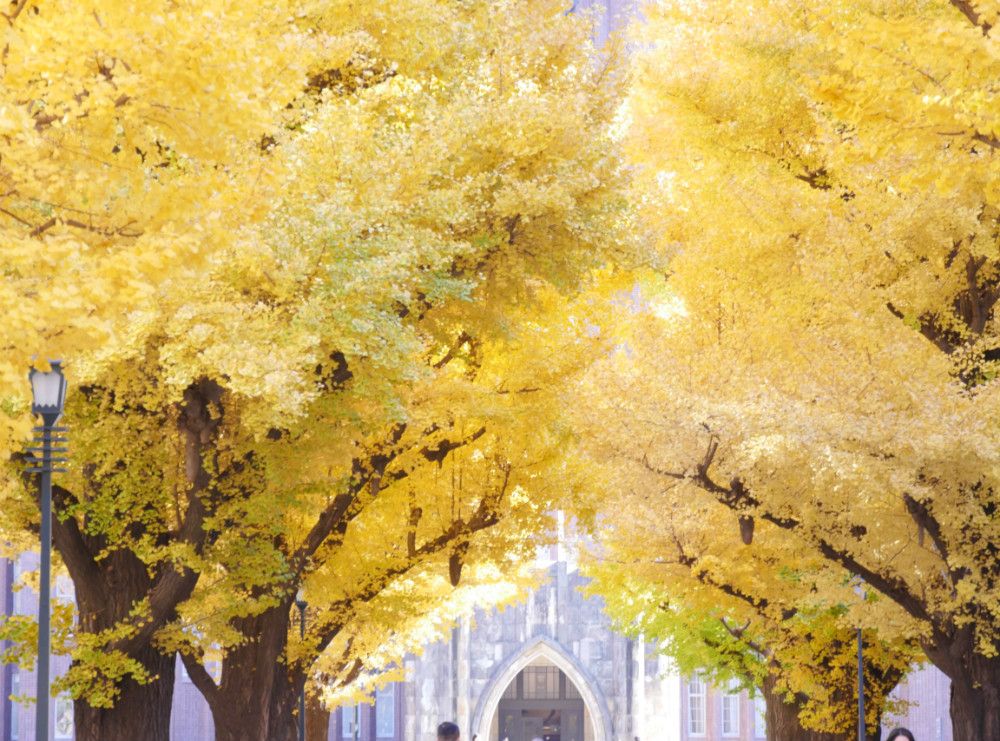 Renowned as Japan's premier institution, the University of Tokyo becomes a vision of golden elegance each December, as ginkgo trees cast their luminous hue over the campus. Nestled nearby is the Faculty of Humanities building—a testament to resilience and architectural prowess. Remarkably, it withstood both the 1923 earthquake and the ravages of World War II. To this day, visitors can admire its enduring Gothic architectural details.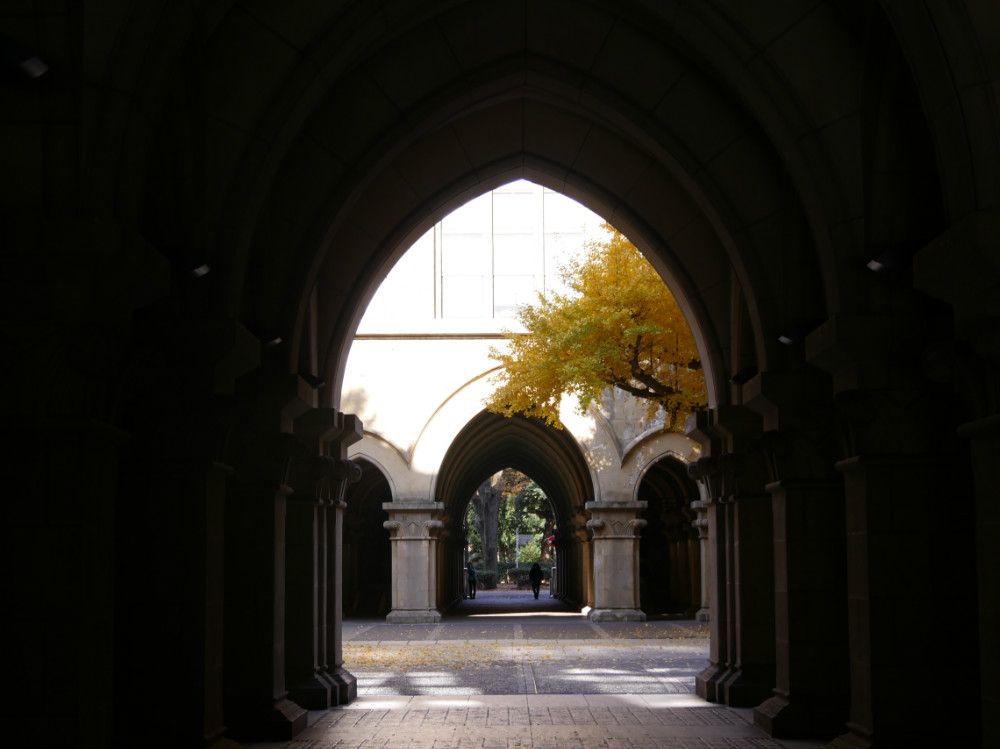 Access: 2-min walk from Todaimae Station. Walk to the Seimon (main gate).
Open 24 hours; In case of crowds, outsiders may not be allowed.
▶︎ Google Map
What did you think of these spots to enjoy the glory of fall? If Tokyo beckons you in November, do seize the opportunity to marvel at these mesmerizing ginkgo vistas.
---

Download the Ikidane Nippon App: iOS / Android
Let us know if there is something that needs to be fixed: Feedback Form